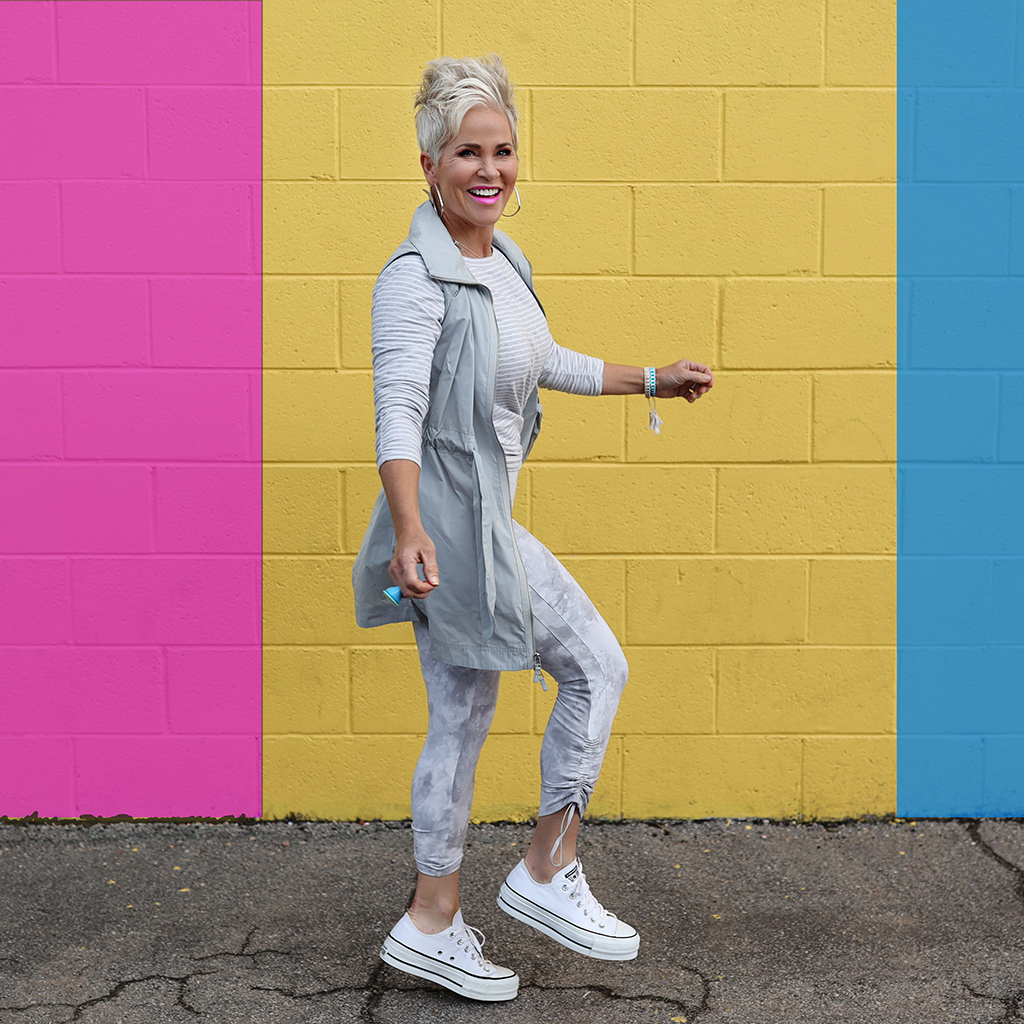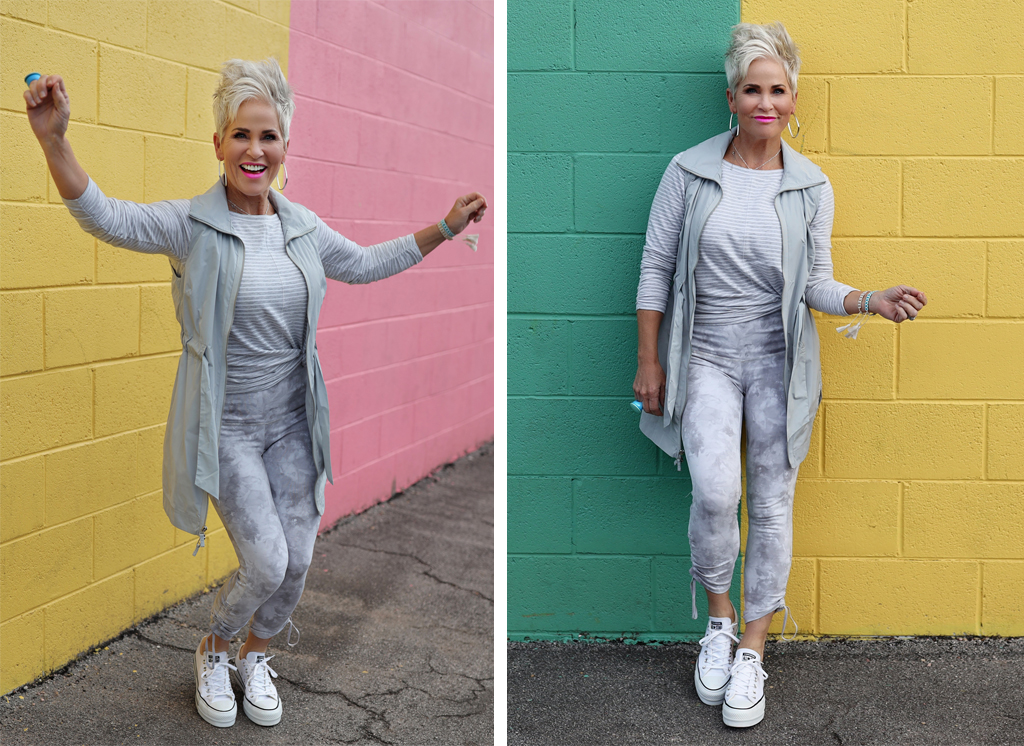 Missed shopping at CHICOS with me BESTIE because of Covid-19 this weekend! Barbi @southernblondechic and I haven't seen each other for over two years now. We had such great plans, and I mean SUPER FUN PLANS, to meet up in Atlanta, Georgia and go shopping together at CHICOS! But you know what??? CHICOS still kept us connected through their BEAUTIFUL SPRING FASHION!
We literally spent hours on the phone with each other, as we picked and then picked again and then changed our minds and picked again. We couldn't decide because everything was SO GOOD! I LOVE that this is what CHICOS does…. is bring women together from all over. Barbi is a GIFT INDEED!
Now about the Chicos brand. I have worked with this brand nearly my whole blogging experience, just over four years now. They have been so supportive to me personally and are known for their support to women everywhere! It's an amazing company who is vigilant about keeping current and listening to their customers.
My all-time favorite memory with CHICOS was when I traveled to Europe with them. THIS is what I packed for my 14 day trip, and THIS is the blog of my FABULOUS HONEYMOON! All styled by CHICOS!
And if you remember, THIS WRAP was custom made for me in celebration of my marriage to my sweetheart! It's absolutely INCREDIBLE with all kinds of symbolism sewn in to it! You can read more about it in THIS BLOG.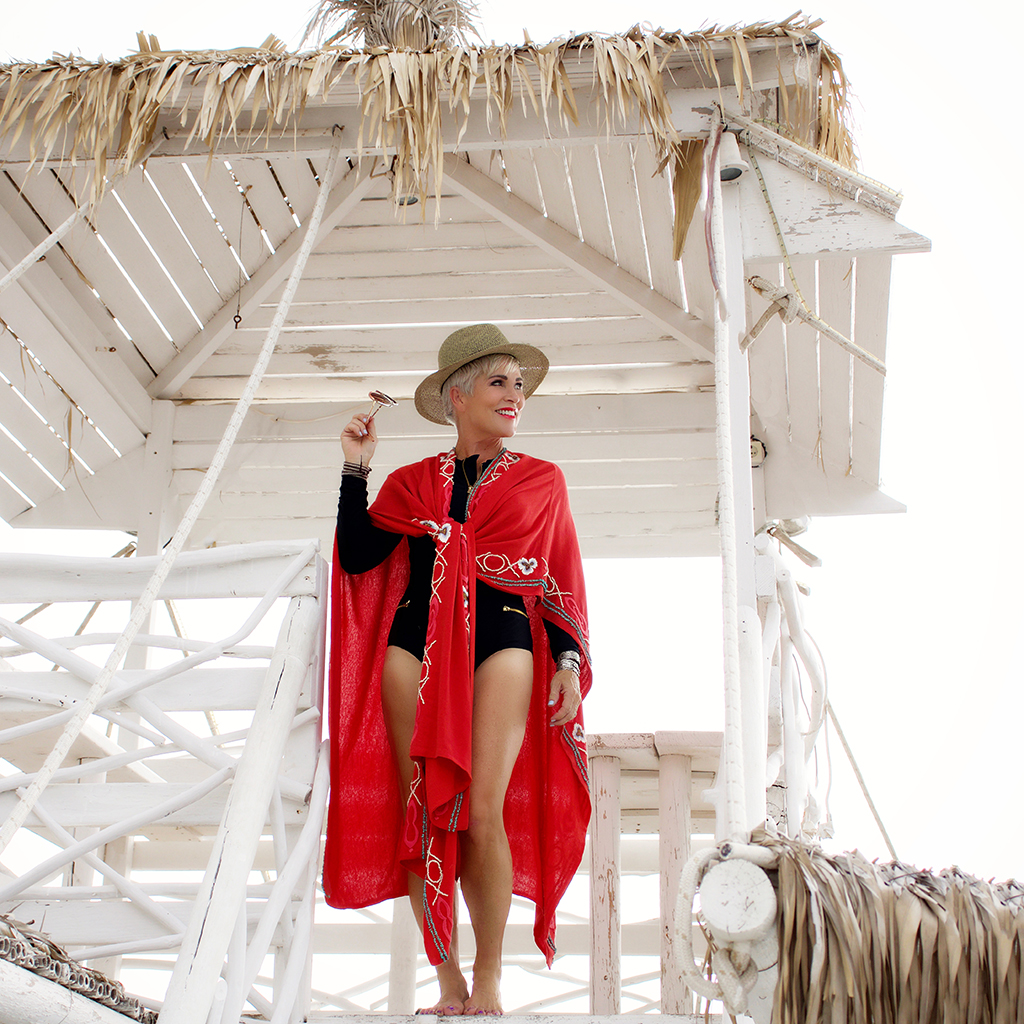 So just in case you don't know much about Chicos, they are a women's clothing line, that started as a small boutique in Sanibel Island, Florida. Their clothing is superb quality and fabrics as well as excellent construction! I've had the GREAT PRIVILEGE of visiting their offices and company headquarters in Fort Myers, Florida. The attention to DETAIL was unmatched!
The Chico's brand was founded in 1983. I had been married for four years at the time. Starting small, they sold Mexican folk art and apparel. This was what first caught my eye, way back when. You can always count on them to have fabulous clothing with bold prints and patterns, and really cool statement jewelry!
THIS IS SORT OF HOW I REMEMBER CHICOS IN THE BEGINNING!
It was in about 1990, that I first went in to a Chicos store in Scottsdale, Arizona. I wish I still had those pictures of me in the most vibrant patterns! I can still remember the zig-zags and textures and colors of the pieces I purchased…. along with the coolest silver and leather belts! And again…. that jewelry! Still it's the place I check first for FABULOUS accessories!!
You can find CHICOS BLOG here! It's called insideCHIC ….. it has to be good with CHIC in it's name! There is all kinds of goodness there, from STYLE to TRAVEL to COOKING! Check it out! Chicos also owns Soma Intimates and White House Black Market!
My athleisure look below, is from Chicos ZENERGY line. Isn't it the cutest ever?!! This is seriously what I've been wearing through my Covid-19 situation! Comfy and cute is JUST RIGHT right now! Softest tee, comfy leggings, and chic vest…. its a winner winner!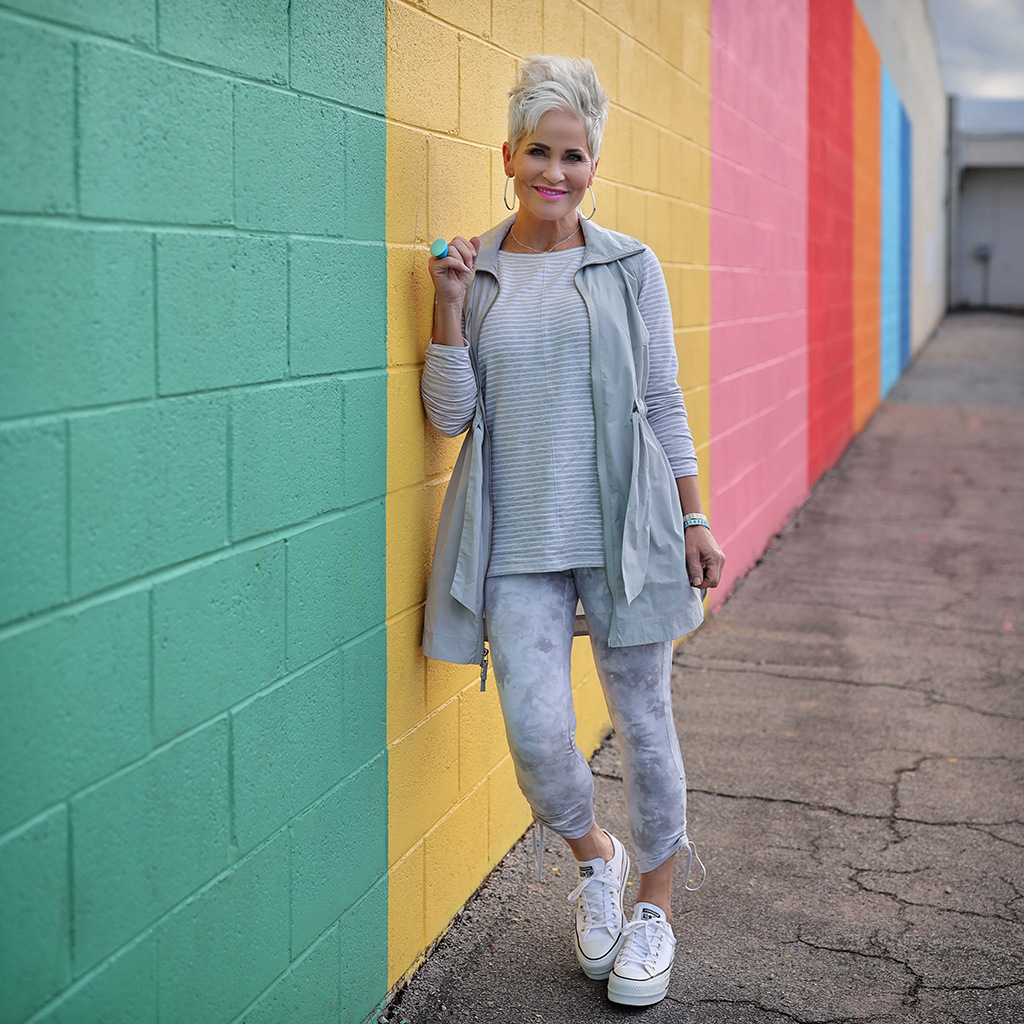 My second Chicos look has already been worn MULTIPLE WAYS! You know my love for denim jackets? Well THIS ONE is cropped and cute as ever! The color of these jeans right now is so ON TREND! I loved it with the cute print button-down shirt, and check out the EARRINGS! CUTE…. right?

I'm always SO SATISFIED with my CHICOS STYLE! If you've never checked in to them…. it is VERY WORTH YOUR WHILE to do so!
WHAT I'M DOING TO PRACTICE SELF-CARE AT HOME~
I wanted to share with you what I'm doing now to practice SELF-CARE AT HOME. My number one priority has been to WASH MY HANDS! This is first and foremost, along with keeping my hands off my face and in particular my eyes, nose, and mouth! I have disinfectant wipes in my car, so IF I need to go to the post office, store, whatever, I have them on hand to wipe my hands off. We have wiped down our home with disinfectant such as doorknobs and caninet pulls.
I've also been EXERCISING! THIS has been SO VITAL for my well-being! I HAVE TO MOVE and get that good hard cardio in! I can't tell you enough HOW MUCH THIS HELPS ME! I would encourage ALL OF YOU to get out and MOVE! If you can't get out, then at least follow along with a good fitness video! It will DO YOU SO MUCH GOOD!
And lastly…. we are doing our best to stay connected as a family through FaceTime, Marco Polo, and texting! We are hunkered down with my husband's daughter and hubby until they can get back to Hawaii. We have been playing lots of games and putting together puzzles, along with hikes and some sand volleyball.
So…. even though I missed shopping at CHICOS with my bestie….. we are still the greatest of friends and can't wait until we can meet up in the future! Talking about the CHICOS brand today has brought back so many fun memories!!!!! I LOVE this company with all my heart, and appreciate all they have done for me in helping me become self-sufficient!
You Can Shop CHICOS NEW ARRIVALS Right Here!
Shauna XO
OTHER CHICOS BLOGS…
Chicos Picnic ~ National Girlfriend Day ~ Versatile Chicos Pieces