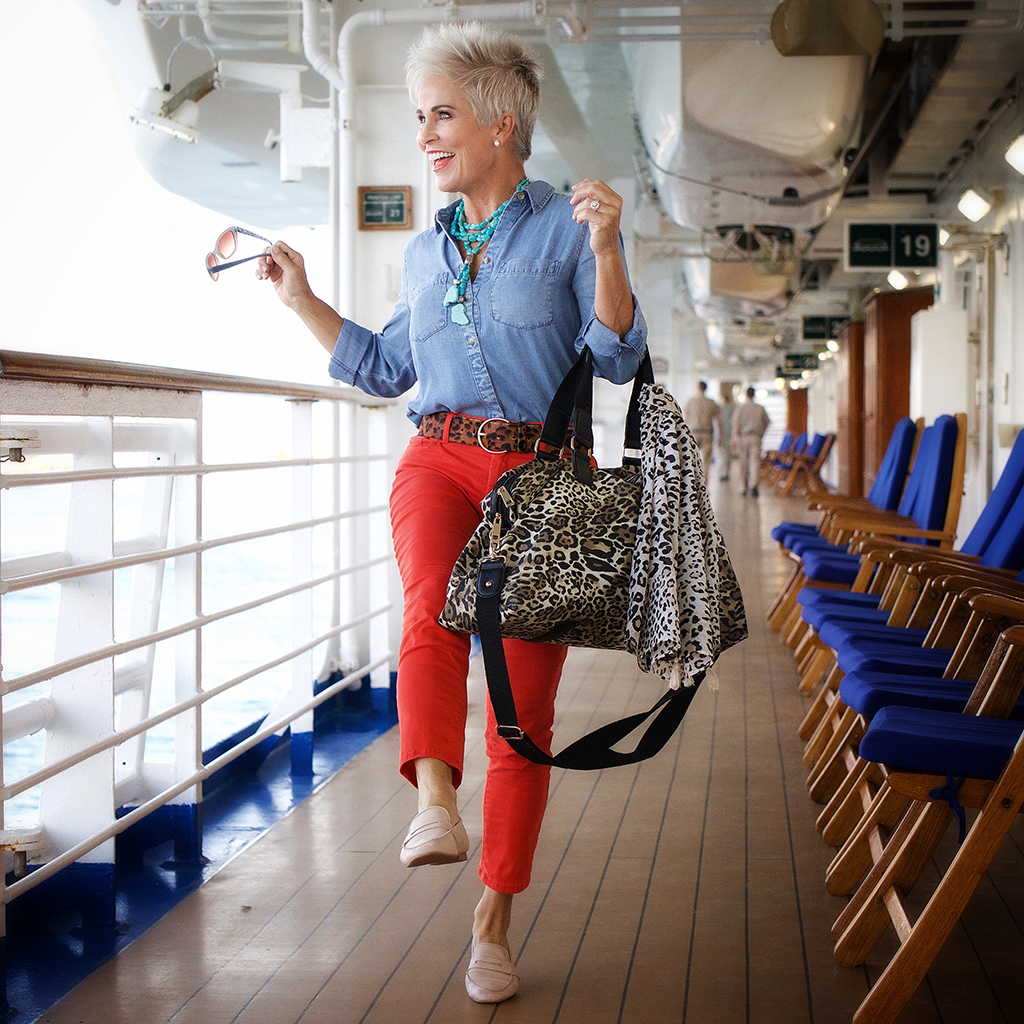 Wow! CHICOS had me covered on my honeymoon. I've been back from this fabulous Western Mediterranean cruise for a few weeks now. I'm not quite sure where to start, it was all just an AMAZING EXPERIENCE! And I'm serious….NOTHING could have been better really. PRINCESS CRUISES treated me and my new husband like royalty! The only bad thing was that I lost my camera and all of my CUTEST shoes on my way to Europe….ouchie!
I wanted to show you again what I packed, my capsule suitcase! This blog shows exactly what I packed.
First of all CHICOS was amazing!!!!!! I wore strictly their brand. I've worked with CHICOS now for almost as long as my blog, which is almost four years old. CHICOS has pretty much been with me since the beginning. They have been THE ABSOLUTE BEST company I've ever worked with and they couldn't be MORE SUPPORTIVE!! And not only to me, but to women EVERYWHERE! They champion women and are interested in their needs for sure! And like I said….Chicos had me covered on my Honeymoon, EVERY step of the way!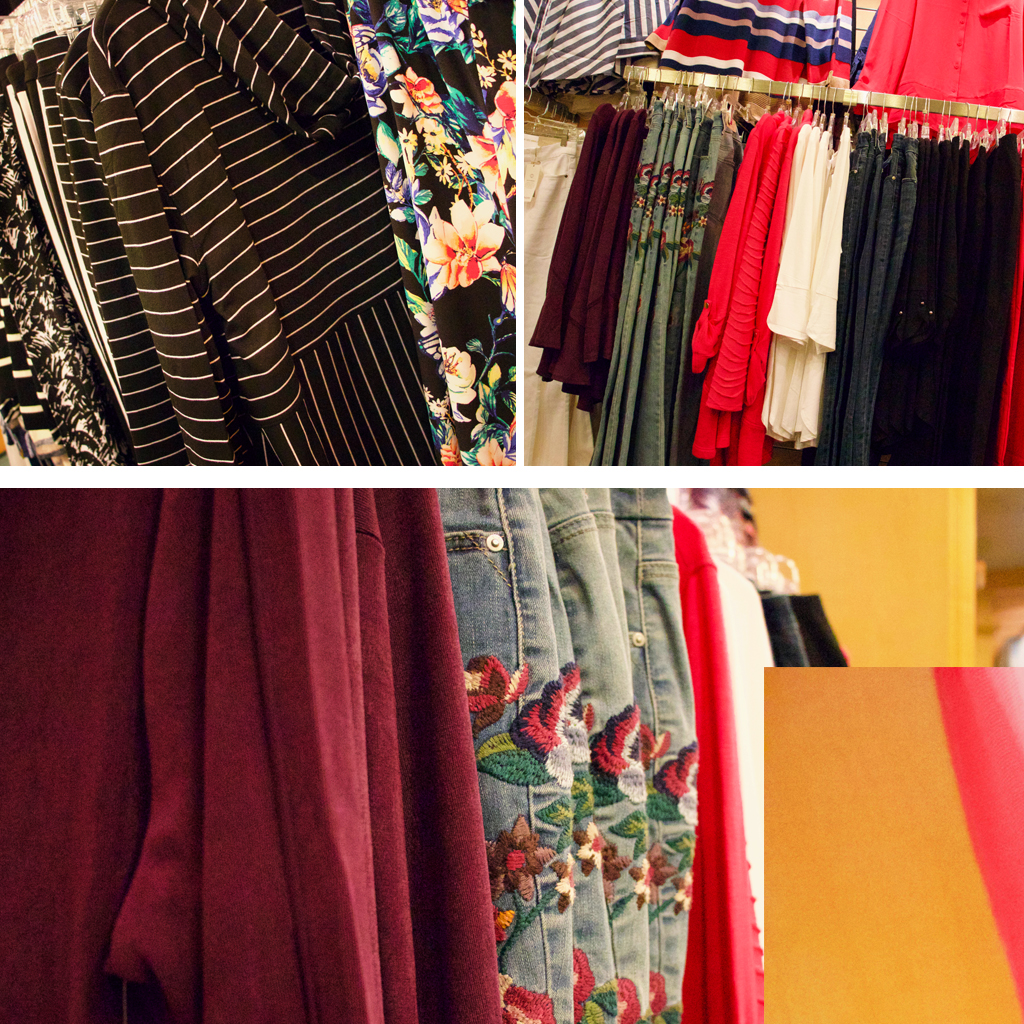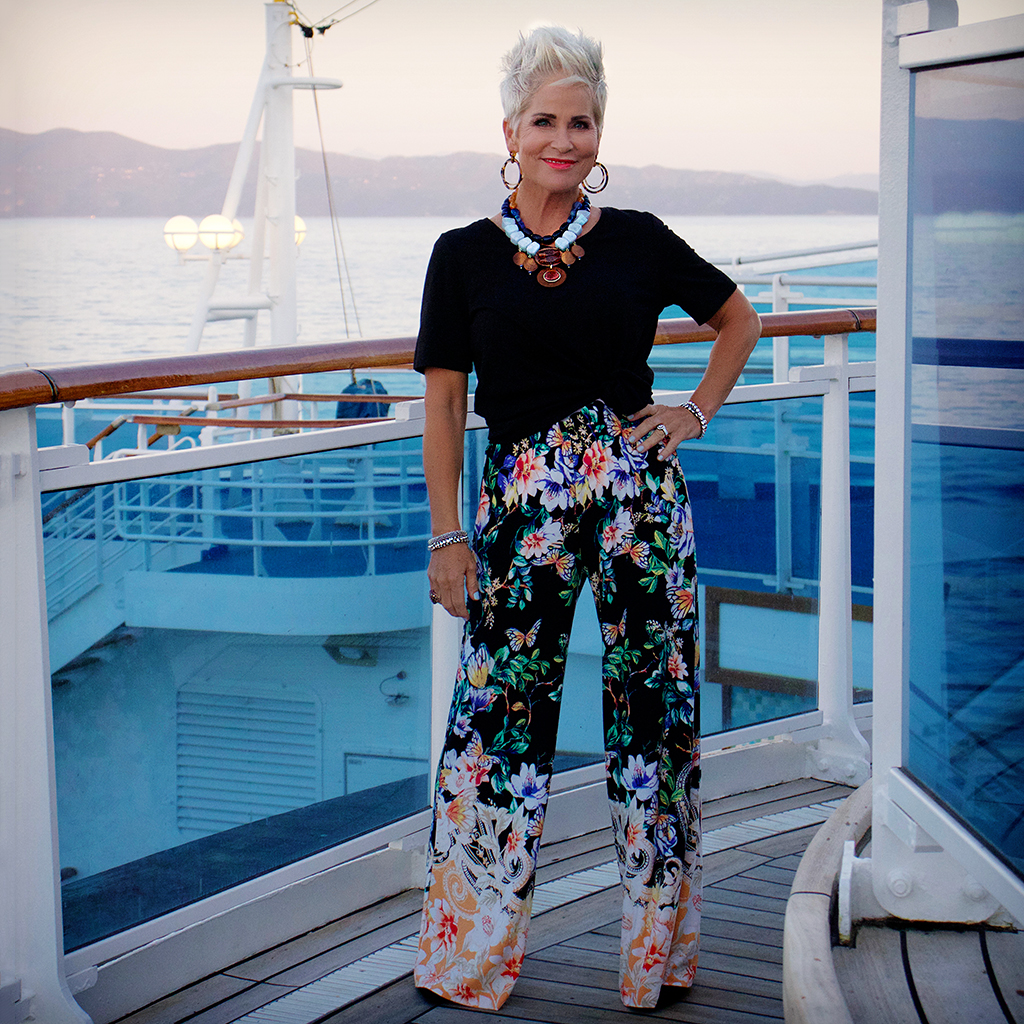 And did you know that CHICOS clothing was available on my cruise??? Yes!!! In the clothing store on the ship, YOU COULD FIND CHICOS!!! I think that this is a BRILLIANT move on their part, to make their beautiful clothing available to passengers! A lot of the clothing had a nautical feel to it which is just what you want when you're cruising! I picked up these sassy palazzo pants! So….next time you're on board with Princess….check out the clothing store and look for your CHICOS fashion!
ABOUT THIS WRAP!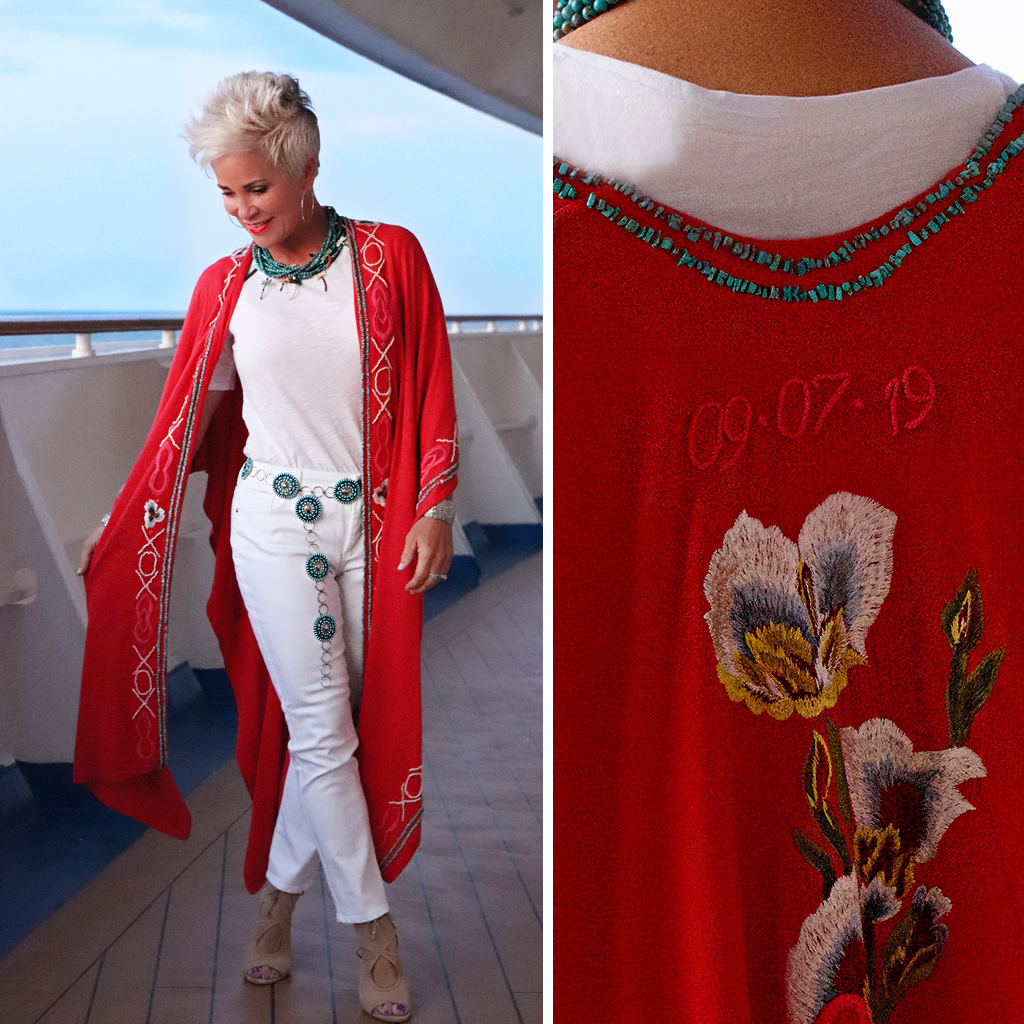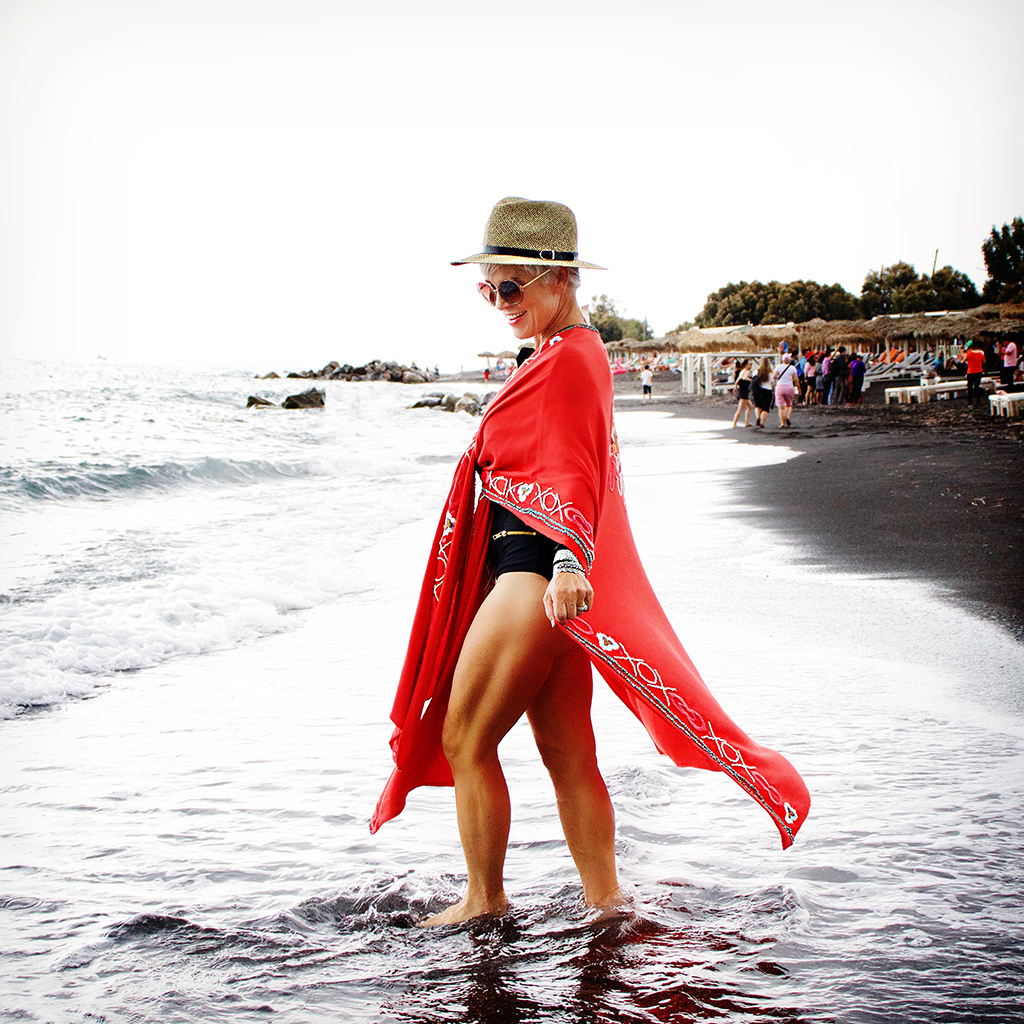 First of all this wrap….along with the amazing cruise CHICOS made me this ONE OF A KIND wrap that had all kinds of symbolism in it. I was beyond flattered and thankful that they would do such a thing. It was one of the most THOUGHTFUL things anyone has ever done for me! I really was quite stunned at the idea, and when it came in the mail I was overwhelmed! It turned out ABSOLUTELY BEAUTIFUL!!!!!
First off, the color red signifies the RED ROCKS of Southern Utah, where we have made our home together. On the back is our wedding date and initials, along with our state flower. The turquoise beading along the edges is gorgeous, it being one of my favorite stones to wear….because of the color! It's bordered with X's and O's which is part of my Chic Over 50 logo, and something I use all the time, and my mom too! Also along the edge are C's which represent the Cincinnati Reds who my husband played pro baseball for. Isn't it INCREDIBLE….I mean it seriously is the COOLEST GIFT EVER!!!! I wore this as a wrap over white jeans and a tee, and my swimsuit in Greece at Black Sand Beach!!!!!
NOW FOR EACH OF MY LOOKS brought to you by Chicos!

This was what I wore over in Montenegro. Isn't it the perfect fall colors? The jeans are super comfy and probably could be considered a neutral! The sweater is such a great little basic layering piece and comes in so many colors! The scarf just pulls it all together for me and adds such great pizazz! And what do you think about this fabulous Chicos jewelry?!!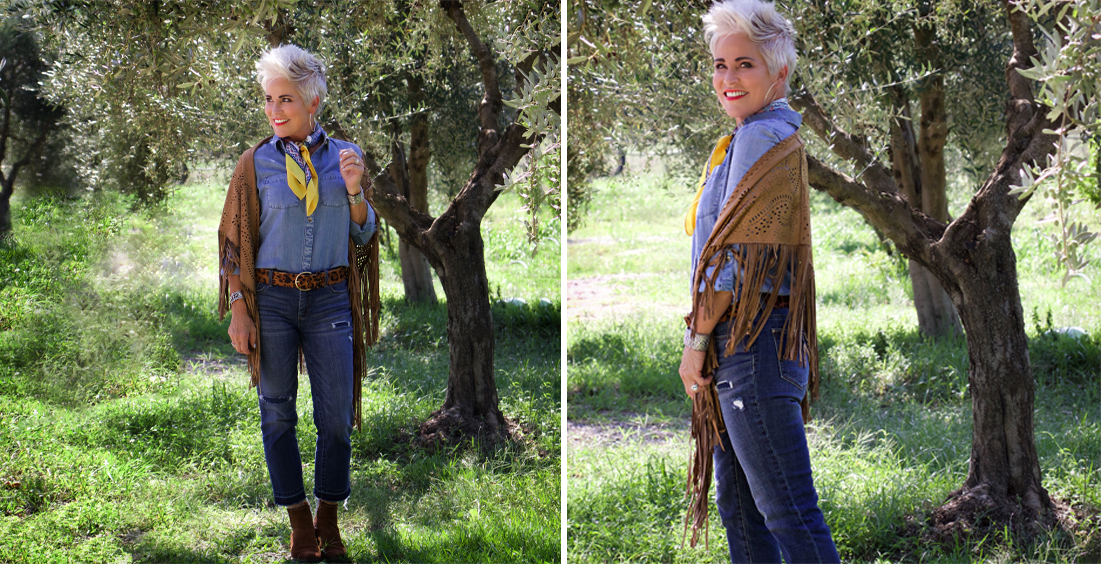 This wrap was so fun with the fringe! I wore it like this, as well as with THIS skirt. It's very light and such a GREAT color for fall. This will be one of those things in my closet that will be so fun to pull out to add that extra punch to any outfit!
I would also wear it with any of these….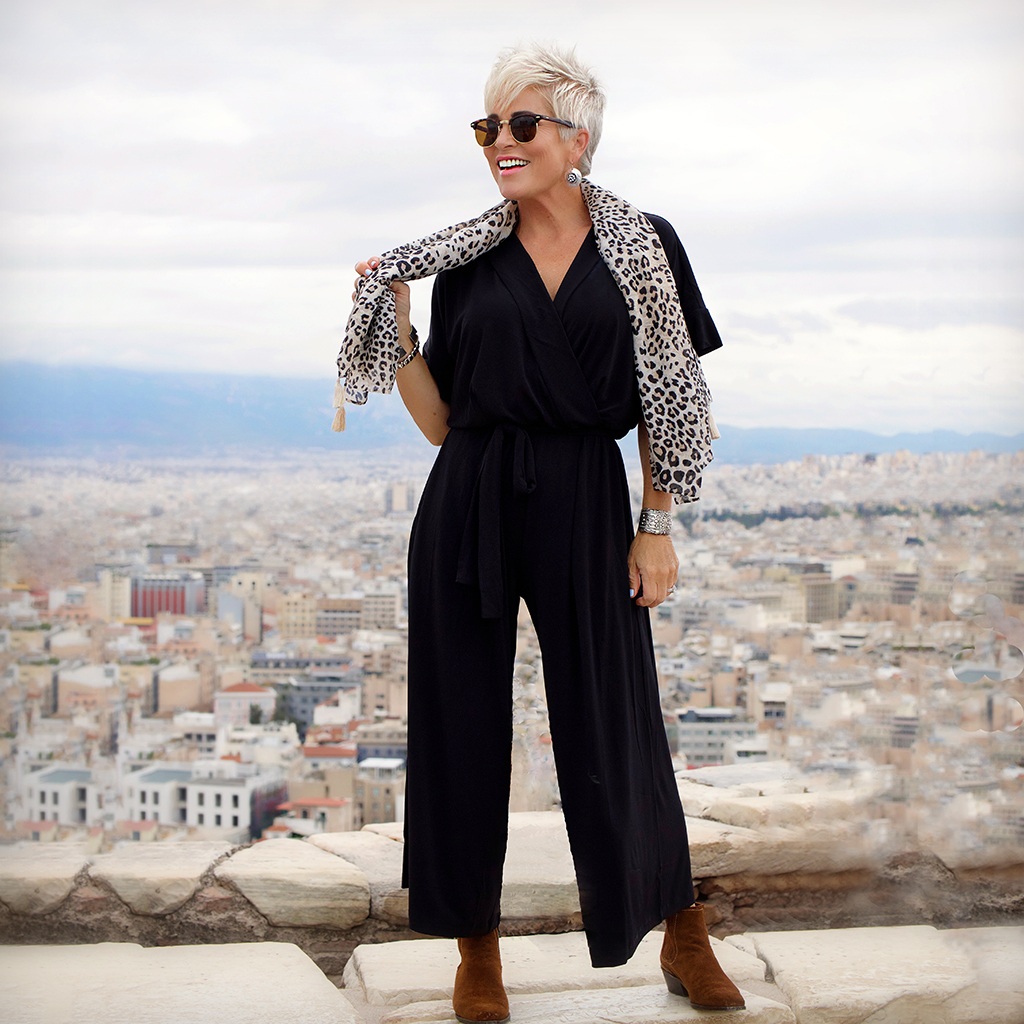 This jumpsuit was maybe THE MOST COMFY outfit I wore, which here, was in Greece at the ACROPOLIS…..an amazing site! It's so chic and easy to move around in! I wore it both this way and then a very dressed up way with booties and glitzy jewelry! It can easily be worn with any type of a fun jacket over the top to change it up OR it can go in to cooler weather! LOVED LOVED it!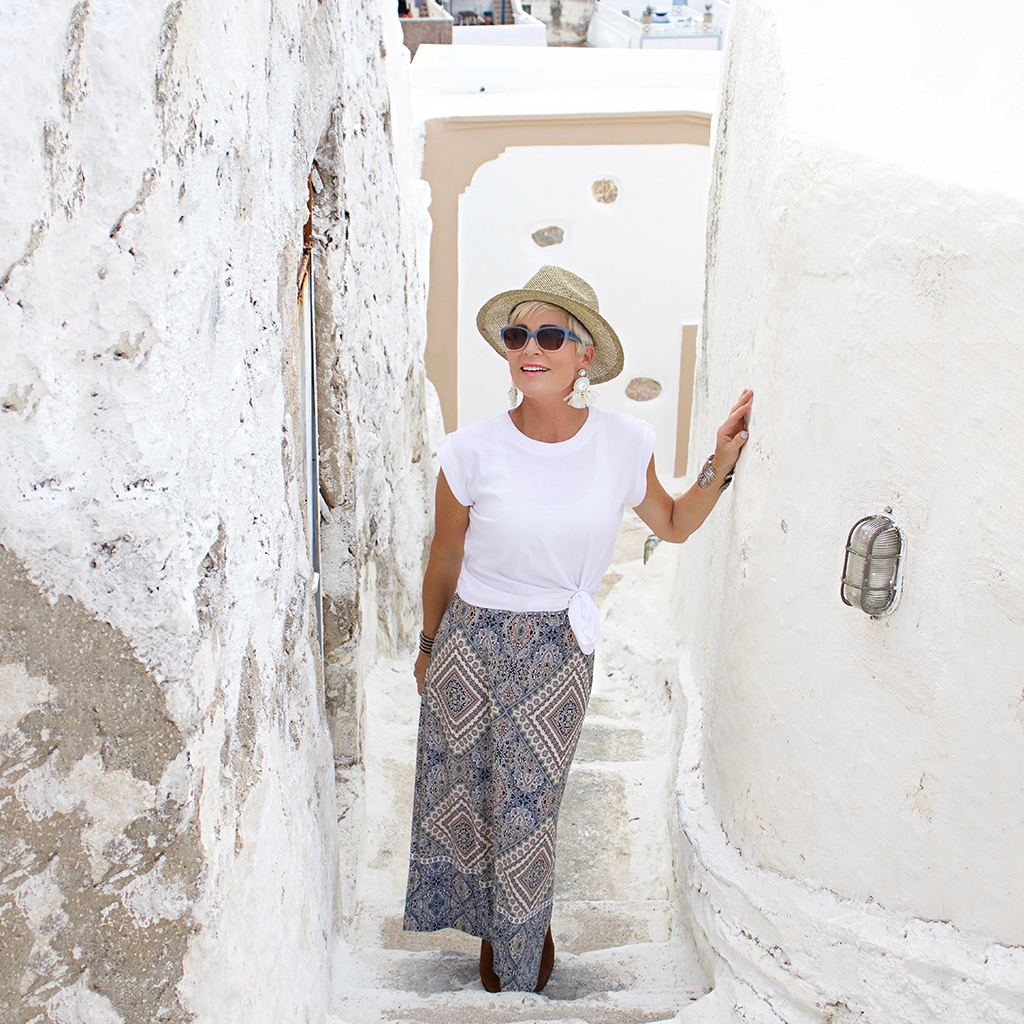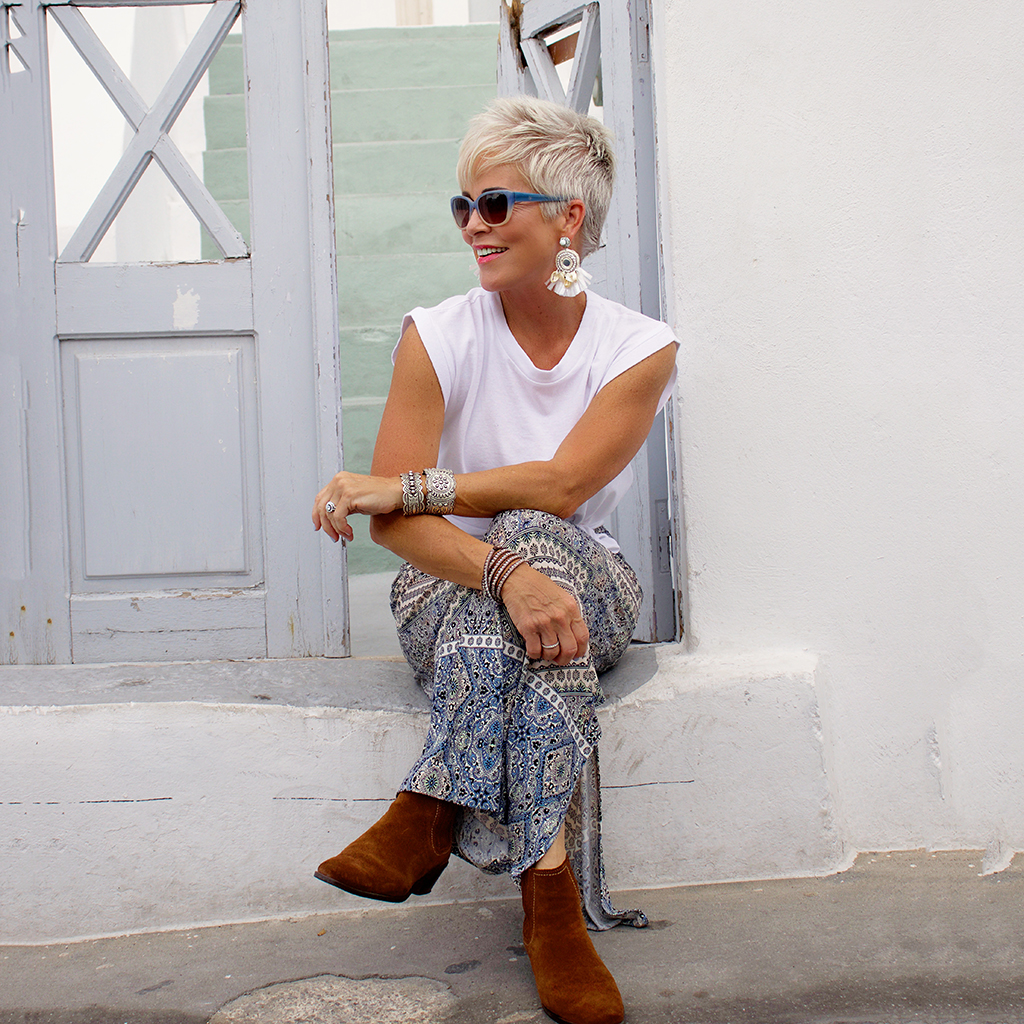 Moving to Santorini, Greece! This was where I wanted that PERFECT PICTURE….this whitewashed plaster everywhere was just stunning! The skirt is a great one to have in your closet for many reasons. The ease of packing it and knowing you won't have wrinkles is always nice! I have it with my own white tee here, but it could work well with a denim shirt or white button-down, and always a denim jacket works over the top! This skirt also takes me right in to fall with a cute cream colored sweater!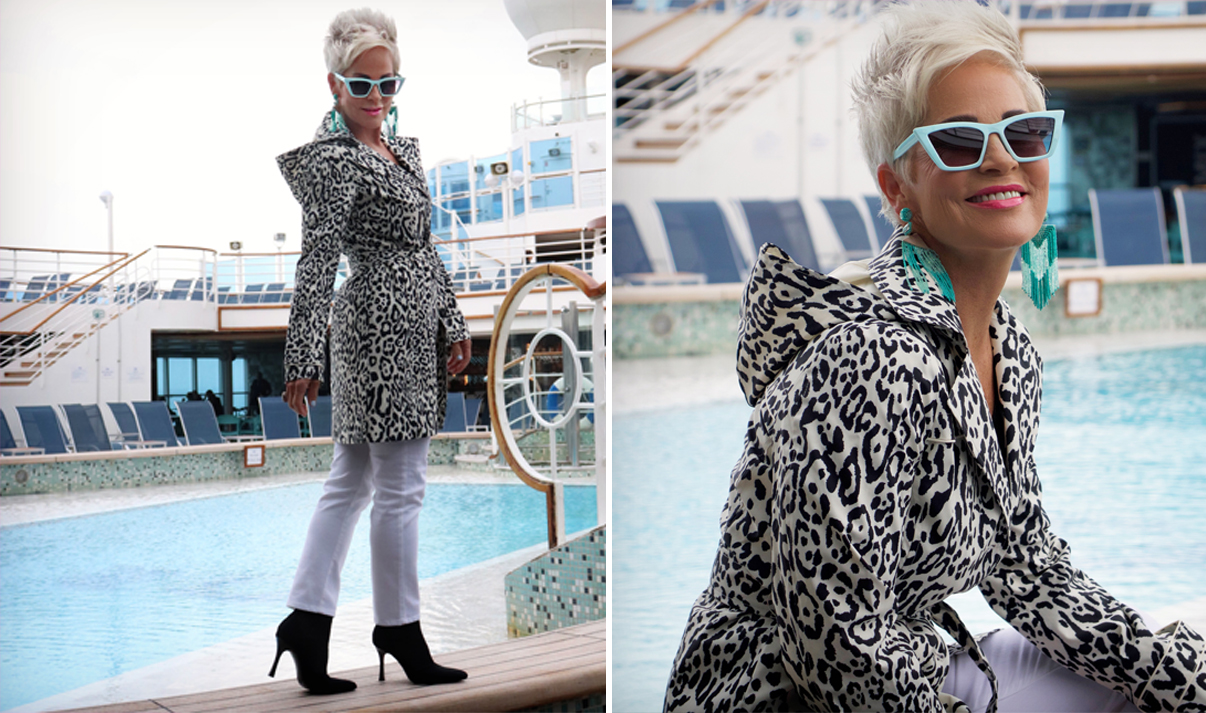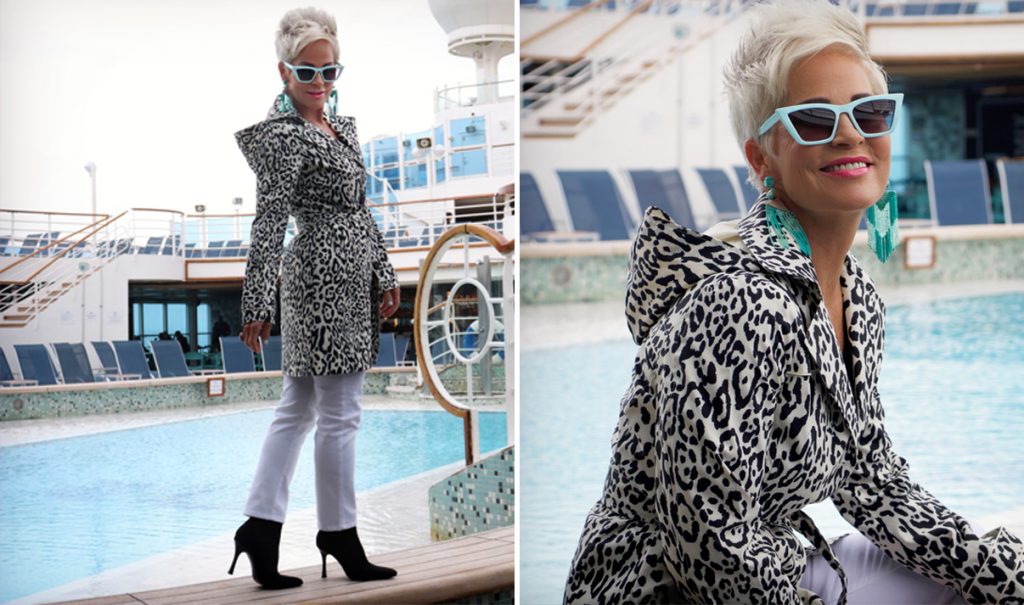 THIS JACKET is my all-time FAVORITE jacket ever from Chicos! It's a raincoat, but I would wear it anytime! No need for rain with this one! Here I wore it with white jeans and a black tee. It was perfect for the slight nip in the air and the classic trench style will ALWAYS look beautiful! I think it's one of Chicos best pieces! It would look cute with some bright colored pants, black pants, or jeans! I've linked another option for some sassy sunnies!
When I travel, I have to be comfortable. ESPECIALLY when I'm traveling overseas on super long flights! COMFORT is a NECESSITY!!! These pants were awesome! I seriously wore them SO MANY times! I wore them on our spa day, I wore them on the plane both coming and going, and I wore them dressed up with some booties and a black sweater. And the good thing with them, is that you can wash them out in your sink and they dry super fast and are ready to be worn again!!!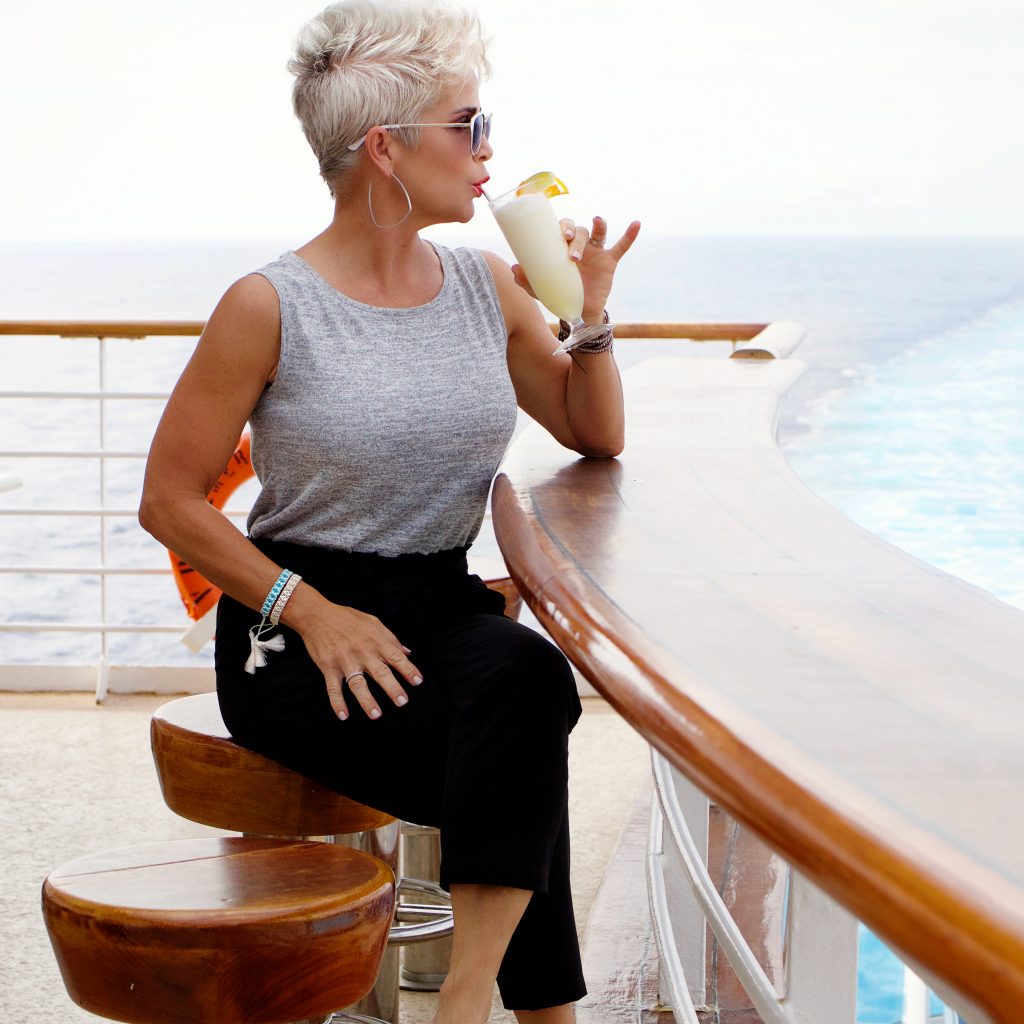 If you want some super versatile and functional pants, THESE are them! They also have great pockets for easy access to change, or lipgloss or whatever! LOVE THEM! I'll be wearing them for years, no doubt! They maybe were my FAVORITE! And this light gray tank is ultra soft and cozy and perfect for layering anytime!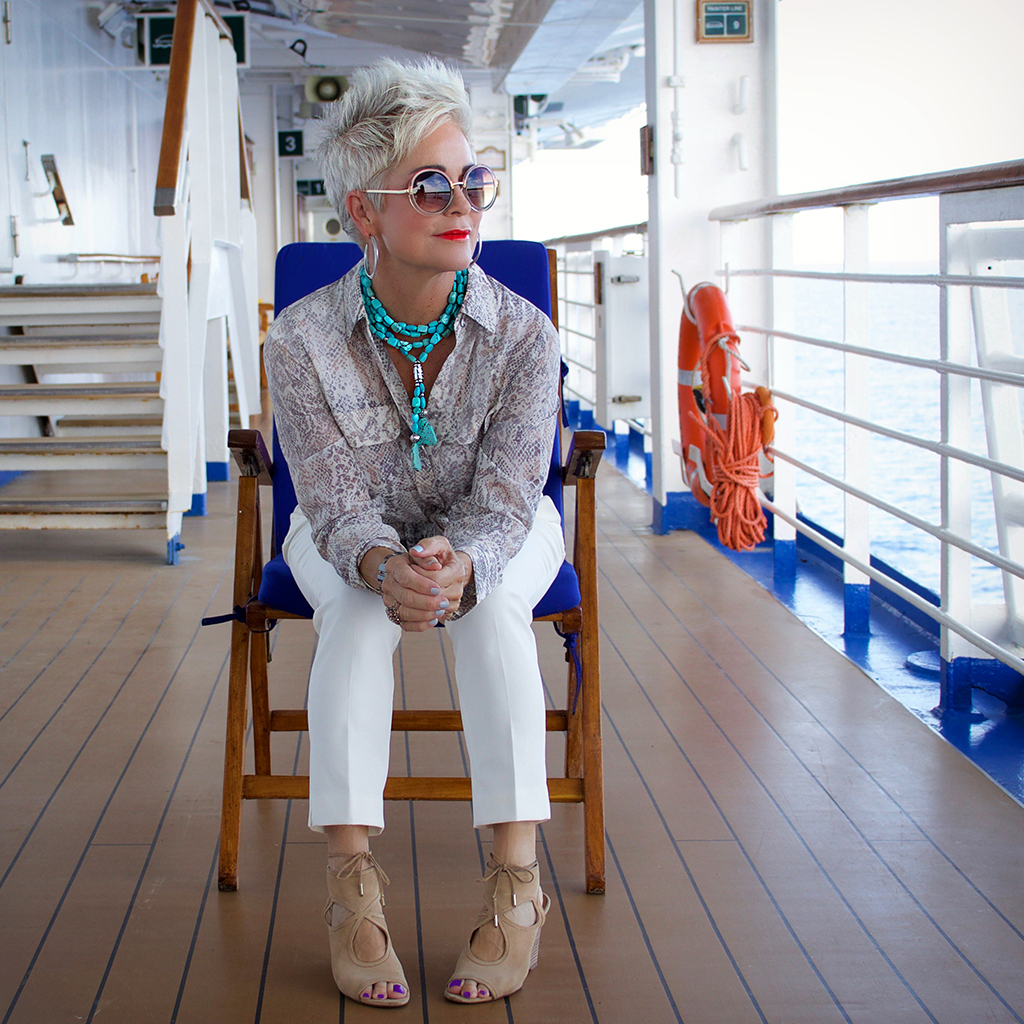 Then there was this look…..it was all about some great pants and cool and silky top! These pants a great basic but very versatile too. Great for a working woman, and then dressed down with sneakers and a tee. They really are flattering and the fabric…you've heard me mention over and over how wonderful Chicos fabrics are!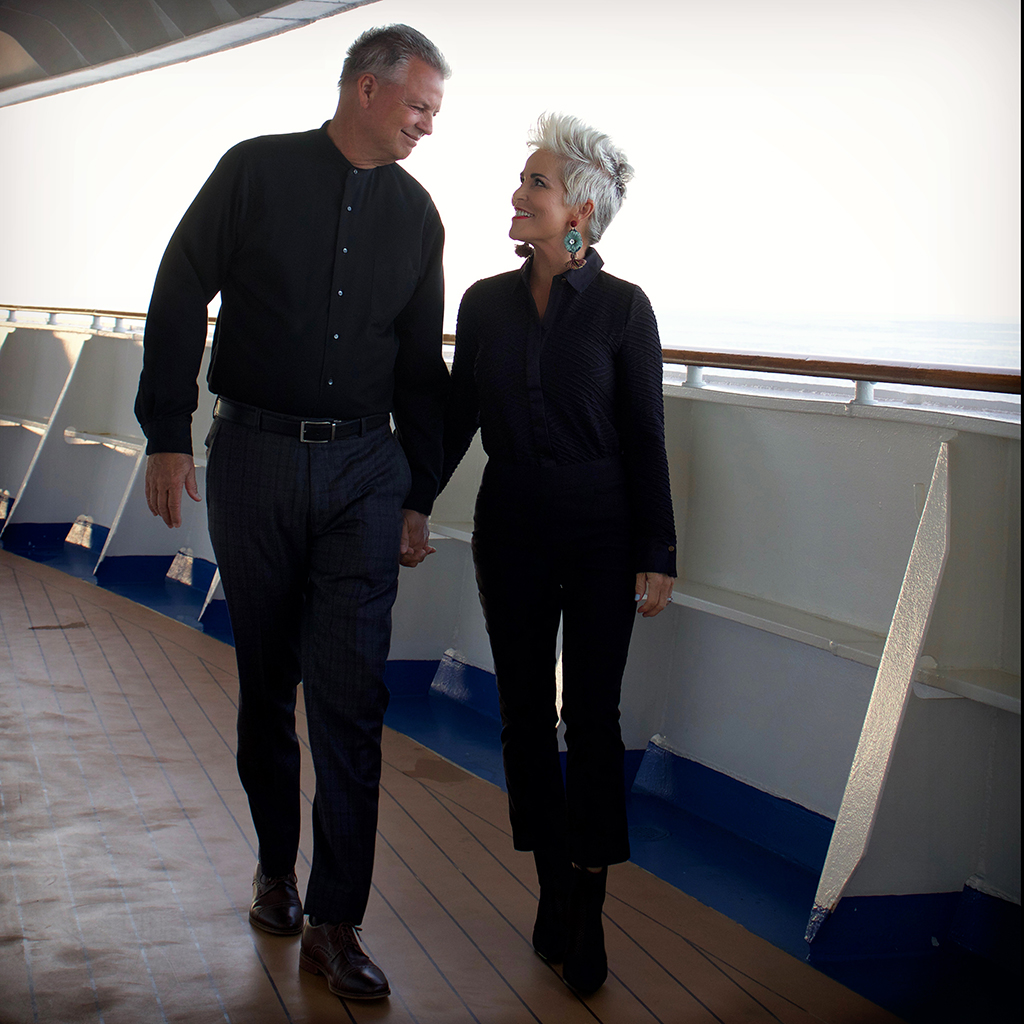 This was probably my/our MOST CHIC look on the cruise. It was so nice to feel dressed up, but not dressed up! These black pants are AMAZING! I loved wearing them casual too! They are definitely the LBP that will go on and on and on for you through the years! I loved them dressed up but then just as cute with my tee and sneakers!!!
And we can't forget the ACCESSORIES when it comes to Chicos! They have such great pieces when it comes to this category! They are coming on strong in the sunglass department, and then what about this hat??? CUTE as EVER, right???
The clothes I packed in my bag were PERFECT! Each piece was easily mixed and matched with other pieces to create pretty much any look I needed for my trip. I wore the casual pieces dressed up and the dressy pieces dressed down. EVERYTHING was so comfy and NO PROBLEMS with wrinkling ever!
Chicos had me covered on my honeymoon in such a BEAUTIFUL way! I just need to say…..THANK YOU and THANK YOU to everyone over at CHICOS AND PRINCESS for such a memorable and spectacular HONEYMOON! I honestly don't know how it could have been any more amazing! I DID have to pay extra for my super heavy suitcase, but I didn't want to miss not having some……thing! And just FYI……I still came home with items that I never even wore.
Shauna XO