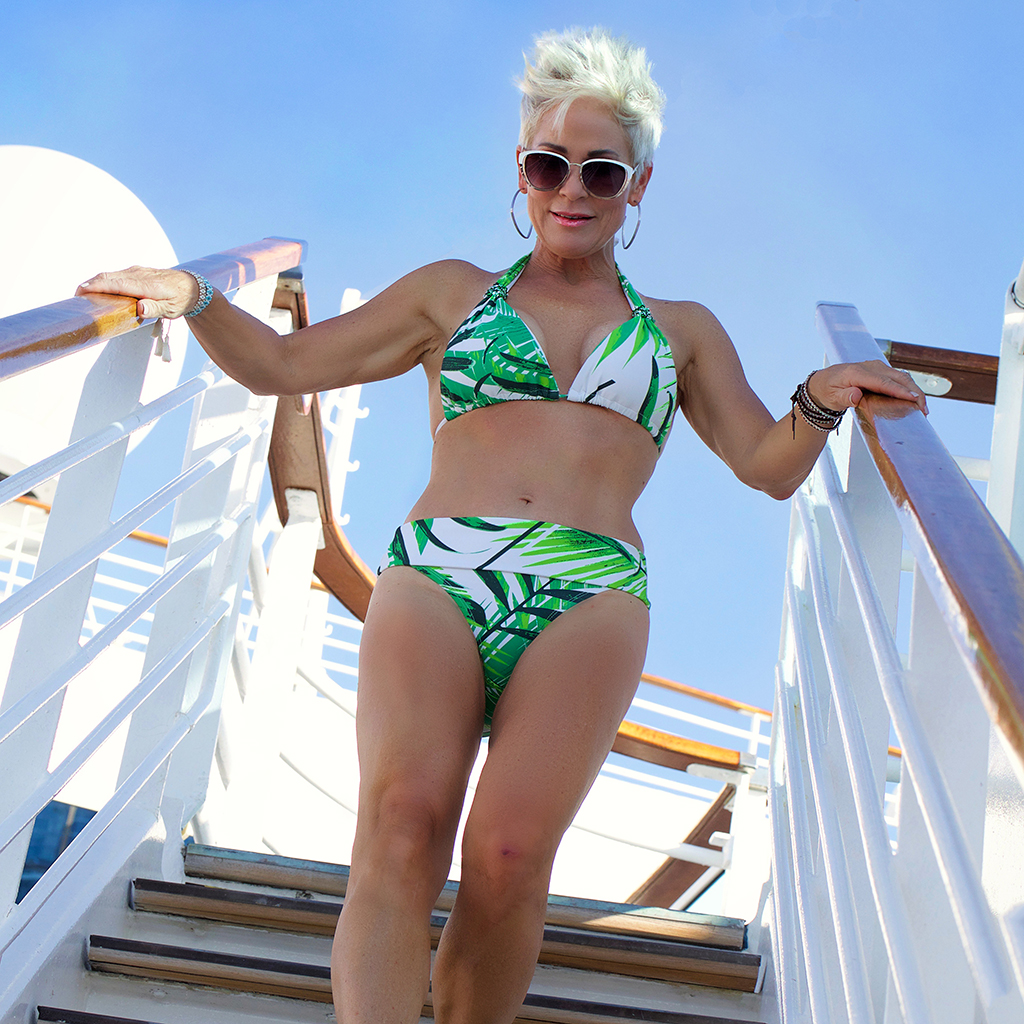 My swimsuit fears are real…..I mean VERY real! Some may say, and have said, "Why would you be afraid of wearing a swimsuit, you're in such great shape?" Well, I may be in shape, and may be at a good weight, etc, but that doesn't take away the fear of being seen in a swimsuit in public. I hate it. I'm not confident at all, and am not one to walk around in one without a coverup. My body IS NOT PERFECT, there is cellulite, and when I'm taking pictures, I know how to strategically stand so everything looks its best!!!!
The swimsuit pictured above, I wore in Hawaii for my 59th Birthday Celebration. It was another memorable trip that was SO SPECIAL!
How do you feel about your swimsuits? Are you confident? Do you feel comfortable? Do they give you anxiety??? I would bet that MOST women feel the same way as me. And it doesn't seem right that I preach to women around the world, to be confident in their skin and in their clothing (swimsuits) but then I'm not myself. I am confident IF I have a coverup of some sort on. Then I'm fine and could wear that all day. I could lay on a chaise lounge in my swimsuit for hours….just not up walking around! Ladies…..you know what I mean, right???
So I wanted to show you how I would get around the idea of having to wear a swimsuit in public. I recently spent a whole week at Lake Powell, and swimsuits were a requirement….all day long. What I took to wear, I felt comfy in, and still appropriate for all of our activities! I love the brand Lululemon and Athleta. I can ALWAYS find something very versatile at either of these two places, and they'll also work for the gym or tennis or whatever!!!!
I'm telling you…..my swimsuit fears are REAL, and if I can find a cute way to cover-up, then I'm much happier and much more confident at the beach or poolside!!!!!! THESE have to be my all-time favorite!!!!! They are SO CUTE and so FLATTERING and cover all I need to be covered! But then THESE or THESE come in at a close second! Nothing looks sportier to me than a girly swimsuit and cutoffs!
HERE ARE MY TOP PICKS RIGHT NOW….TO COVER-UP!

Just a note before I close….I'm sorry I've been absent here! I've been completely overwhelmed with work, moving, traveling, and in general just keeping up! Your support means everything to me…..THANK YOU! Enjoy the rest of your weekend sweet friends!
Shauna XO