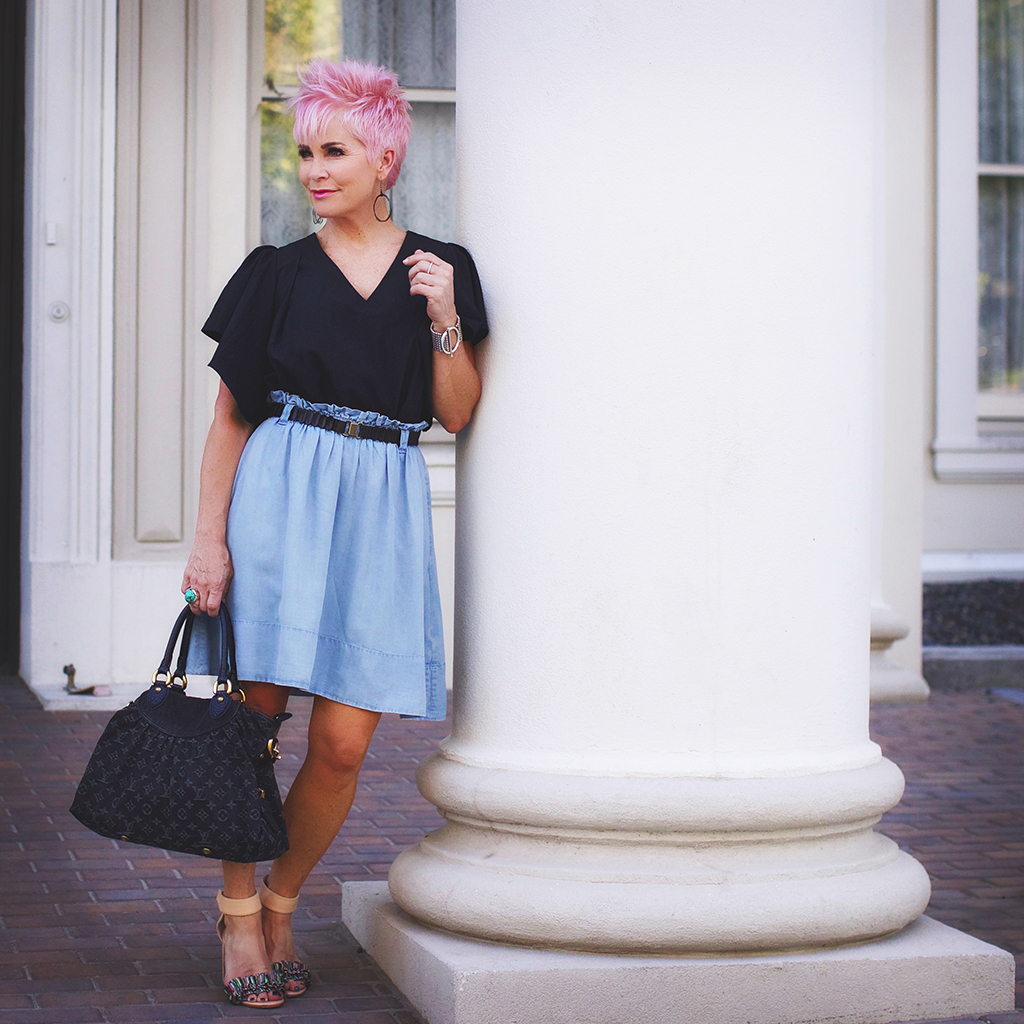 Hey friends! I know this has been a topic before, but since we're always adding new friends here, I thought it worth talking about again….and AGAIN! In a time where we are more conscientious than ever, about recycling, we need to think about this in terms of our own closets! To me….my closet is my store! I want it to look like a store, be as organized as a store (well some anyway), and feel like a store!!! It's my HAPPY PLACE!
One of my FAVORITE tidbits about the Royal wedding yesterday, was to learn that Kate wore an outfit that she had worn several times before!!! Don't you LOVE that?!! Seriously, she was at one of the biggest world events, that of her sister-in-laws ROYAL wedding, and she DIDN'T buy a new outfit???????? WHAT? I really can't believe it, but absolutely LOVE that she showed the rest of us…..that it's a great idea!!! So……this is what I want to talk about!
This whole outfit is from Anthropologie. You know I love that store, and like I've said over and over and over, if you know how to buy things that work for your shape and size, and buy the right colors, they will go on and on and on! The skirt is probably 8 years old. The top is probably 5-6 years, and the shoes are from last summer. The top definitely has a unique cut and I call it a "statement-maker"! I think I'll probably always wear it with something simple. The skirt is made of the softest chambray! It is the perfect length…so cute with tennies or flat sandals and a tee. I love that it has pockets too! I feel like both these pieces are still in style, but if they were a little more outdated, the shoes would bring it all together and give you a very updated look! Remember that when you're wearing something that is perhaps outdated a bit, put it with something very "IN" or very trendy! It immediately updates the whole look! The earrings are new and I LOVE this local jewelry designer, JJ Bolda Designs. Check them out!
Two things I want to mention. 1) You wear 20% of your clothing 80% of the time! Do you find that to be true? I DO!!!!!  2) For however many things you are buying, get rid of that same number. Take it to the goodwill, give it to a friend, or take it to a consignment store. This way, your closet won't become overcrowded and chaotic! I was just at my consignment store this week, taking some things that I hadn't worn for a couple of years. Mostly they were dresses and low-rise jeans. I CANNOT wait to show you what I traded them in for!!! YOU WILL DIE! I was so excited!
So how do you know when to get rid of something? Well, I've heard it said that if you haven't worn something in a year, then get rid of it. That doesn't work for me. I have things that I've worn that I haven't for five years! I still love them, but just haven't gotten around to them. I say that if I have room, and I still would wear it, then I keep it. It does however give me such a great feeling when I can give my daughter-in-law or even my granddaughter something from my closet that they will wear over and over and over again!
One of the things I like to do, is to go through my closet thoroughly every couple of weeks, and pull out 5-7 things that I haven't worn for a while, and find a new way to style them. I have them hung out on a separate rack where I can see them and they are quickly accessible to me! It's easy when you're in a hurry, to just pull out what always works! THIS  is where we get stuck in that rut of 80% – 20%!!! You have to be able to see your STUFF! Also, if you're closet is small, find a way for a second in another room or space, and then change them out with your seasons! Then EVERYTHING in your closet, you should be able to wear! Here is another time I SHOPPED MY CLOSET! And here, you've probably noticed that I wear these jeans A LOT! And the denim jacket…I've lost track of how long I've had it! And here too! Updated only with the denim shirt!
I LOVED this article! It has some great ideas and I think would be really helpful for you too! I'd love to know what your ideas are!!!! Have a HAPPY week!!!
http://

Shauna….XO