Many thoughts today on fashion….of course!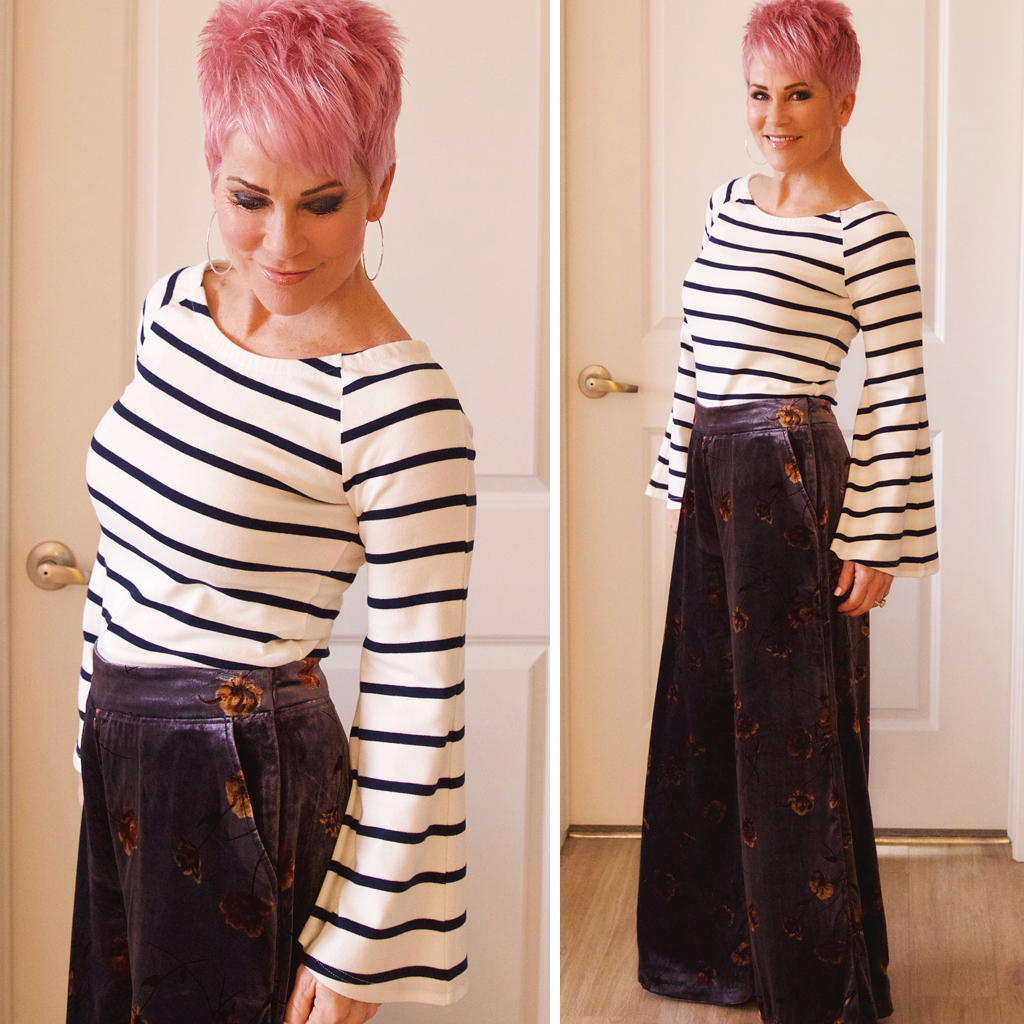 I wanted to bring up several things today in this blog. First is the idea of transitioning in to spring fashion. I talked about this earlier, but wanted to give you another example of how I did it here with this very vintage skirt and top that I got last summer and never wore! So STRIPES are the perfect transitioning staple to make almost anything more spring and summer like! I LOVE stripes and LOVE to mix them with other patterns, such as the skirt and these palazzo pants! The skirt I've had for 5-6-7 years, and have worn it I think, every season. You can change the way this skirt looks, by what you pair with it! The striped top with the flared sleeves was perfect! Add a fun bag and ta-da!!! And then there's the pants! These are definite fall/winter velvet pants. I wore them during the winter with a heavy cropped sweater! But they are so great as we transition to warmer weather, paired with the striped top too. If you need something more, add a denim jacket! I always think to pair one winter thing with one spring thing…mix it up for the perfect look. Today in looking through a magazine, it was suggested to wear shorts with a heavy sweater. Thinking of opposites can really help you put some fun looks together!
And then there are accessories! THIS bag I fell in love with right away. It was a special gift! 😉 I LOVE the color blocking on it, and what FUN colors to block with….right? It wasn't even that much…$78. It comes with a long strap so you can wear it over your shoulder. It shuts tight and has lots of compartments and pockets inside! SO SO SO CUTE for spring and summer! It's super girly!! Accessories can change an outfit from spring to summer, summer to fall, fall to winter, or winter to spring in an instant. Whether it be your bag, shoes, jewelry, or a scarf. Picking the right accessories can make or break an outfit! I would carry this bag with either of the outfits.
Here I've linked my favorite pencil skirts, my favorite striped tops, and some really fun SPRING accessories! Take a look and shop away!!!
First here are PENCIL SKIRTS and STRIPES!

And here are my picks for FUN SPRING ACCESSORIES!
http://

Shauna…XO