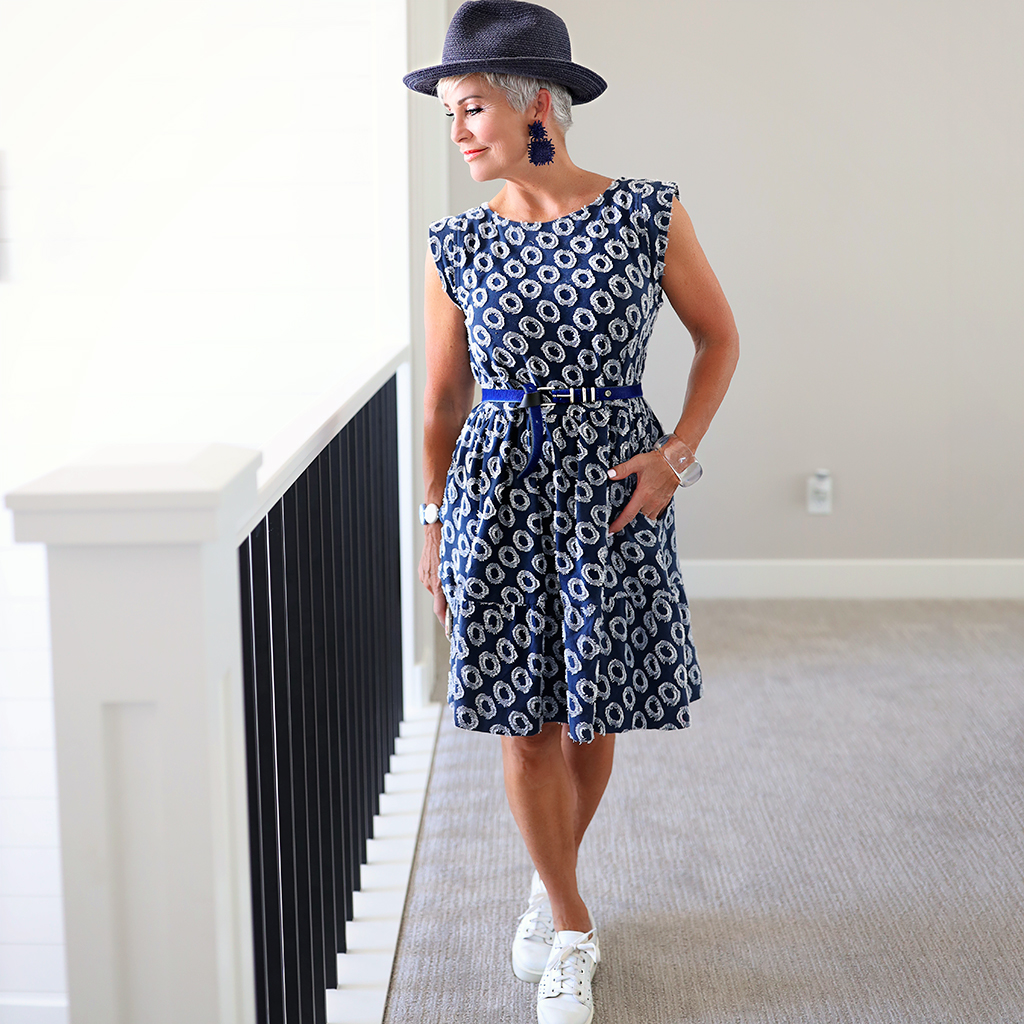 Summer dresses are one of the best things about the warmer months. They are effortless, feminine, comfortable, colorful, and my favorite! I've been wearing them literally almost, every day. They are the most comfortable when I'm working all day at my desk!
THIS ONE is cute by itself, or pulled in with a belt. I prefer it pulled in on me, but easily worn without for a little more laidback look. I have worn it with espadrilles, sparkly slides, and my sneakers. Your options for shoes however, are never-ending! I loved this cute navy hat with it, but again…. almost any hat would look great!
The little cap sleeves on this dress are perfect for hot days. It covers but still gives you a sleeveless look, which I think is super flattering on women my age. And what about the pockets??? What is it with pockets? I always love a dress that has them! The dark blue color could be considered a neutral, so you could add super colorful accessories, including your shoes. Red, yellow, pink, green…. any of these!
Summer dresses are a classic! Think of Audrey Hepburn or Jackie O. When I think of these two women, I think of CLASSY. And even though many of the dresses they wore were very glamorous, they made the dress so lady-like. There's nothing like feeling lady-like. I think a man really appreciates the way a dress can elevate their woman's look! It takes less effort than pants and can really look FABULOUS!
HERE are some GREAT SUMMER DRESS looks to try!

It doesn't get easier than with a simple tee-shirt dress like this striped one. Add some colorful accessories and shoes for the perfect summertime look!

This dress is SO BEAUTIFUL, and what I like about it the most is that it's a shorter style. Sometimes the maxi can feel like it gets in the way, especially for everyday. I've paired it with fresh and bright white and silver accessories! Simple…. done!

This dress is flattering on EVERY body type and the price is awesome! I love it with the blue hat and pinkish-nude espadrilles! Such a gorgeous SUMMER DRESS look!
~
Elevate your summer style with DRESSES! If you're not a fan, just try it once to make sure! Pick a tee-shirt dress, tunic style, so your ultra comfy. ALL the dresses I've linked ARE COMFY, so no excuses! I think you might change your mind! THIS is what I'm crushing on at the moment!!!!!!
And just a note….. I found the best lipstick and gloss this week while I was in the big city (SLC!) Lipstick (Sushi Kiss) is HERE and gloss (Lychee Luxe) is HERE! It's what I'm wearing in these pics.
Shauna XO