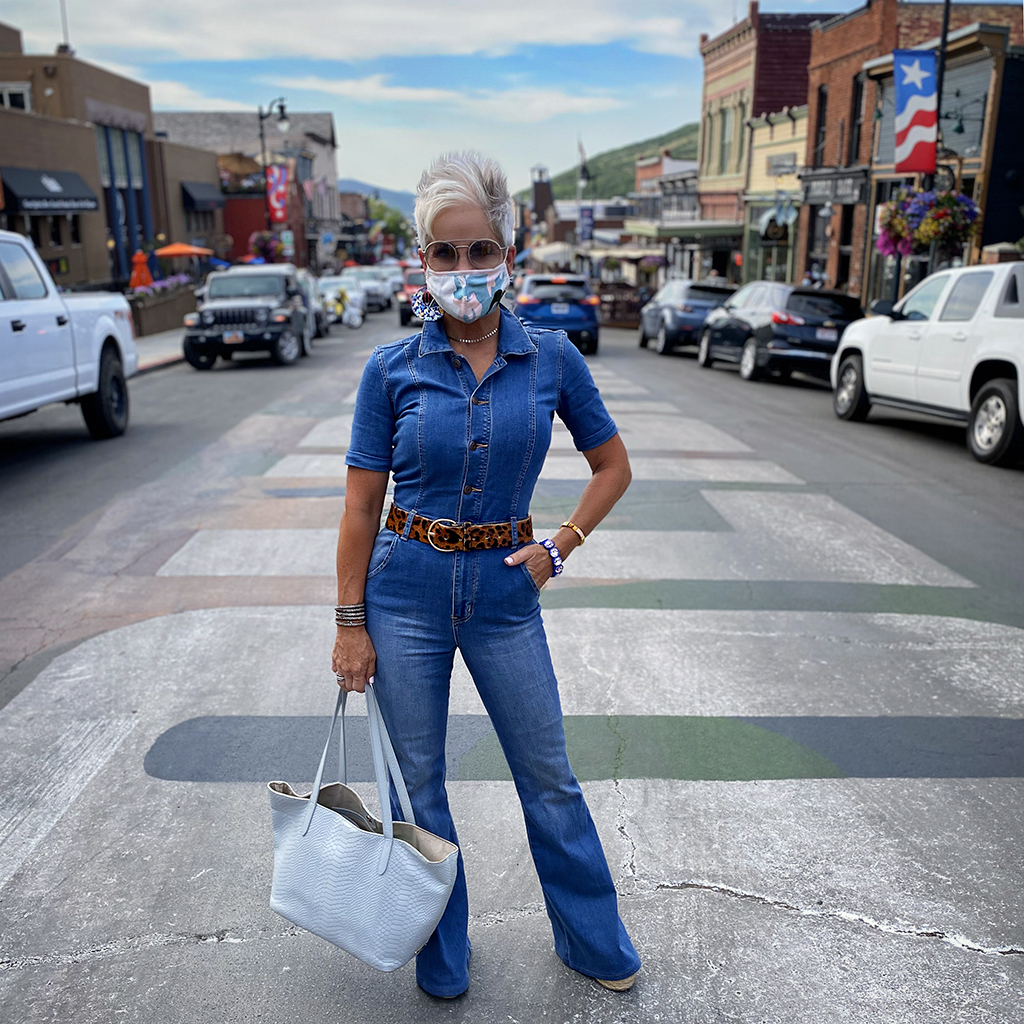 About the denim jumpsuit. About THIS denim jumpsuit I should say! This was the template for my wedding lace jumpsuit! When I bought it a year or so at Anthropologie, I knew it would be a showstopper. I loved that I had a very fitted DENIM jumpsuit, because the others I had always were on the baggy and loose side. This truly does fit like a glove!
First…. just one little bit about this day! I had the opportunity to go stay in Park City for a night to meet up with some new blogger friends as well as see my old friends. It was such fun meeting them all and learning about what they're doing with their blogs and such. They each inspired me and I felt their support. It's a wonderful thing between women. We are collectively so STRONG and INFLUENTIAL and such LADY BOSSES! I LOVED every minute of it.
If you saw on my stories I posted a couple of clips WITHOUT a mask. We were following ALL GUIDELINES in place for Utah. We WERE NOT breaking rules and being careless. I feel people are SO UPTIGHT and STRESSED. I don't want to get in to it any more than that, except for to just suggest everyone calm down. We could NOT eat with our masks on!
~
It seems I'm ALWAYS talking jumpsuits, but I guess that goes to show you just how much I LOVE THEM! That's why it was perfect to wear a jumpsuit when I got married…. besides it being FUN and UNIQUE and FABULOUS! I'm still getting questions about it. In fact if you want one similar, my seamstress told me that with proper measurements she could make it again! I'll be wearing it again soon…. as we are coming up on our ONE YEAR ANNIVERSARY!!!
But…. back to jumpsuits! I wanted to link a few here for you to shop. They can be hard to come by, at least the CUTE ones! I love any one of these here below. Some are a bit pricey, but I believe a denim jumpsuit could be considered a staple! And…. they can be worn ANY season. The easiest and fastest way to change them up is with ACCESSORIES! Hats, jewelry, scarves, and shoes can make them appropriate for spring, summer, fall, or winter very easily.
I wore mine here with a belt. Someone said to me today that they hadn't ever worn their denim jumpsuit with a belt, and they were going to try it! I loved it with this sassy little leopard version. Sort of adds a bit more personality!
ABOUT THE DENIM JUMPSUIT…… right here!

My belt is HERE. My bag is HERE. Similar sunnies are HERE.
Shauna XO
RELATED BLOG HERE.