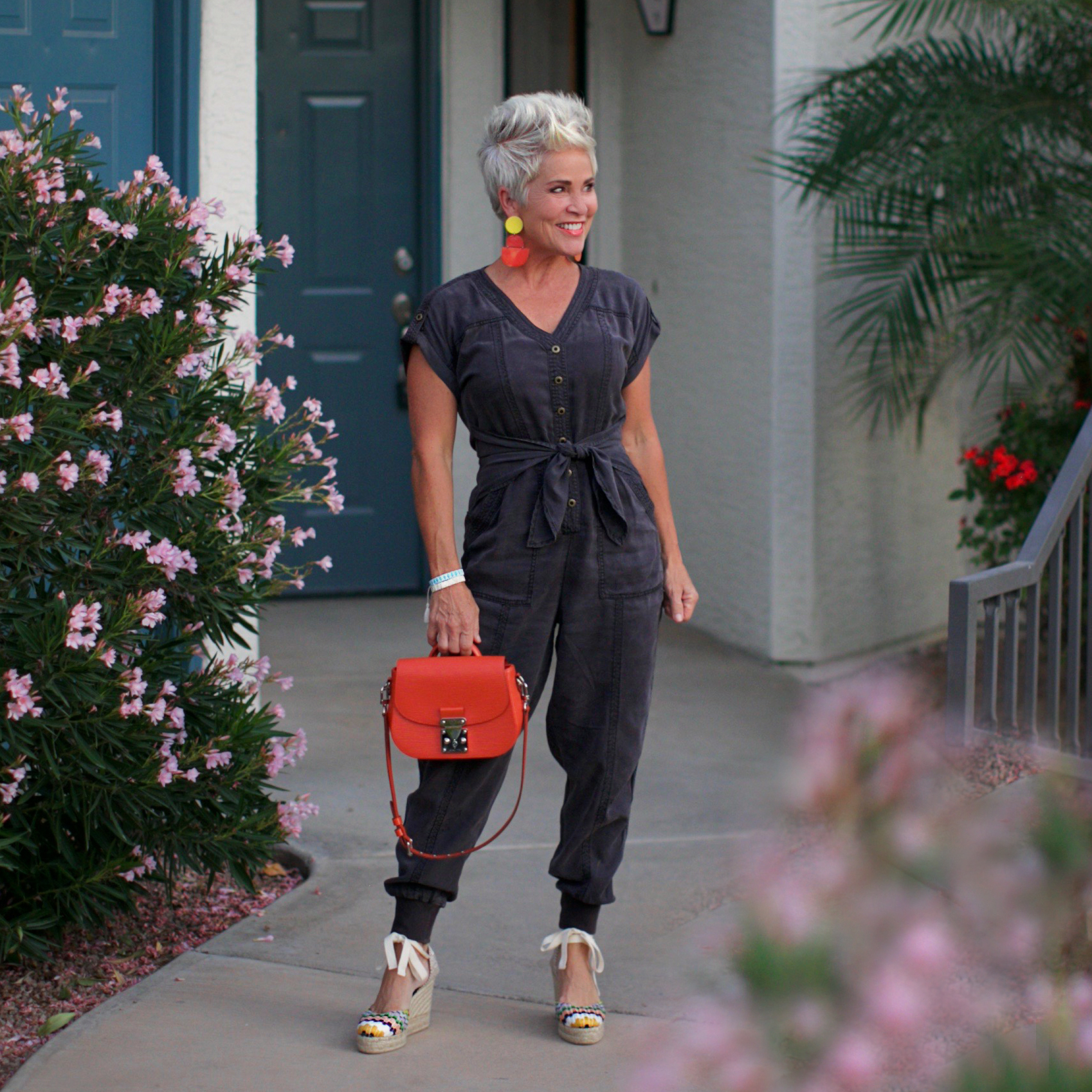 So….you must know by now, how I LOVE jumpsuits. I've got some JUMPSUIT FEVER goin on, and it's quite obvious that it's a part of me! After all it was my first choice when it came to my wedding! That lace jumpsuit was definitely a hit!!!! I came across this one a couple of months ago, and almost forgot I had it! Do you ever do that? I'm pretty sure I do it too much!
I wore this jumpsuit this passed weekend to a baseball tournament that my husband was playing in. It was so fun because it was different, but still extremely comfortable! I wore it to the game with sneakers, but then changed once we got home and went out later that afternoon, in these cute platforms…..which by the way are on MAJOR SALE! But hurry because there are only a few left!
I'll wear this jumpsuit all throughout the fall season, and then back again for spring and summer! It really does have some versatility to it which some may argue that jumpsuits aren't versatile at all. The color is a grayish blue color, so I would say you could treat it like a neutral. I like the idea of dressing It up. I would throw on a metallic cardigan and some glitzy shoes for that dressed up look. Wearing it with sneakers or flip-flops dresses it way down…..like for baseball games!
I wanted to show you a few ways you could wear it through the fall season……yes jumpsuits CAN BE versatile!!!
Here are my ideas…

This is my idea of dressing this jumpsuit up! This jacket from CHICOS is so gorgeous and I LOVE the color! Wear some glitzy heels and earrings, and a fun clutch and it can totally dress it up!

This would be more my look….on the casual side! The boots are crazy good and so beautiful for fall! I love them with a skirt! The cardigan is just happy, and I love the light colored hat with it all! This look has such a weekend vibe to it!

For this look I really went over-the-top with the sneakers. I agree……super pricey, but oh so CUTE! You could substitute ANY sneakers here and still have a really cute and really laidback look! For the sweater, I would pull it all in on the bottom and tie it with a baby rubber band (those clear ones in the drugstore). You've seen me do this a lot, and I do it because of my height. If I don't show my waist, I can look very…..well, very bad!
Anyway, hope this helps you in seeing how versatile a jumpsuit can be!! Oh how I LOVE jumpsuits! I really can wear them more than ONE way! How would you wear your jumpsuit?
Shauna XO
My hair is sponsored by Landis Salon in Sugarhouse, Utah. Landis is an Aveda Salon and Harley is my stylist. I get asked this question a LOT and so thought I would insert it here, for those that are interested! XO