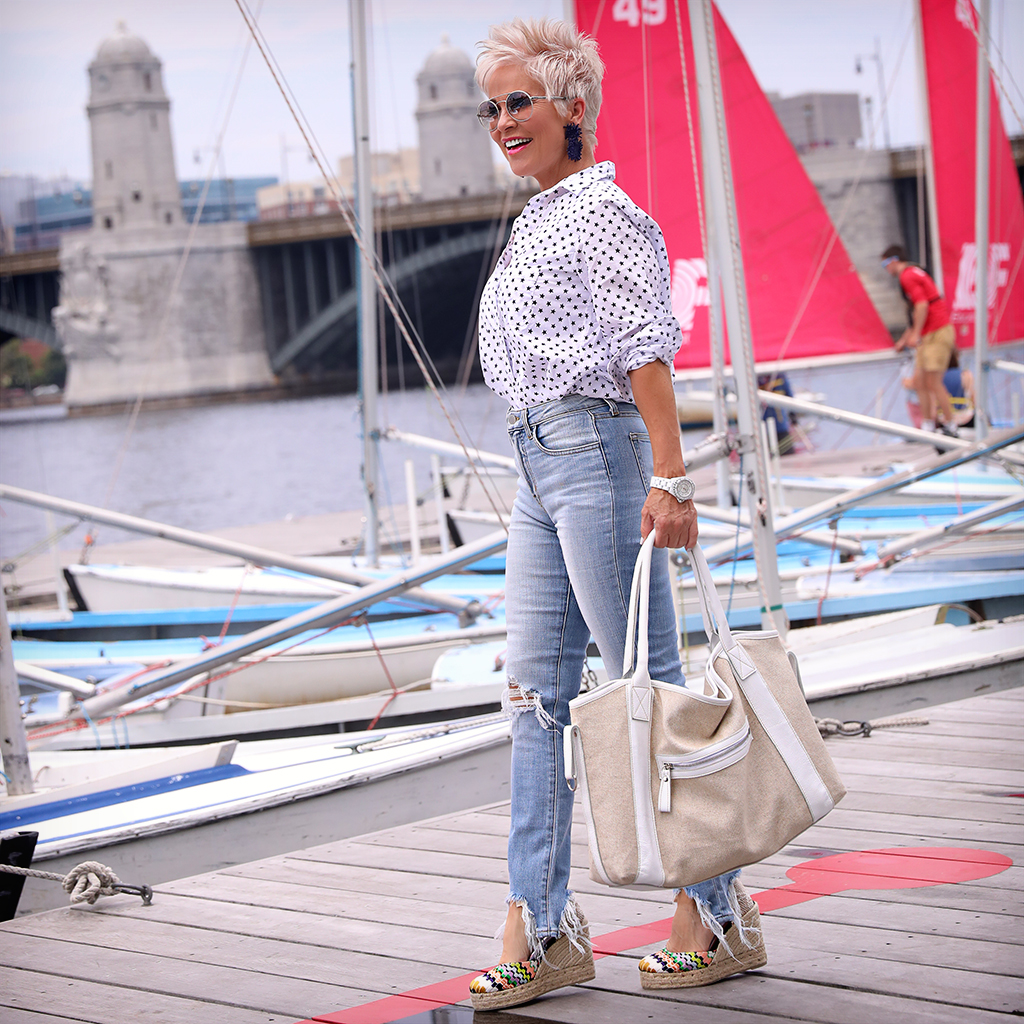 Ladies it's time to start talking about the TOP JEANS STYLES FOR WOMEN! With fall around the corner, I'll be wearing more and more jeans as the weather cools. I would consider JEANS my staple. I feel the most comfortable in them, and for sure can get them to work for any occasion!
These were some I picked up in Boston a few weeks ago, at THIS fabulous NEW FAVORITE store of mine! I've been on the hunt for some with this funky hemline. I love the jagged frayed out bottom of these, and being as short as I am….they are so hard to find! They are ALWAYS too long, and I haven't figured out a way of cutting and fraying them myself! I'm sure probably a lot of you could do that for me???

These are also made with the softest cotton. I LOVE the style and look of LEVIS, but to me they are always so stiff and thick. These have such a great fit, and are COMFORTABLE without feeling tight!
I also am liking so much more, the high-waist! This pair was perfect on me. They hit me right at the smallest part of my waist, which of course is most flattering. Another thing to remember when jean shopping, is to buy them very snug! Like I mean maybe even more snug than you're used to. They need to really fit, because they will stretch out. In fact…..just a little something I do…….I DON'T WASH MY JEANS every time I wear them! Nope! I wash them every FEW times!
I LOVED this segment on the TODAY SHOW talking about JEAN TRENDS. Check out the last pair….skinnies with a slouchy bottom…..LOVE! I think now I need to go find me some……now I won't have to worry about them being too long…..just scrunch them up! YAY!
These jeans from CHICOS are my favorite CROPPED JEAN right now! The raw edge is really fun, they fit like a glove, and I LOVE the slight distressing on this pair! I wore them right here and here!
This pair, a high-rise crop is SO FLATTERING. I love the pintucked detail going down the leg. This is a great way to make your legs look longer!!!! And you know I'll always be for that!!!!!
I just ran across these wide leg jeans today! Look at the amazing side-split detail! Aren't they fun?! The high-waist wide leg would be flattering on any body type. Make sure on these you TUCK your shirt!
Colored denim is still a trend too, and this RED pair is not only fabulous, but so cute going in to fall! I LOVE the button up the front styling! They would look so cute tucked in to your favorite boots!
Look what's back friends!!!! Just when we thought the low-rise was OUT…..it's not! It's back full force and I think we'll see more and more of this style! I never minded it because my torso is so short! They weren't as low on me as other girls! But these have a nice wide waistband that holds everything in!
I always LOVE wearing my boyfriend jeans! These are my favorites right now! I love the Rag & Bone brand. I have several styles, and these are so cute! I like to sometimes size up on boyfriends for a little looser and slouchier feel!
Don't forget your PLAID jeans! Oh my heavens…….all I'm going to say is that I've fallen in LOVE with these cute jeans. Can you see them for fall??? Adorable!
This colored pair be darling for fall and ones you could buy longer and bunch at the bottom! I'm really that idea that was talked about on the clip from the TODAY show!
And finally the BOOT CUT pair that EVERYONE looks good in. This is probably the style I wear least of, because it's just not very unique! But…every girl should probably have this style! I could see this style worn the best if you wanted to wear jeans to the office.

My tote I'm carrying here is from this company. And how about these SHOES???? I would have to say they are the cutest Espadrilles around!!!!! I got them on MAJOR SALE! My shirt is on sale too right now! Such a fun one to mix with bright colors or with another print!
Hope that I've been of some help as you start thinking about your jeans for fall. These are my top ten jeans styles for women RIGHT NOW……but next week it might all change! What are your FAVORITES???
Shauna XO