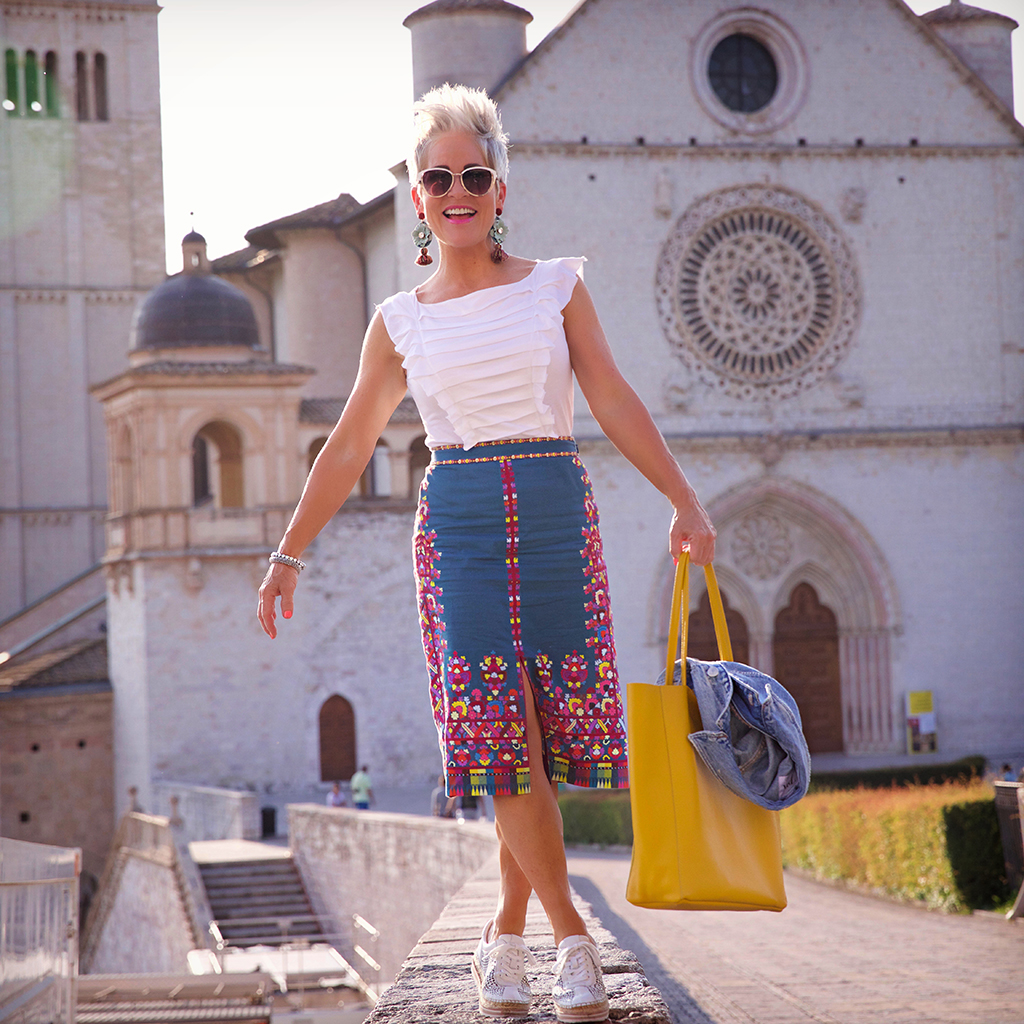 Whew….my final installment of my Italy vacation, with SheShe and Jamie. I wish I could visit Italy every year or AT LEAST every other year…….IT IS just that FABULOUS, and I miss it already!
The first installment of Italy is here in Rome, and the second is here in Florence!
This was our last leg of Italy…..traveling to ASSISI! I have actually been before but somehow forgotten, imagine that! As soon as we drove through the town, I recognized the church and then all the charming and hilly cobblestone streets. But, let's start from the beginning!
We had our own driver come and pick us up in Florence and drive us to the MOST INCREDIBLE hotel of NUN Assisi Relais & Spa. I immediately spotted the contrasts of the old-world architecture mixed with very contemporary style! It was very interesting and OH SO COOL! It used to be an ancient monastery and is right in the middle of Umbria….such a great location! We actually walked to and from the city on our last night.
This was the only place we roomed together, but there was plenty of space for the three of us. The staff were all so good and accommodated us beautifully. The restaurant there was OFF THE CHART delicious, and I'm not even a "foodie"! Talk about FANCY and FANCY…..it was! This would be the perfect place to have one of those SPECIAL dinners with you and your love!
After we dropped our bags off we went straight away to visit the winery of ANTONELLI SAN MARCO. This was right up SheShe and Jamie's alley. Still interesting for me though, to learn more about how wine is made….literally from the growing of the grapes (and they grow their own) to the finished and ready to drink bottle. I had NO idea the years involved in making wine! It was an awesome tour!
We were then treated to a delicious lunch of everything homemade! We sat at a beautifully set table right next to the kitchen! The food was EXCELLENT….oh my heavens the pasta was scrumptious! It was the only pasta I ate the whole trip! I'm not usually a fan of a lot of pasta, but if you're going to have it…..THIS was what you would want! We also had their OLIVE OIL with this to die for bread! This is produced there as well! I wanted to bring some home it was absolutely so good!
Over lunch we talked a bit about how Italians eat versus Americans. These people EAT, and they never seem to gain weight! The lovely Wendy, who was our tour guide and host, talked about how they aren't afraid of their pasta at all. Everything is organic, they walk a lot and stay active, and their biggest meal is the middle part of the day. It was so interesting to me. BTW, Wendy was absolutely lovely!
Our driver then took us back and was so accommodating in stopping wherever we needed to capture the greatest pictures! We were stuffed and happy and maybe ready for a nap. This had to be one of my favorite captures…..three girlfriends having the time of their lives in Italy!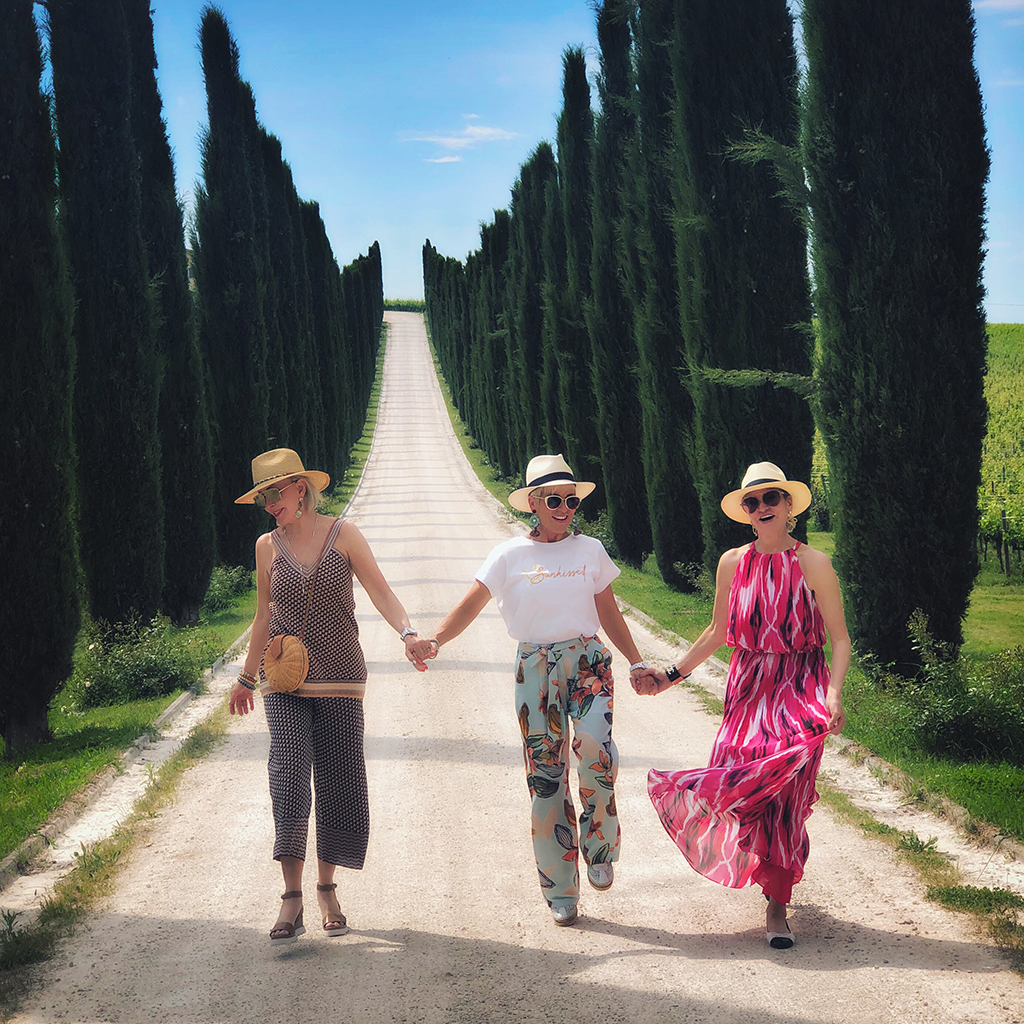 As we were going throughout our trip I was amazed at how little sleep I was getting, but then not necessarily feeling it. We were all using our SeroVital morning and night and it truly did give me the ENERGY I needed to enjoy this vacation….even while working! There are so many benefits, but the ENERGY part was OBVIOUS!!!!!!!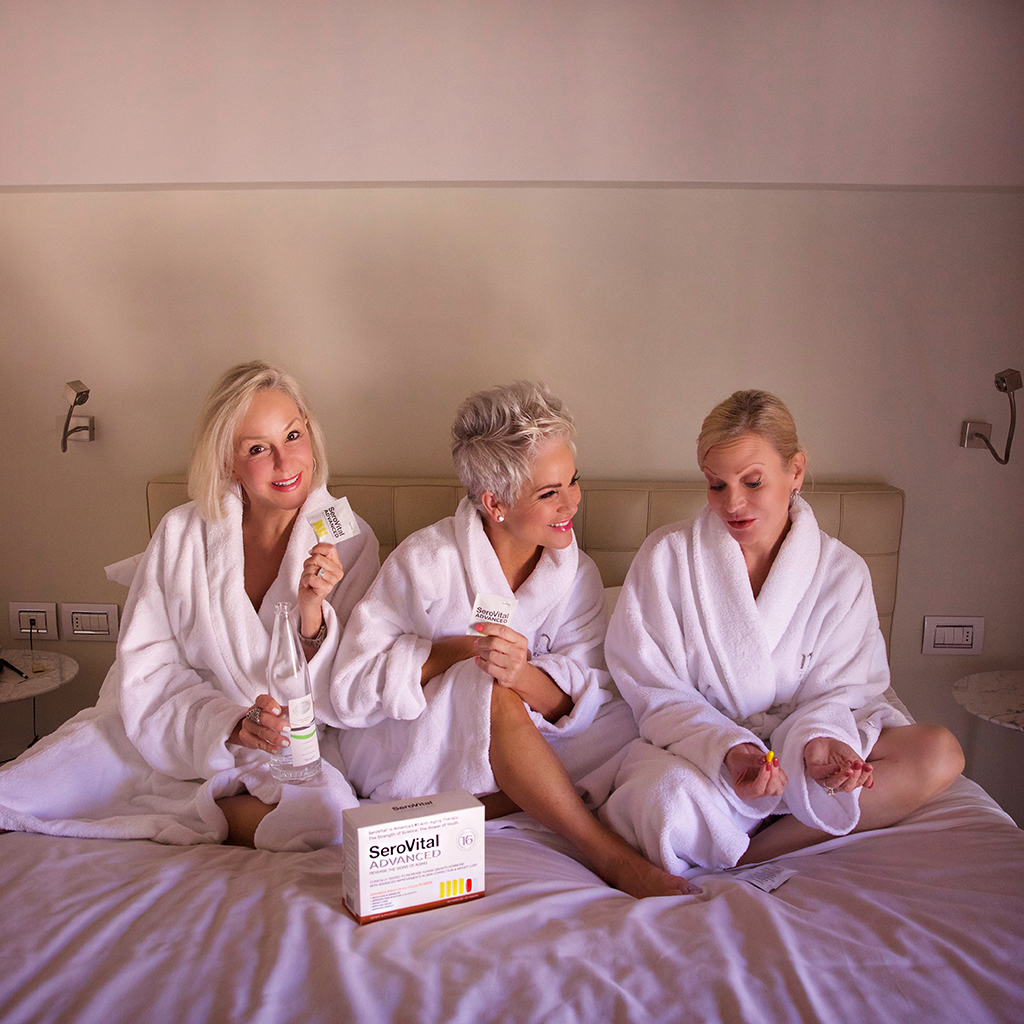 But the reason this whole ITALY trip started was because of Brunello Cucinelli! Yep….he started it! Really, SheShe started it with a trip she had already planned, that of visiting the compound of Cucinelli! If you don't know who Brunello is, let me just clue you in. He's a very high-end designer in Italy, I mean he's as big as CHANEL! He's known for his luxurious cashmere, but all of his designs are classic and FABULOUS!!!!! THIS was an experience of a lifetime.
A little bit about Brunello….he grew up in very humble circumstances and watched his father work hours on end to make ends meet. He knew as a young boy he wanted MORE for himself. This motivated him to go in to design and fashion as he was always attracted to textiles…..and the rest is history!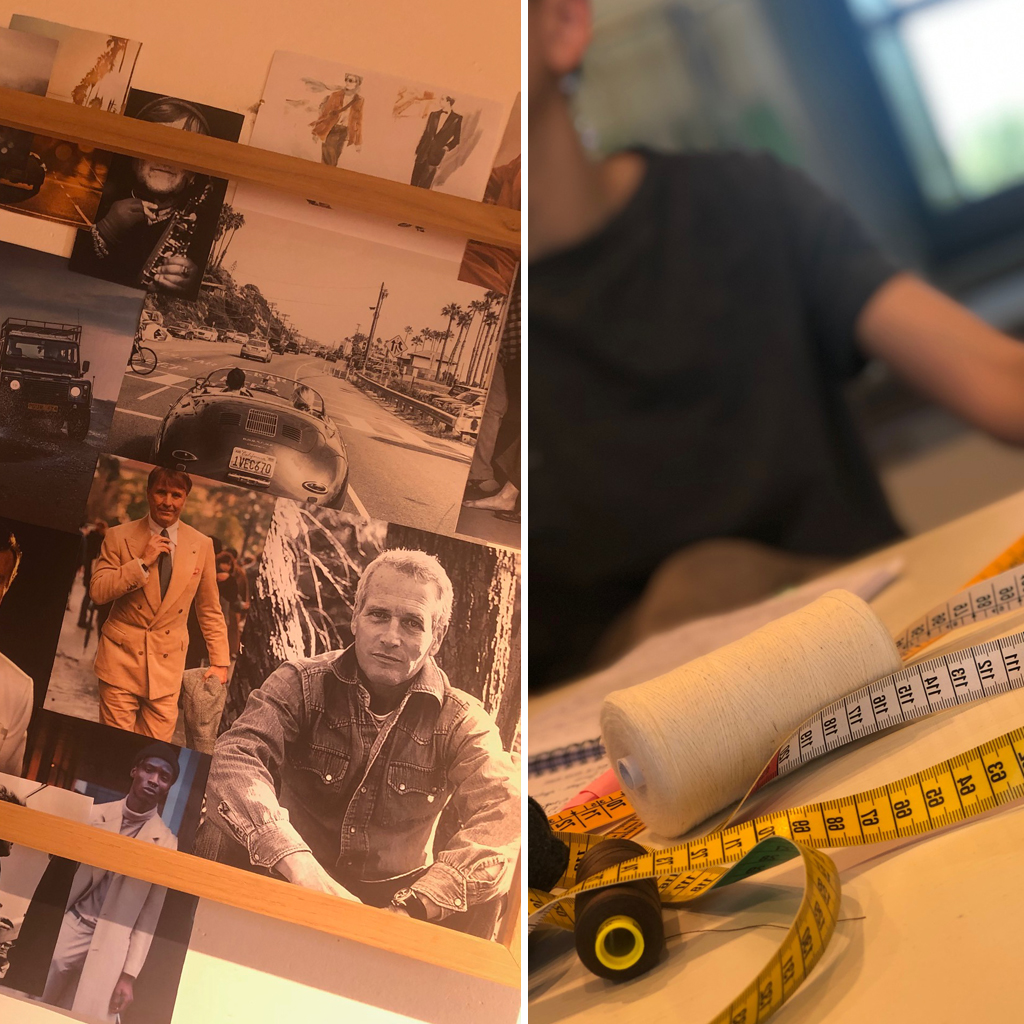 We arrived and were greeted by the most beautiful young girl, who showed us all around. We went to the design room, the sewing room, the packing and shipping room. We saw how if one single thread was out of place in a garment….it was discarded and not sold. It was incredibly fascinating to see his creations from the first steps to the last!
We were then treated to lunch in the cafeteria located right on the compound. But this wasn't just any cafeteria. This was restaurant quality food. Everyone that works there gets to eat there as part of their benefits. The atmosphere was so alive and happening with everyone socializing and enjoying amazing Italian food! We even got to take a spin on the bikes that were on the property….and SUCH FUN it was!!!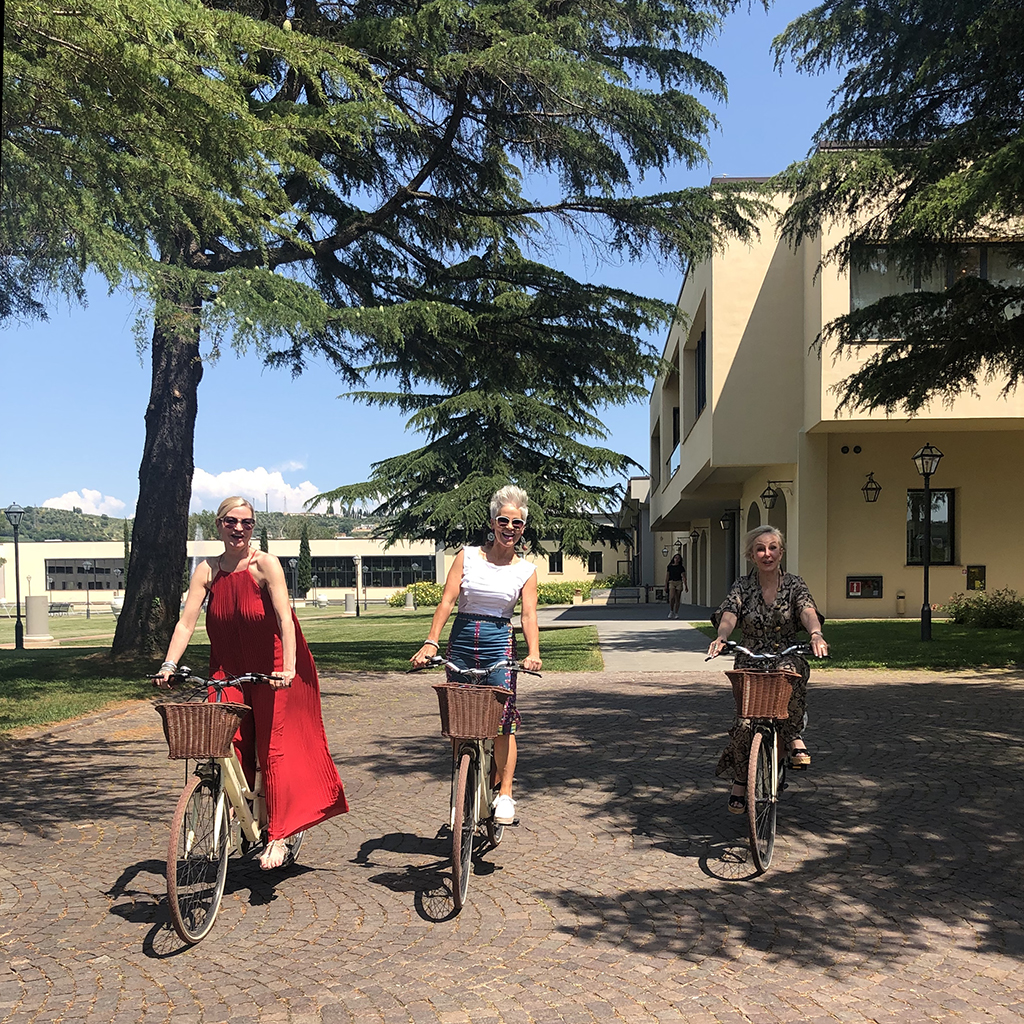 At the end of our tour we went in to THE STORE and got to shop some….well drool for me! I could have bought nearly everything in there had I had my own MONEY TREE! Such exquisite pieces everywhere you turned! IT WAS ALL GORGEOUS and I don't know how you could pick a favorite! WOW!
Our last night was so memorable as we decided to walk down to the Basilica of San Francesco d'Assisi. The streets there were so charming and so much fun to window shop! Shop after shop, with all kinds of goods! We certainly didn't get enough time there, but were happy to have been able to see what we did! We had a lovely meal right across from the church, with beautiful open, flowering windows to look out!
Our last morning we enjoyed just a few minutes in the beautiful gardens of the Nun. All cozied up in our SOMA STYLE, we were ready for the long plane ride home in our comfy travel clothes. These sweaters acted as our blankets on the FREEZING COLD plane! We were all so thrilled that our SOMA kept us warm!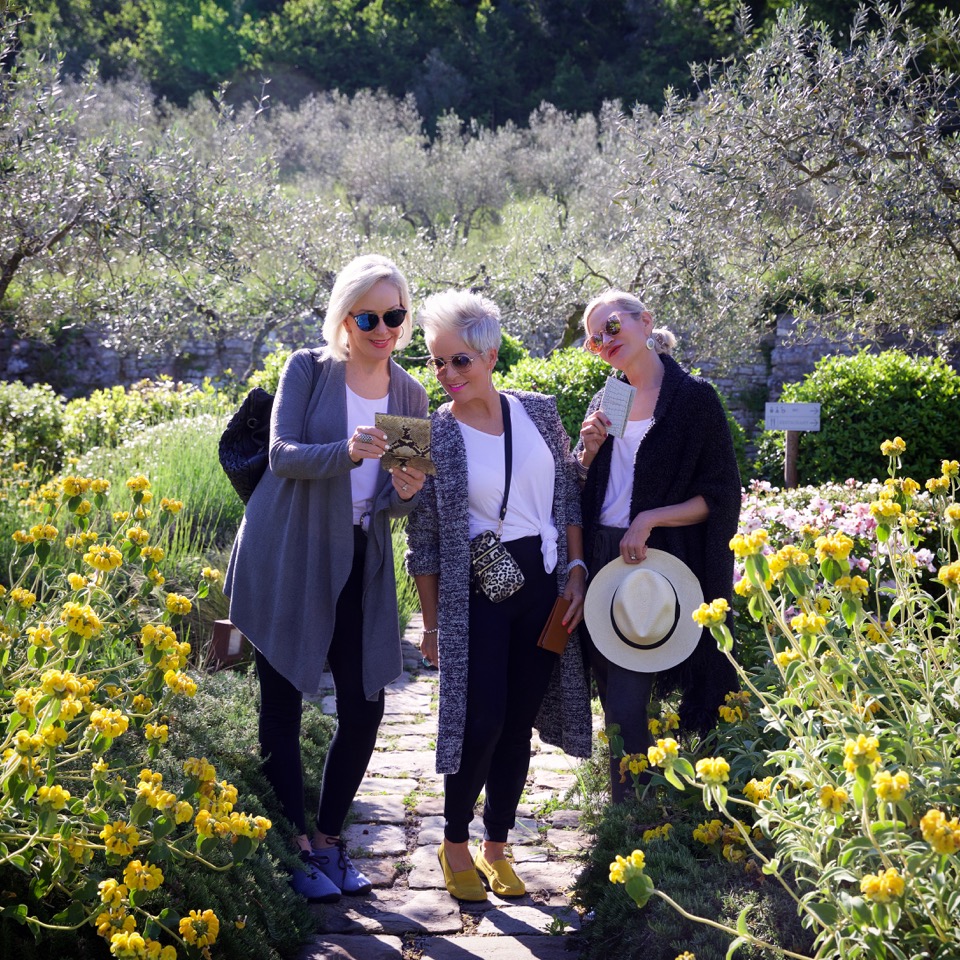 What a trip! What a memory! What amazing girlfriends I have! What an incredible job I have! What fabulous companies I represent! I seriously couldn't feel more grateful!!!!!! My FINAL installment of Italy vacation!
Shauna XO