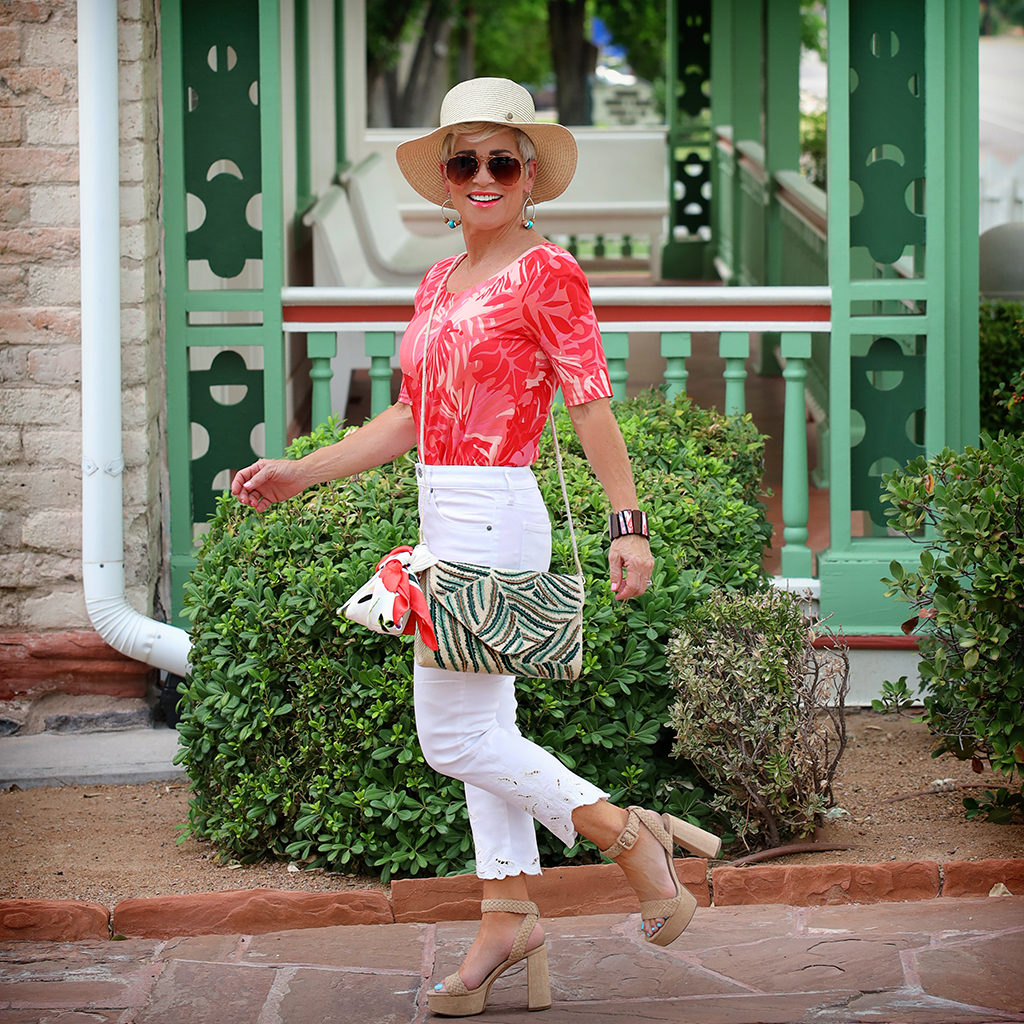 I wanted to share in this blog, MY TAKE ON CHICOS LATEST. I have loved their newest release of summertime fashion! As always I love the color combinations and prints. I did an INSTAGRAM LIVE recording with Brandi, one of Chicos top stylists, this week. We discussed TEE SHIRTS, since this passed Monday was INTERNATIONAL TEE SHIRT DAY. It's amazing that you can chat about tee shirts for an hour! That LIVE show is HERE. If you get stuck wearing your tee shirts one way and don't have ideas on how to move outside of your box, this would be really good to watch.
I said in the LIVE, that I probably wear tee shirts 75% of the time. They are effortless, comfortable, easy to care for, easy to pack, and versatile! I was asked by Brandi if I was to go on a quick getaway over the weekend, what would I take? This is what I would pack in my suitcase…… PLENTY OF TEES!

This is a great TRAVEL CAPSULE WARDROBE with just twenty pieces. You could actually get away with even less, OR this could last for 4-6 days….. even a week! Ha! I LOVE putting your wardrobes together for vacation!
Anyway…. back to the tee shirts! Some of our talking points were these. The tee is an ESSENTIAL part of any wardrobe. They are VERSATILE in that they can easily be dressed up or down…. as I'll show you a couple of examples below! They are SUPER FUN, (and my favorite way) to wear them is JUXTAPOSITION STYLE. This means pairing them with things that are VERY DRESSY (example below). Also you should consider neck style, sleeve length, and QUALITY. I said on LIVE, that I'm not ever afraid of sinking a little bit of money in to a tee. You most assuredly get what you pay for. Investing in a few great tees will be very much worth your while!
TEES DRESSED UP~
EVERY GIRL NEEDS a STRIPED TEE. It's no secret I love stripes. They are great to play with when you want to mix patterns, and can looked dressed up! This look below is sort of in-between being dressed up and being dressed down. It's dressed up with some fun high sandals, scarf, and statement earrings. To dress it up even more you could add a super cool white blazer! Wouldn't the jacket idea be FABULOUS??? To dress it down, change out the shoes for sneakers and add some simpler earrings and remove the scarf.

A black tee will ALWAYS dress your look up! Here I've paired it with those AMAZING pink pants from my last post, and some sassy jewelry and black sandals. I personally would do a little half-tuck in front with this tee.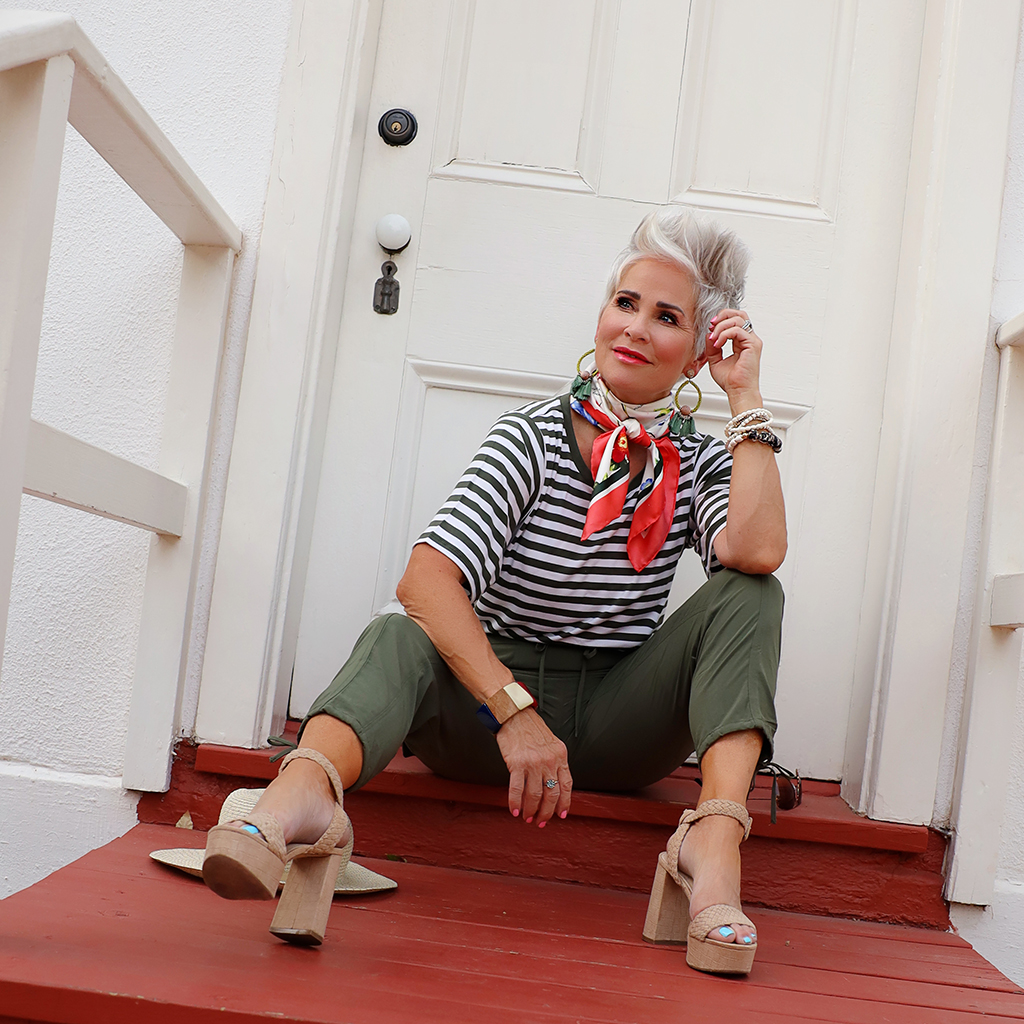 TEES STYLED JUXTAPOSITION STYLE~
JUXTAPOSITION is my favorite fashion word. This look here is one of my favorite ways to style an outfit. The one linked below could go out to lunch or shopping with your girlfriends. These SPECTACULAR pink pants which are very vogue, are such fun with a tee and sneakers…. I have yet to wear them this way, but most definitely WILL!

This SKIRT (pictured below) may be thought of as dressy only. NOPE! Put a cute graphic tee with it and even wear a pair of flip-flops along with a hat, and it's super casual and has a juxtaposition style to it. THIS SKIRT by the way is ultra comfy. It's made with a beautiful silk fabric and feels like jammies actually!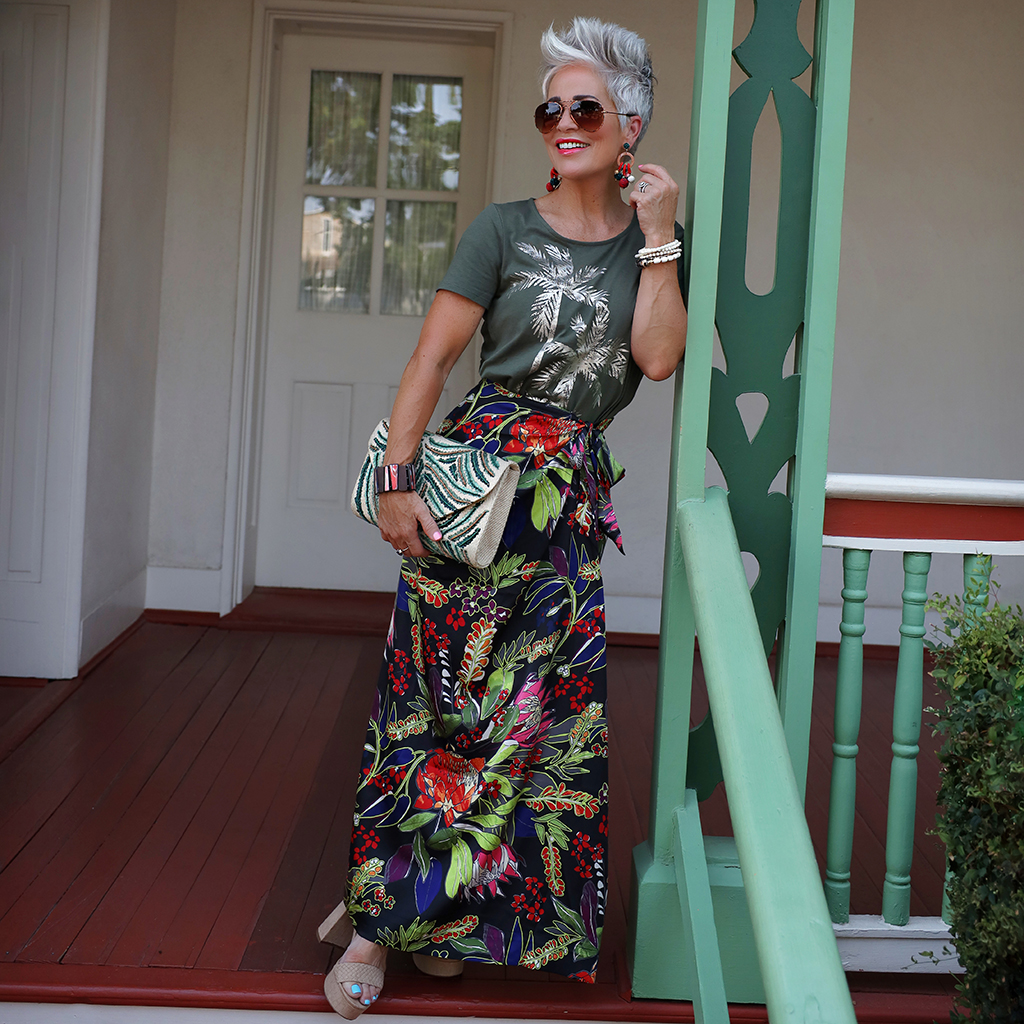 My take on CHICOS latest styles, with an emphasis on tees has been fun sharing with you! You see how tees can really be worn MOST of the time! Remember to step outside of your norm, and think of all the options they can give you! I'll be wearing them ALL SUMMER LONG!
Shauna XO
Pair all of these pieces with EVERYTHING here in this blog!
Shop NEW ARRIVALS right HERE!