Ladies…. this CHICOS capsule is a BLAST! I mean…… look at this color and pattern and boldness and happiness!!!! Isn't it fabulous for SUMMER? I think FINALLY we have a reason to get out of our cozies and dress up a little bit. I just heard that Disneyland is opening back up, so that must mean that a LOT of establishments are following suit…… with caution of course!
LOOK ONE~

LOOK TWO~

LOOK THREE~

This lineup from CHICOS is one of my favorites. I KNOW…. I've said that so many times before, but this one REALLY IS! These are my colors and this is my vibe! I've tried to show you a CAPSULE WARDROBE with these pieces. This is how you want to pack for a vacation. After I shot this, I realized I didn't even include the white denim skirt and the denim shirt. Those two pieces added to this would give you even MORE options!
This red pair of soft pants and tank are beautiful basics. Wear them alone as I have done, or separate, or with a shirt or cardigan over the top. They travel and pack very well as I found out when I went to Florida. These are the kinds of things that will get you the most mileage out of your suitcase! You see below how I've worn the floral linen shirt over the top as a jacket-type look.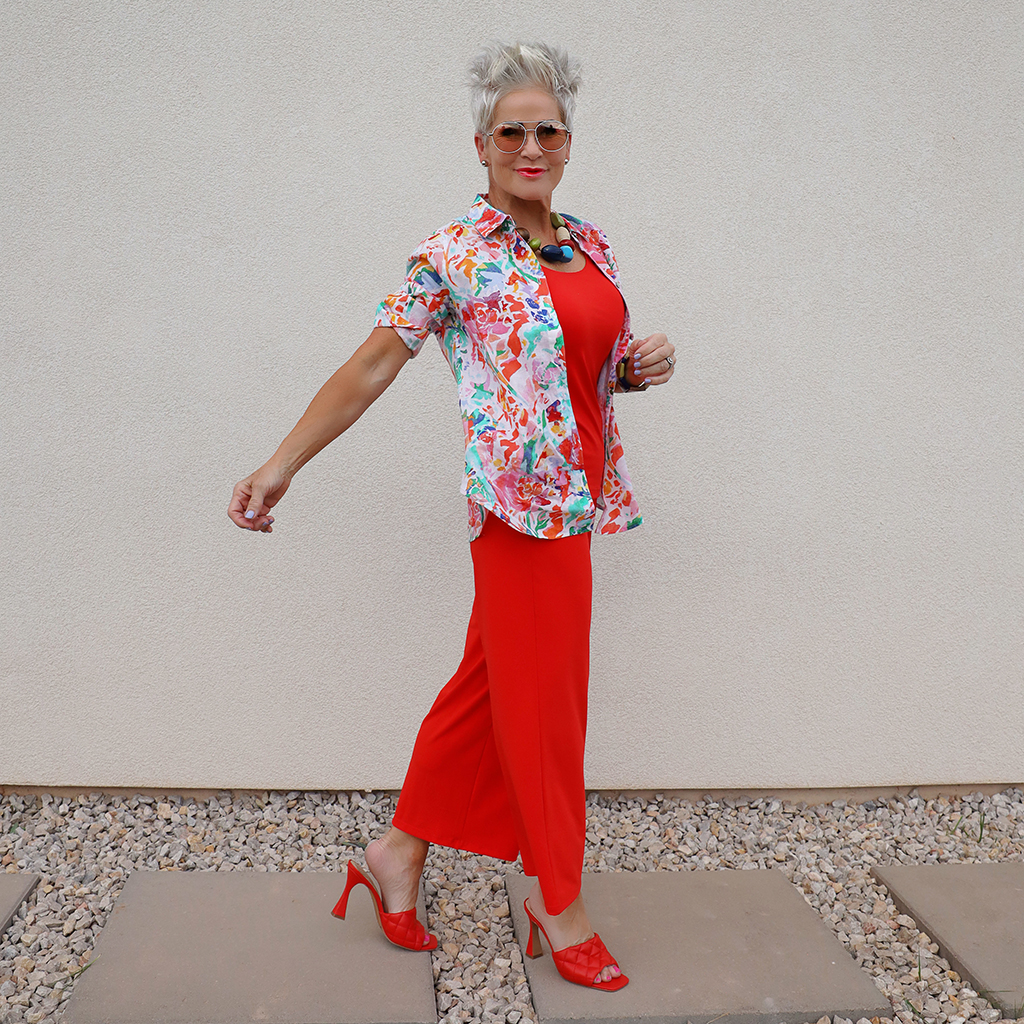 The cardigan here can be worn as a cardi, or over your shoulders, or tied around your waist. I loved it with this purple striped tee. I thought the pattern play was super fun for summer! The floral shirt is ADORABLE with the white denim skirt, any of your denim, shorts, or the red pants. I've raved about this pattern and you can see why…. it's SO MUCH FUN! It's one of Chicos originals!
The jeans are my favorite right now. I love the wide-leg crop style. They are super soft and have a mid-rise. They are the perfect length to show off all your cute summer sandals! They would be considered the perfect lightweight summer jeans!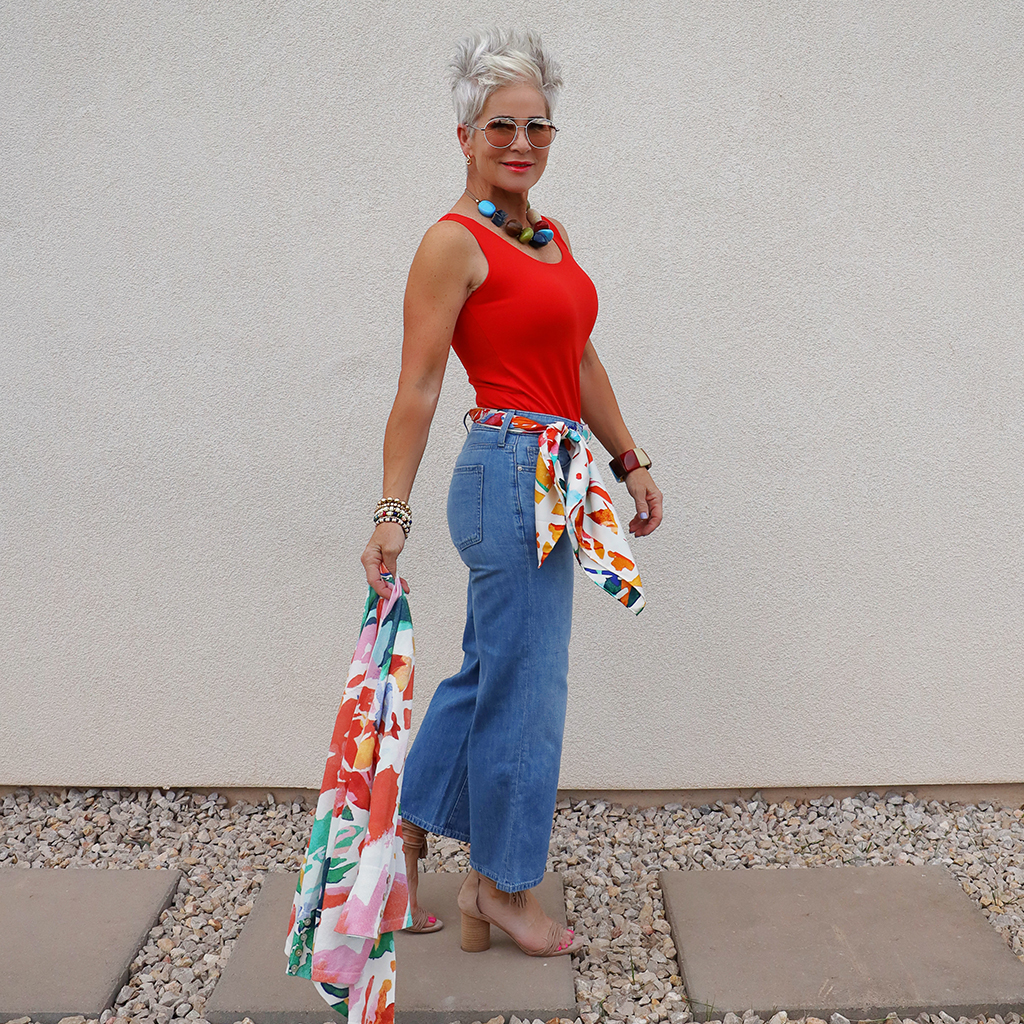 This scarf is the most fun tied as a headscarf. But you see I've used it as a belt and of course always tied loosely around your neck…. even tied on to your bag! The scarf is the same print as the shirt and the cardigan. Can you think of other ways to wear this scarf?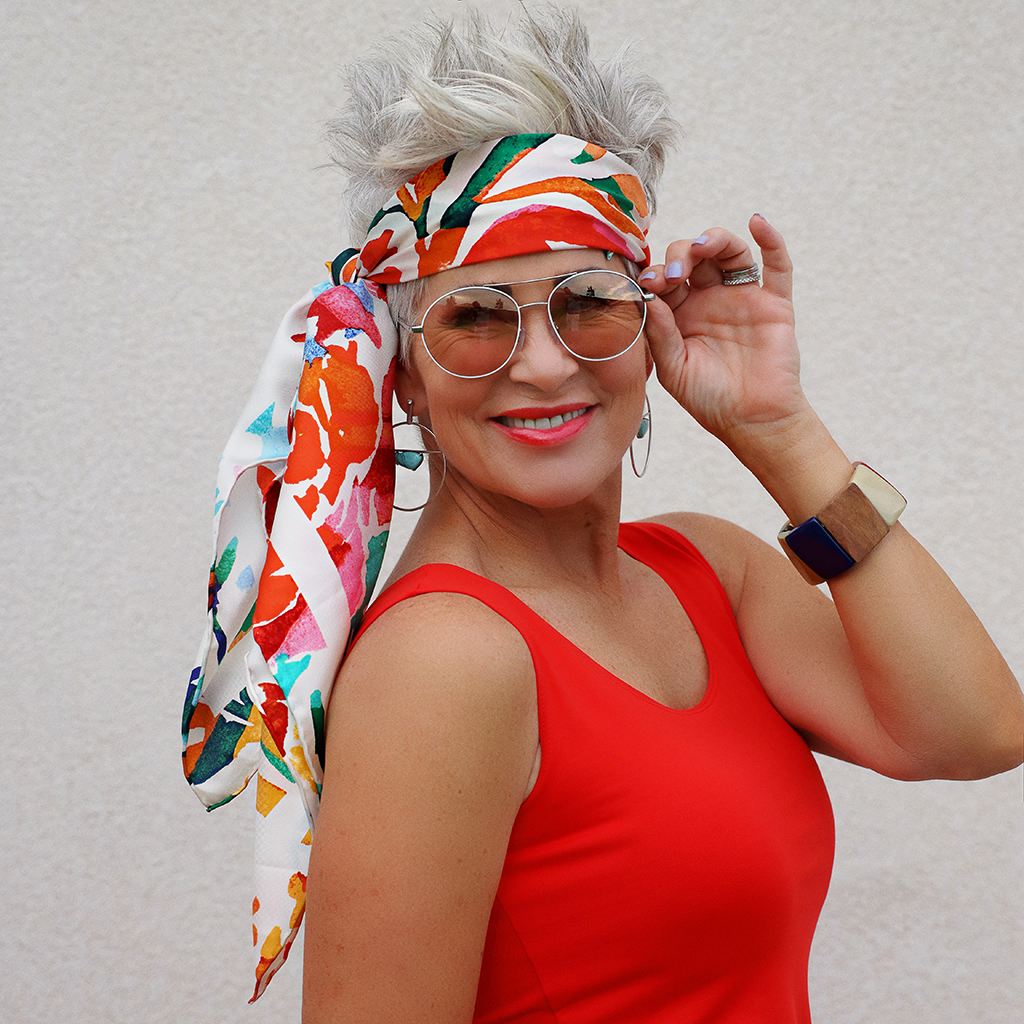 This Chicos capsule is a blast no doubt! You could throw in a navy swim suit and you'd be set and ready for SUMMERTIME fun in STYLE!
SHOP CHICOS NEW ARRIVALS RIGHT HERE.
Related blog right HERE.
Shauna XO