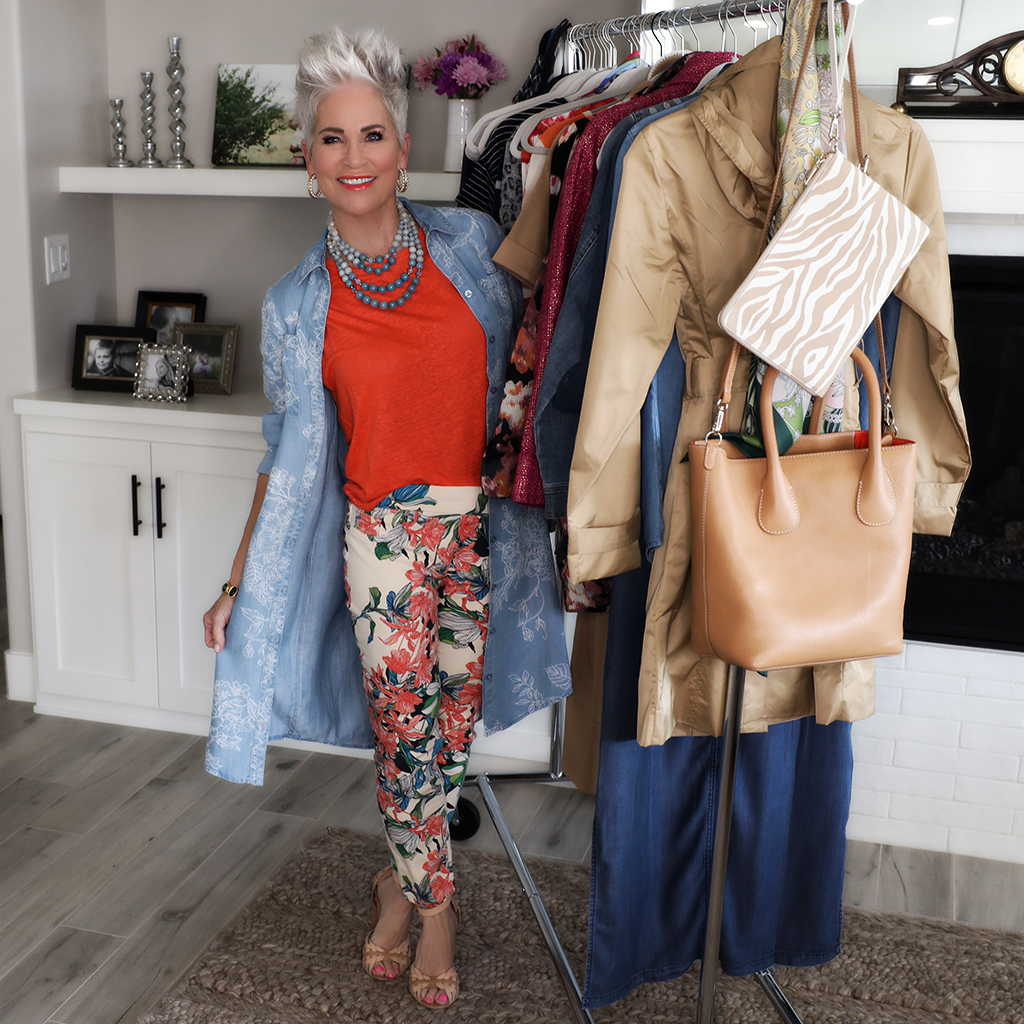 A continuation from my post on dressing as a petite….. MY BEST STYLE HACKS. A style hack essentially is a STYLE TIP. This was the main reason why I started CHIC OVER 50. Through the years I've been asked by women what to wear, how to shop, how to style their hair, what kind of makeup, or how to stay fit, etc. And one of my favorite things to do is to coach women or help them look and feel better. It's something that brings me SO MUCH JOY! When I used to work more as a photographer, and when I had family shoots, one of my favorite parts of the job was to help put their outfits together so that they would all coordinate for their pictures. So it just seemed natural to start my blog and put in writing my best style hacks!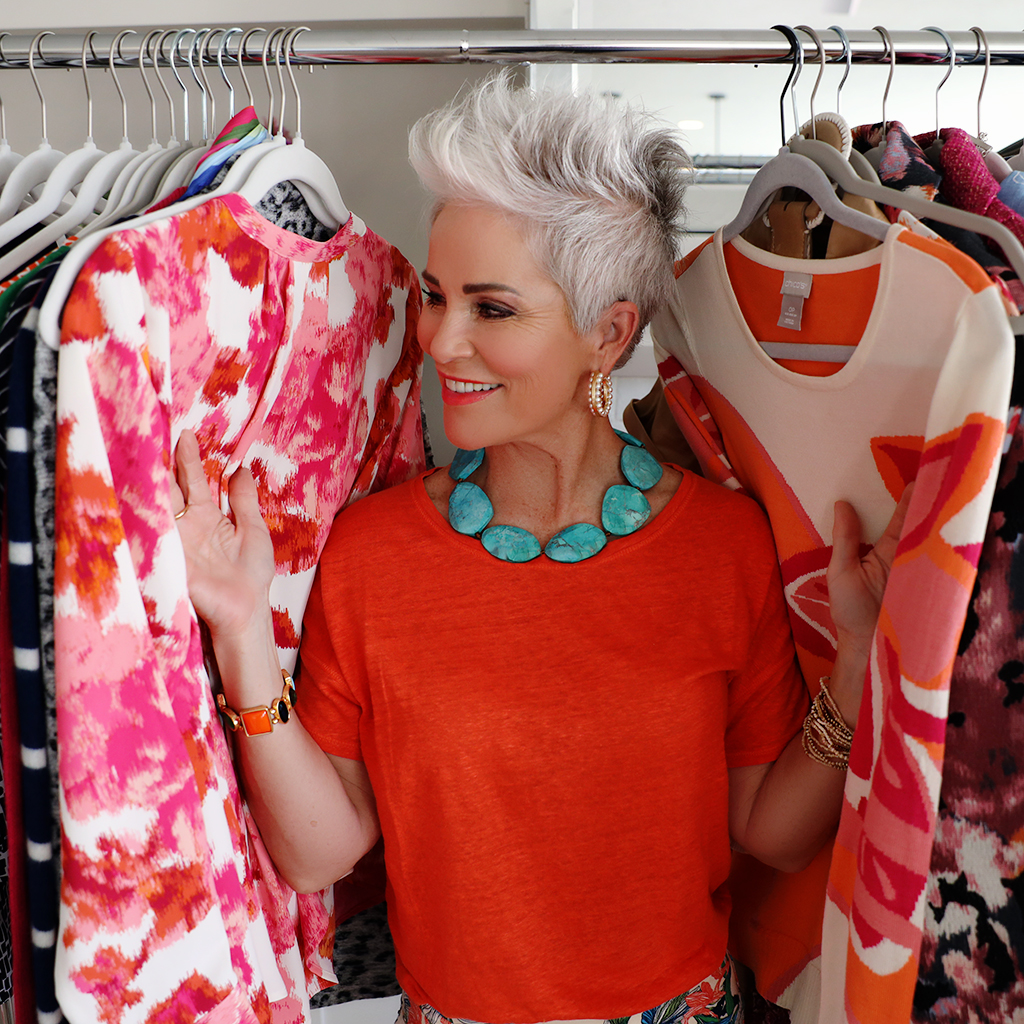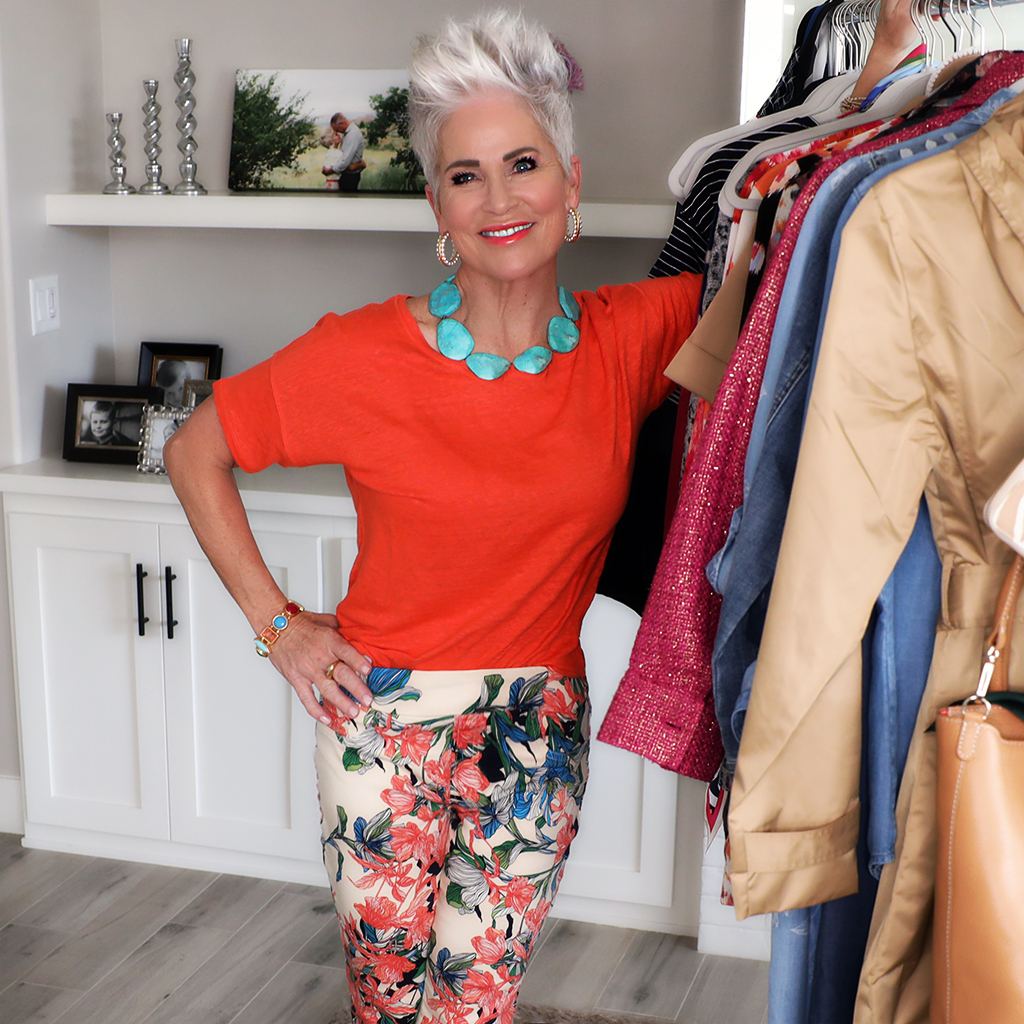 Last week, I went LIVE on Instagram with CHICOS and this is what we talked about. You can find it here. We chatted about how I would style their clothing to make it ME. We talked a lot about being PETITE, which is what I talked about in my recent blog post. But outside of being petite, I had some other STYLE HACKS that I wanted to share with you! So here we go……
~
FIRST~ PLAY WITH PATTERNS! A good example of this is my picture above. I've paired a floral pant with a soft chambray printed shirtdress worn open like a kimono. I feel like this really makes this outfit fun and interesting and very SASSY! If you want to try playing with pattern and not quite sure how to go about it, try it on a smaller scale. I've linked up a look below that is very subtle. I've put a striped tee with a very subtle striped bottom. I would wear the printed scarf as a belt, but just as cute around your neck or even your wrist! You could also play with this look using an accessory, like this cute clutch.

SECOND~ ALL THE FASHION RULES. There should be NO fashion rules. As I've said a zillion times before, if YOU like what you are wearing and feel confident in it, you're fine and you will look beautiful. So all the rules about NO WHITE after Labor Day are ridiculous. Now…. if you live in a very wintery climate, can you still wear white? YES! I would then pair my white with other winter whites and some tall boots. This way you won't be ruining your white jeans with all the mud splatters from the wet weather. By the way, THESE are the best white jeans (NO STAIN) for ANY time!
THIRD~ JUXTAPOSITION! This is such a fun way to think about styling! Think opposites….. formal with grungy, dressy with casual. I wore this look right here with this very special Escada jacket. Styled with a graphic tee, and rugged jeans, and heels. I LOVE this beautiful jacket from Chicos which I would style the same way!
FOURTH~ KNOWING HOW TO STYLE SOMETHING THREE WAYS! This is so important to know how to do, because then you'll get so much more use out of your clothing! This is why when I write a blog, I always show you how to style something three different ways. How to dress it up, how to dress it down, and then one other way!
FIFTH~ KNOW YOUR COLORS! This is absolutely key in making sure that YOU LOOK YOUR BEST. If you're wearing the wrong color, no matter how cute your outfit is, you won't look your best. My colors, as a lot of you know are VIBRANT! The more vibrant and electric the better for me! If I choose to wear something more neutral, I like to add pops of color with accessories or even my lipstick! You can buy the punchiest lipstick right here….. my own brand! Even if just my punch is my lipstick, it can and will make such a difference!!!
By the way, below I'm wearing this darling dress alone with some colorful accessories. Some pattern mixing, the pop of color, wearing the dress more than one way, are just a few of my STYLE HACKS that I've talked about here.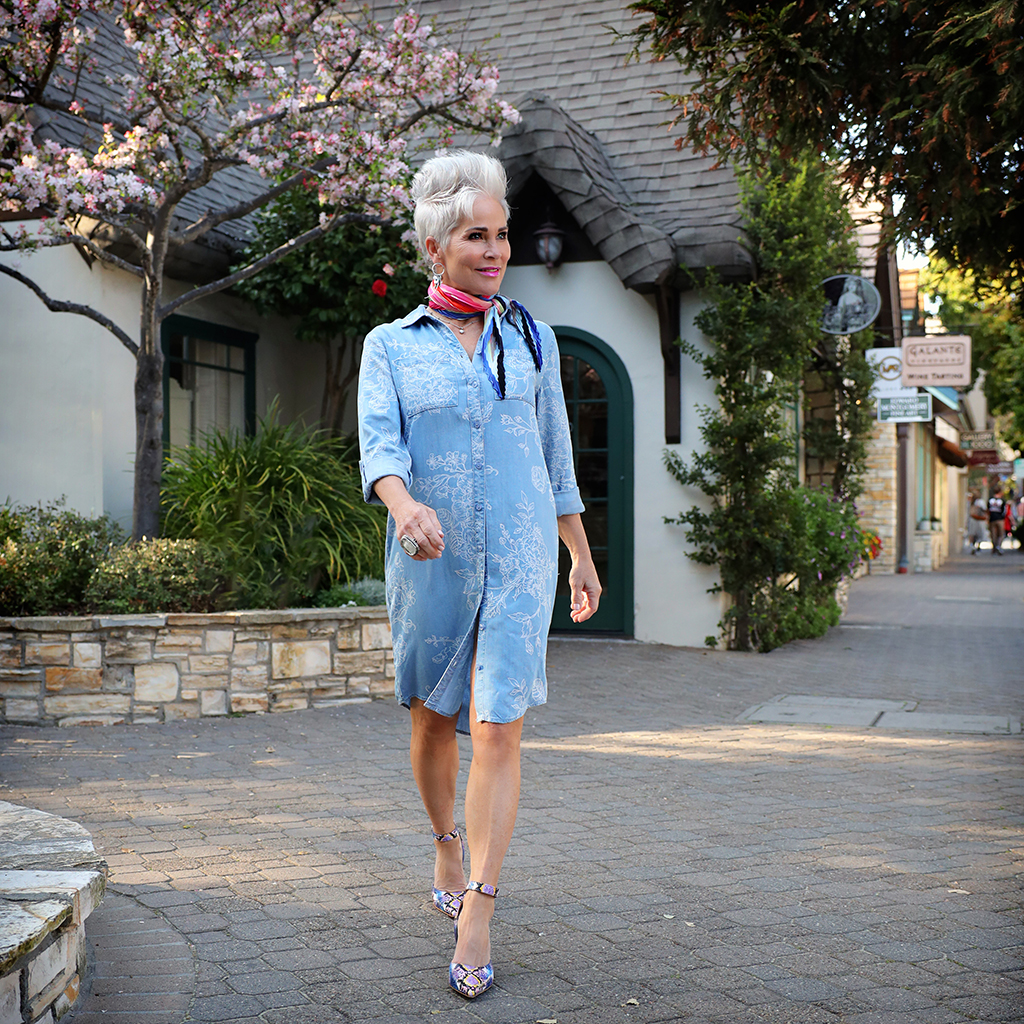 I hope that these five STYLE HACKS will help you with your own style. It's so easy to get stuck in our boxes and not see anything else! Even myself…. I love to watch and observe fashion trends. It always pushes me outside my own lines and inspires me to try new things!
Shauna XO