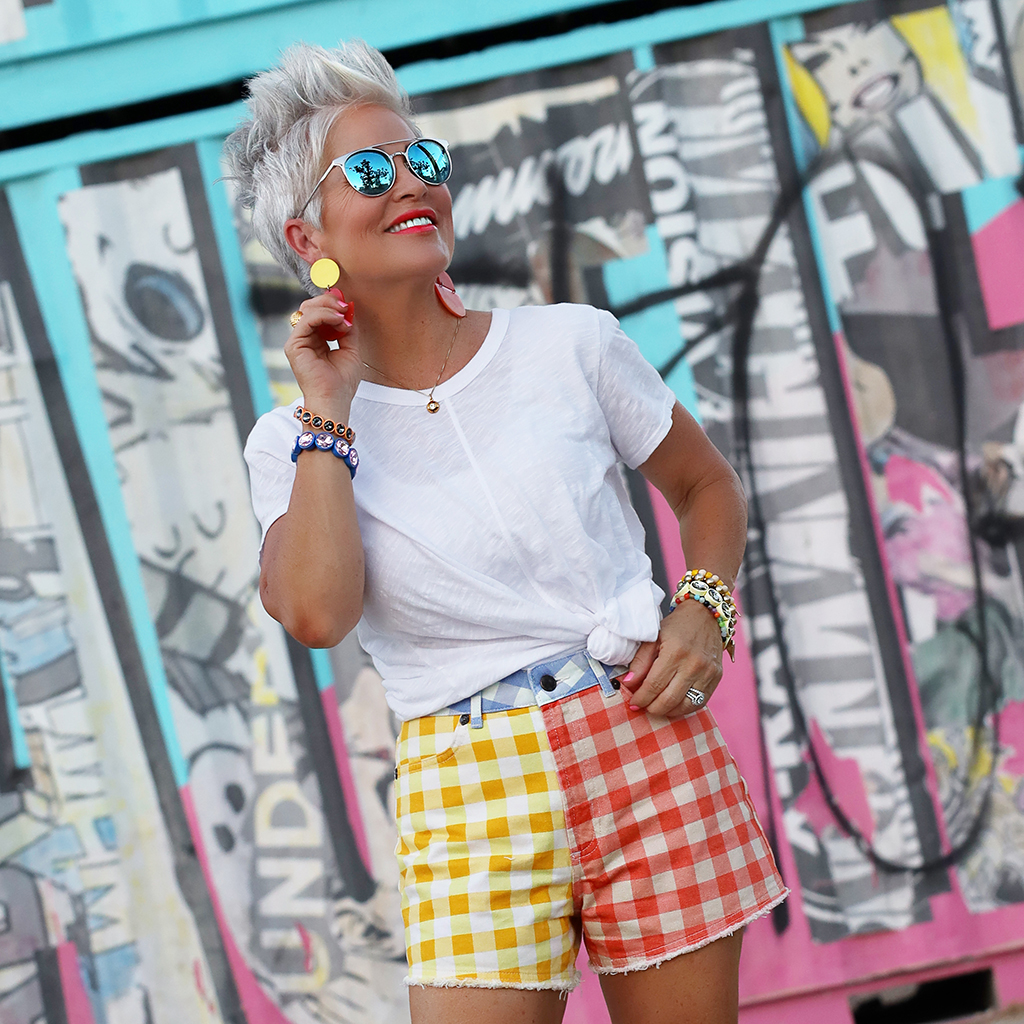 Hello friends! Wanted to give you my review on checked summer shorts. I've said before that if I were spending the day at the beach….. cutoff denim would definitely be coming with me! I LOVE this look way more than I do any other kind of a cover-up. I don't wear shorts this short out and about, only to the lake or beach. But they sure are cute, aren't they?
These are from FARM RIO, which I blogged about this brand right here. It's such a fun and colorful brand. The shorts could be spotted a mile away many would know that they are FARM RIO shorts! The brand is known for it's colors and prints.
I wanted to show you how to pair these a few different ways for a vacation or a STAYcation. It seems that so many are itching to get out of dodge and go someplace fun! If I were going to the beach I could have these in my bag, and this is how I would wear them. Remember even when traveling, you should think about what you've packed being able to wear them at least three ways!
REMEMBER WHEN BROWSING THESE LOOKS…. ALL YOU NEED TO DO IS HOVER OVER THE IMAGE ICON AND CLICK. THIS WILL TAKE YOU DIRECTLY TO THE WEBSITE TO SHOP THE ITEM!
FOR THE BEACH~
Wear any of your solid colored swimsuits with these, inexpensive sandals and a great hat and sunnies. You see how cute they can be used as a coverup for your swim style! This swimsuit is ONLY $39.99!!!! SCORE!

OUT TO LUNCH~

This is so summery and fresh and fun! The longer shirtdress works well to cover more, all while staying cool and chic! The tee, sandals, sunglasses, and earrings are super easy on the wallet too!
OUT FOR A HIKE~

Did you want to be STYLISH while out hiking about? OF COURSE YES…… at least I do. I always think about every single outfit. Wear pretty much any graphic tee with these, bring along a cozy sweatshirt, and always hike in inexpensive sneakers. I added the bucket hat for not only some trending style, but for sun protection as well!
So there you have it…. my review on checked summer shorts! By the way….. these do run on the small side, so if you decide to get them, make sure and size up!
Shauna XO