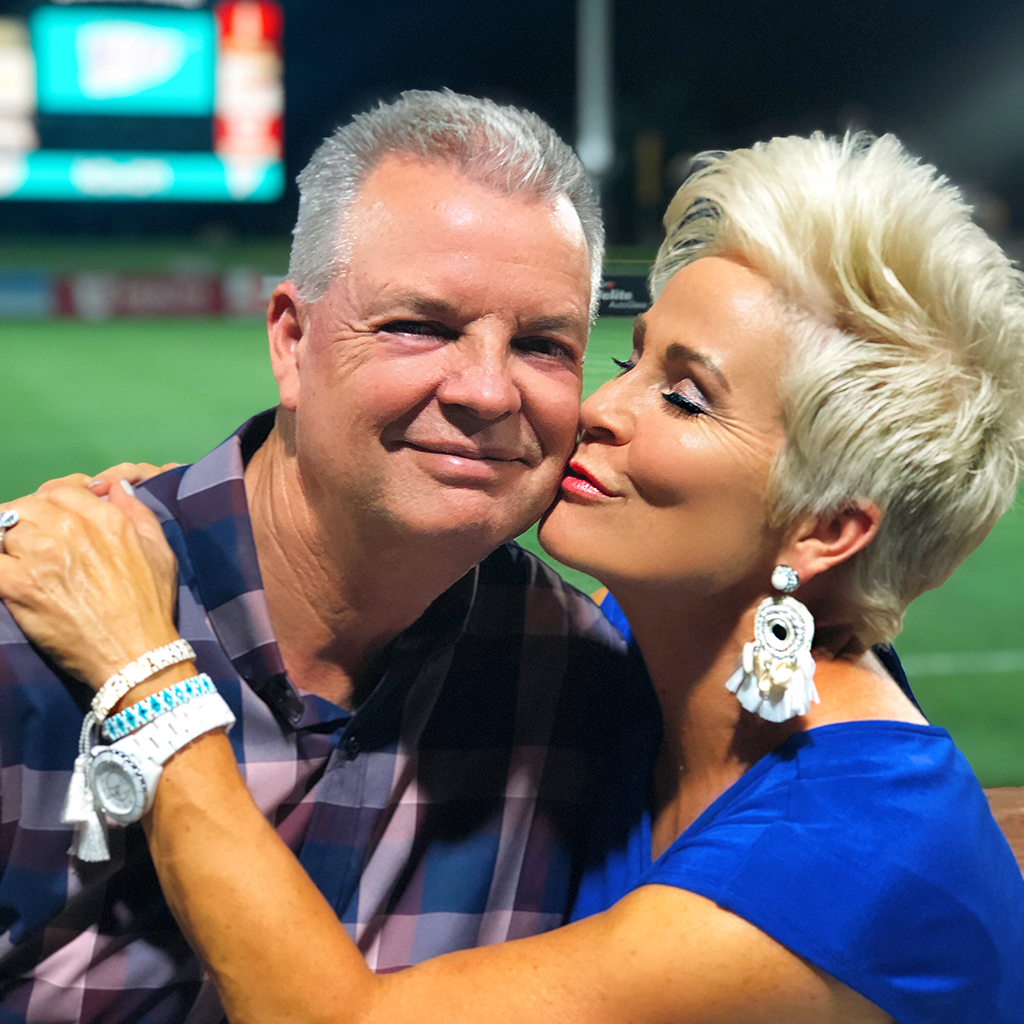 If you want to hear about the BEST proposal ever…..in the history of baseball, then you must read this blog! What a night, and what a loving thought out event!!! I feel like the luckiest girl in the world, and wanted to share it with you!
So my fiancé' used to be a pro baseball player. He played for the Cincinnati Reds. I love that about him, and that he's also an amazing golfer, great at tennis, and pretty much everything he sets out to do. But of course, he's just GOOD. He's thoughtful, kind, compassionate, a family man, humble, sincere, honest, and spiritual. I met him through his daughter who saw me on my local TV morning show, Good Things Utah.
Our connection was pretty much instant. There were three dates in a row because we didn't want it to end. We had sort of a long-distance relationship, which we made work, but at the same time it was very hard because we wanted to be together……….like always!
It wasn't long before we knew we wanted to be married. I felt SO SAFE with him. I knew he would always be faithful and honor our relationship and marriage. He is so calm and laid back….like he would wait for hours at the mall while I shopped and not be agitated with me. And, he makes and will make the BEST Instagram boyfriend/husband!
So our marriage to each other was a given, but there were some things that needed to happen first, BEFORE our own wedding could happen. We had planned for fall some time, but then an opportunity arose, (I'll tell you about that later because it's ABSOLULUTELY FABULOUS) and we would have to be married earlier. So…..the date was set, but no proposal.
I would be patient, and was patient (well it depends on who you're talking to) as I waited for that special day. I had told him a long time ago, that I didn't want to know when, and I definitely wanted it to be a surprise. So WAIT is what I did. I thought maybe in Hawaii for my birthday (March) or maybe when we went to Carmel? Or maybe it would be when we went to Lake Tahoe? We were getting closer and closer to when we had chosen to get married and I needed to PLAN!
Last Thursday, the 25th of July we were set to go to the Salt Lake Bees baseball game. I was so excited to finally go to a baseball event with him! We HAD to get there really early so he could watch all the pre-game stuff. And he HAD to go buy a new shirt, and he wanted ME TO WEAR my white pants, a bright colored shirt, and a scarf as a belt. This look was one of his favorites of mine! Oh and one more thing….NO HEELS! We were going to a BASEBALL game after all. Hmmmm, these were all strange requests! To be so specific was just odd. But….I had NO IDEA of anything goin down!
Right before the game I told him that I wasn't comfortable in white pants and flats! I always prefer heels with white pants because of my height! He suddenly became worried about me and said, "I just want you to be comfortable and feel good about what you're wearing!" I told him it was fine, I didn't have time to change. I was dressed in my CHICOS style and sneakers…..and of course with my STATEMENT earrings!

We got to the game early, sat in our seats, and waited and watched them spray down the field. We had amazing seats, right down in front. This lady walked down to us and asked if we would be interested in throwing out the first pitch! I was SO EXCITED because my boyfriend was the PITCHER for the Reds, and he would be AWESOME! I have wanted to watch him play since I knew him. But the lady said, "We really wanted a girl to do it." I was nervous but got all kinds of encouragement from him!!
The announcer explained to me how everything would happen, asked me some questions, and then it was time. I walked out to the pitcher's mound with my baseball (I still have it and it will always be a special memento) bent over and gave the catcher a big nod of my head, NO. Then I looked over at my boyfriend for approval, and then nodded NO again. My boyfriend actually told me to do this…..this is what pitcher's do he said! The catcher LOVED this! I then wound up and threw my pitch! Whew….I was done!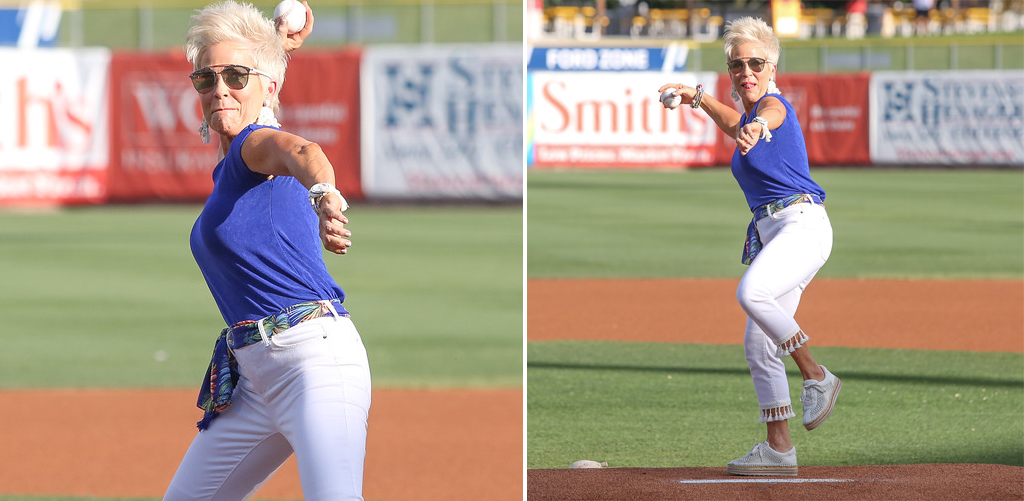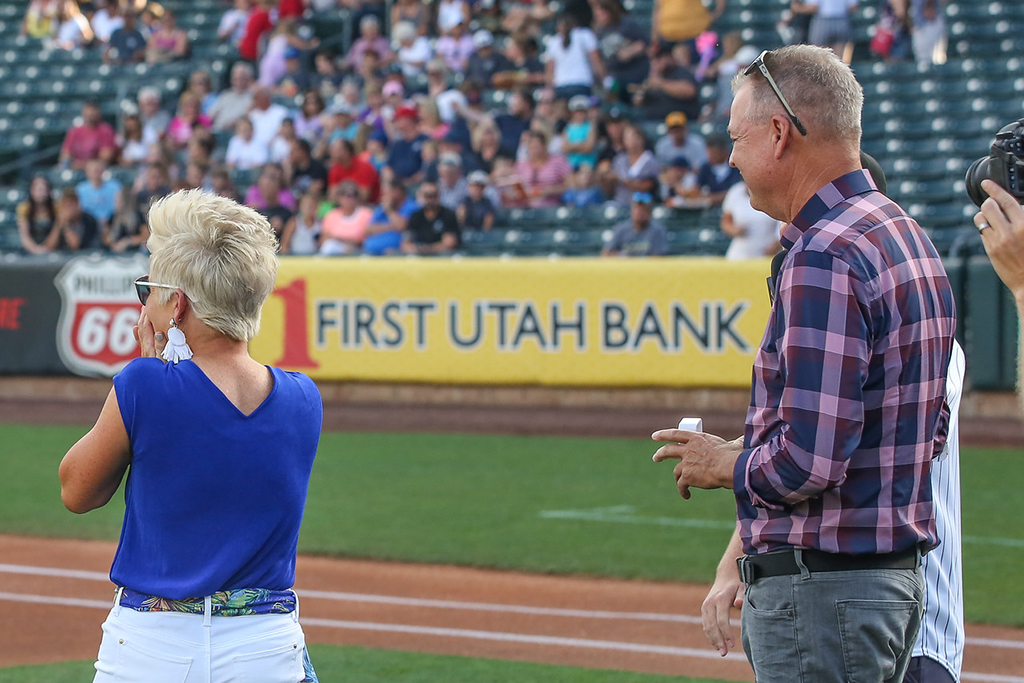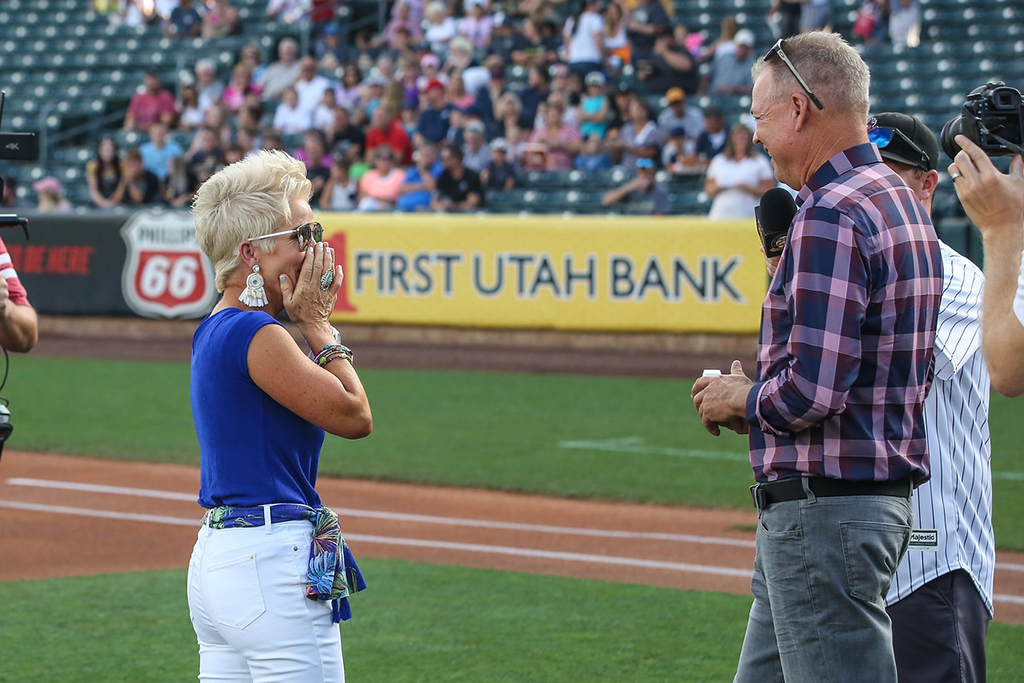 I walked over and the announcer grabbed me and started talking to me in the microphone. I started to then feel out of my body weird. I couldn't figure out why he was asking me questions! Then he said, "We have another surprise for you, turn around and look at the Jumbotron!" I was so confused, turned around and saw SHAUNA ROBERTSON, WILL YOU MARRY ME? What??? I turned around to see him on one knee with a white box in his hands. He said, "SHAUNA RAE ROBERTSON, WILL YOU MAKE ME THE HAPPIEST MAN IN THE WORLD…..WILL YOU MARRY ME?" Oh my heavens! The moment had arrived that I had "patiently" been waiting for!
I was BEYOND stunned, happy, excited, dazed, and so elated! I couldn't believe that he could pull off such an amazing surprise. And then the RING…..it's GORGEOUS!!!!! It's simply PERFECT! As we walked away, he said to me, "There is one more thing I need to tell you…..your whole family is here in the stands!" I said, "Even my dad?" And he said YES! My dad is very sick right now and so just that, was priceless! My sweet mom had arranged through hospice to get a wheelchair for him to come in! I was really in tears then!!!!!!!!!!!! I looked up and they were all waving to me!
My kids (except my youngest son who was out of town) and grandkids, my siblings, my bestie and her husband, his kids, his grandkids, his sister, niece and nephew and their families, were all there to celebrate with us! I just couldn't believe it! It was so MAGICAL. And then while we were out on the field my littles came down to the fence to yell, "GRANDMA!" They were all so cute in loving on me!! I was beyond HAPPY AND THRILLED AND……well, this was a MOMENT TO REMEMBER FOREVER!
We left the field and went and celebrated with our family in the stands with lots of hugs and kisses and treats……I even had to eat a hotdog!!!! You see my FIANCE' said you absolutely DON'T go to baseball games and NOT eat a hotdog!!!! So….a hotdog it was, with LOTS of catsup and mustard!!!!
I'm still reeling with excitement over my future with this WONDERFUL MAN! For sure it was THE BEST PROPOSAL EVER! What a guy!!! You see, I couldn't have hand selected ANYONE better than HE IS! Seriously he's EVERYTHING I have ever dreamed of! I'm so lucky and so blessed and absolutely owe EVERYTHING to my God above.
You can see the whole thing right here!
Shauna XO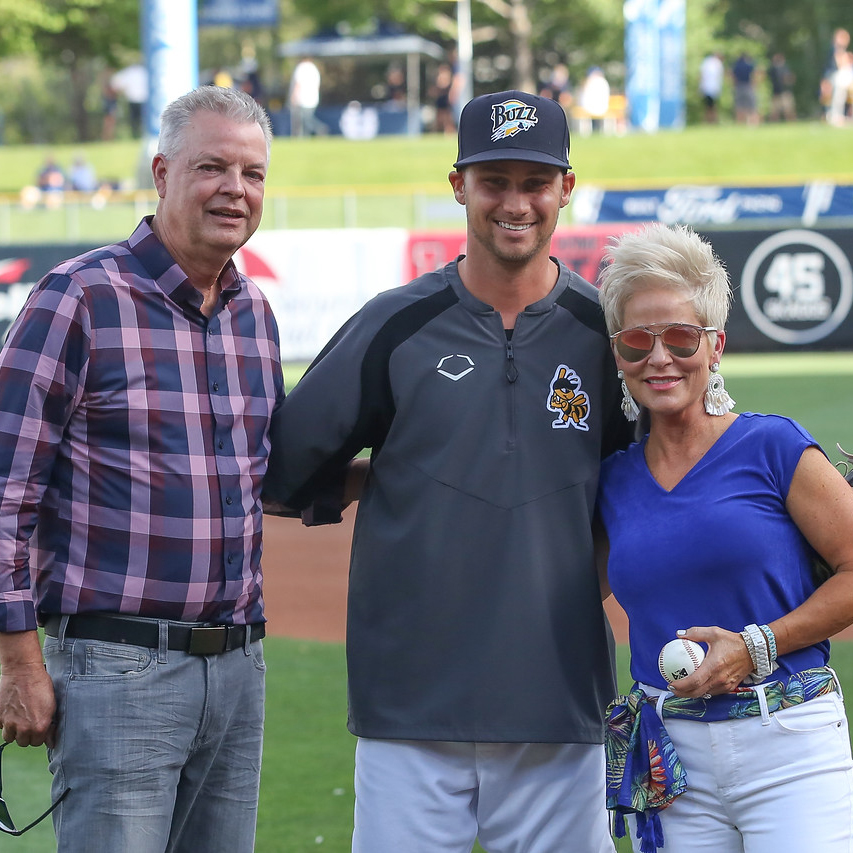 A SPECIAL THANK YOU TO Nikki Sim and Emily who helped Lorin arrange this amazing proposal!!!! THANK YOU! Also to Bo Way who was my catcher!