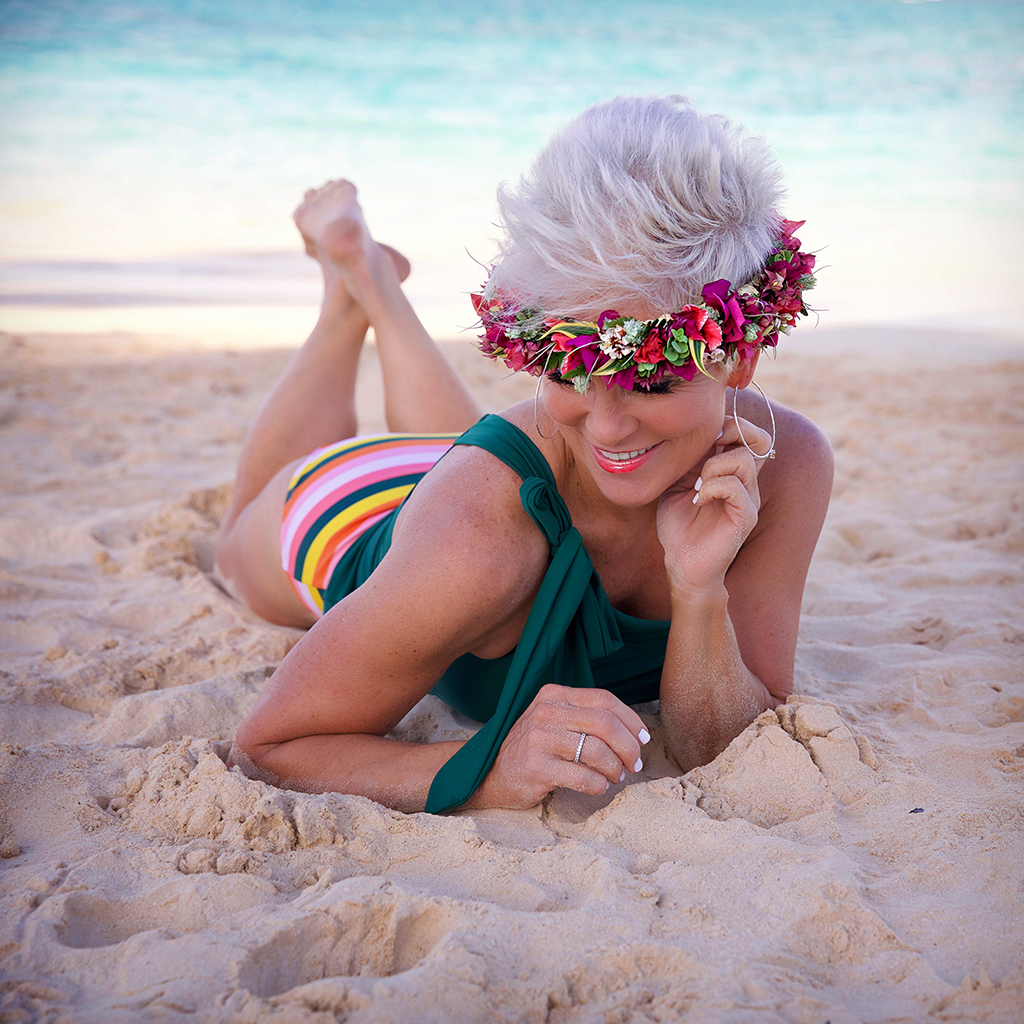 THIS was one of the happiest days of my life. Laying here in the sand in my Haku celebrating my 59th birthday in Hawaii with my LOVE! I am one blessed girl…….who has a story to share.
FROM THE BEGINNING…
From the beginning I have kept my private life private. VERY PRIVATE. There were reasons for that….first NOT wanting people to feel sorry for me. I hate that more than anything. I want to appear strong and capable to others. Second….embarrassment of what I was really living. I will share that more later on. Third….I BELIEVE IN MARRIAGE with all my heart. I wanted mine to work, after all I had already given it 39 years. Fourth…..my blog was meant to inspire women when it came to FASHION, not to drag in personal drama!
But over the weekend I received an email or message from somewhere. I'm not sure exactly if it was an email or DM or whatever, but someone said to me THANK YOU for sharing more with us about your personal life. Each Sunday morning I send out a newsletter and in it I have been a bit more personal. I decided when I read it that it was time…..time to share a bit more of who I am and WHAT MAKES ME HAPPY!!!
MY LIFE NOW.
I'm sure you've caught on that my 39 year marriage failed. It failed for many reasons all of which I won't get in to, because it doesn't matter. That was then……and it seems so long ago. It isn't who I am now, and I'm on my way to rebuilding my life with someone I ADORE and TRUST and RESPECT and LOVE. He was right there for me waiting…..I believe, for me to become available. There are so many things I'll share when the time comes, but it was all orchestrated from above in "OUR" opinion, and meant to be. It started with his daughter…..who people say shouldn't have happened because it's just not like her to reach out that way.
If I were to make a list of EVERYTHING I would want in a companion….HE would be it. But not only would he be everything on my list, but HE WOULD BE EVEN MORE! I didn't have to be alone for one single day. He was there, and on my second day with him I KNEW that he was GOOD, and that he was FOR ME. You will see more and more pics of him as we go along here on ChicOver50.
SO BLESSED!
I'm SO BLESSED. I thank Him above, every single day that I am where I am now. It is still hard at times. I've never lived on my own. I was married at age 19 and never ever worked outside of my home. I don't have a college education, so had nothing to fall back on. MY BLOG has given me not only the means to live on my own and support myself, but it has built for me an amazing platform of WOMEN who teach me and help me and lift me and SUPPORT me! They are the ones that have gotten me through these last three years of turmoil. If it hadn't been for my blog, I still would have been in a very bad marriage. MY BLOG SAVED ME.
LOTS OF DARK DAYS!
There were so many DARK DAYS these last few years. SO DARK that I wanted to give up. I wanted to be done. I didn't get dressed. I stayed home. I didn't want to see anyone. I didn't want to talk to anyone on the phone. I wanted to hide. I wished for a car accident. It's true and I'll admit it. I'm admitting it because it's IMPORTANT FOR YOU ALL TO KNOW……that LIFE CAN BE BEAUTIFUL AND GOOD! YOU CAN have people in your life that you can trust completely. You just have to do one day at a time. Hang on to the good, and hang on tight. My faith is the ONLY thing that got me through.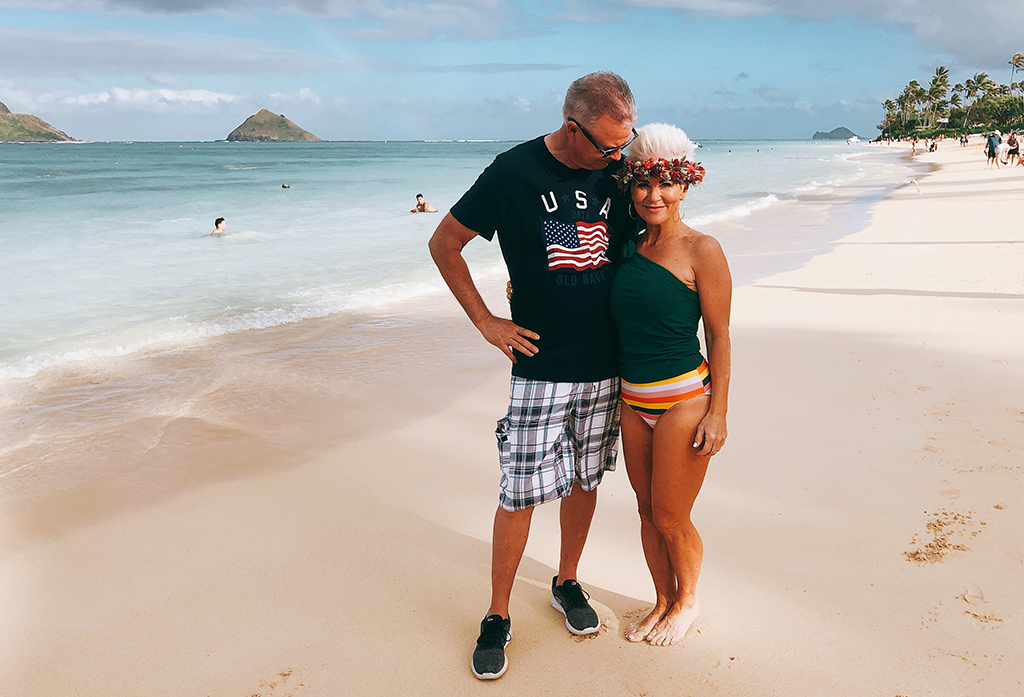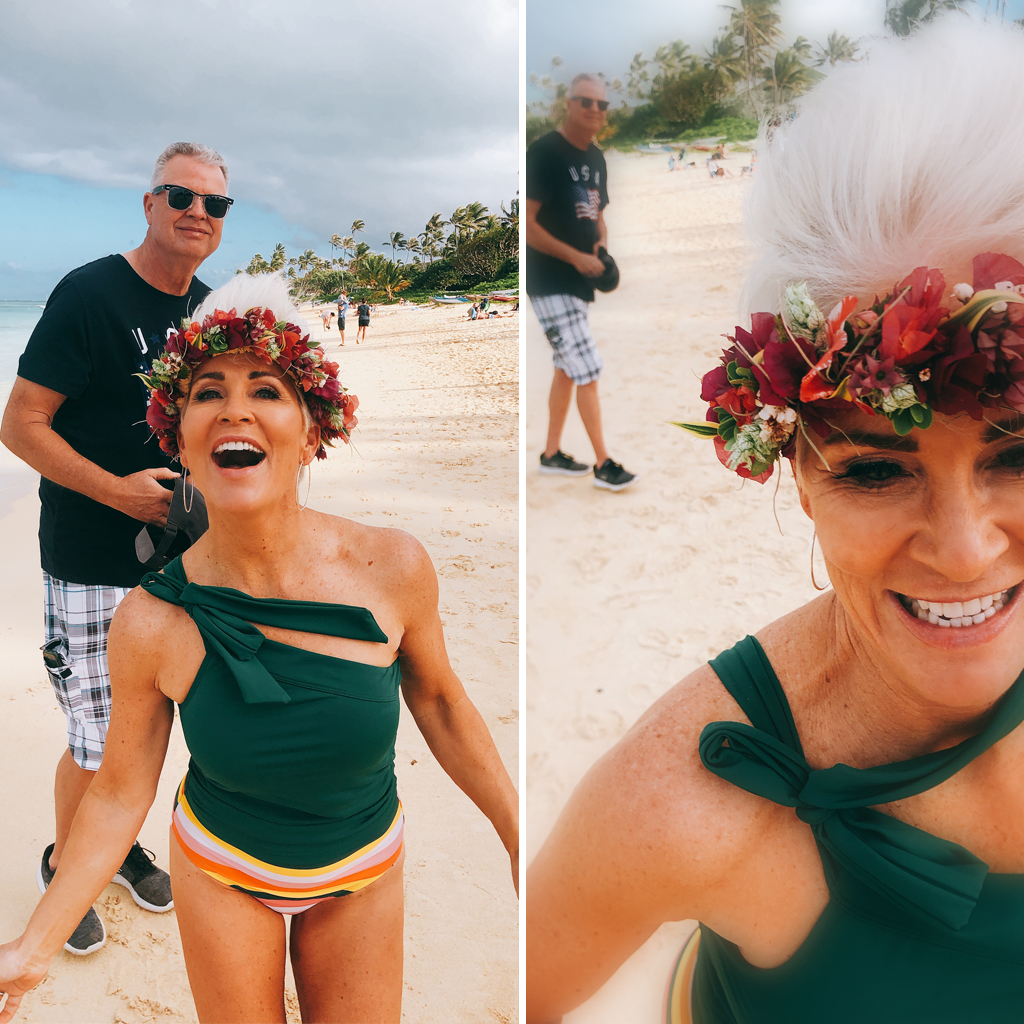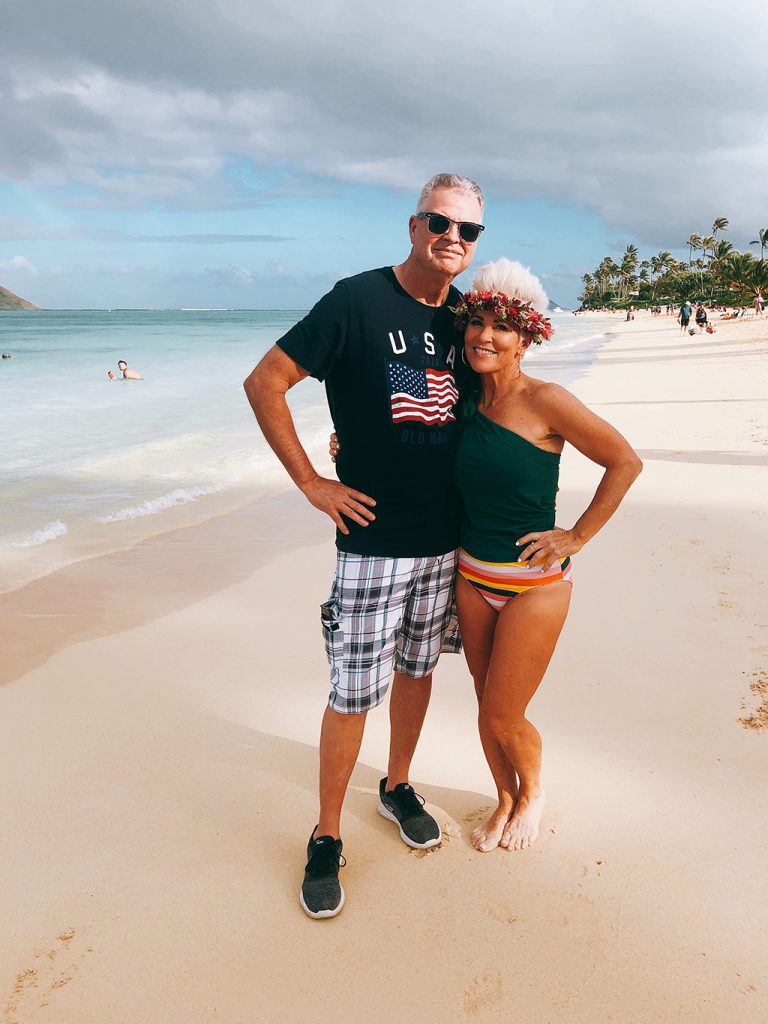 THIS DAY!!!
This day with my man, was HEAVEN. It truly was one of the happiest days of my life. It started out first thing in the morning and continued all day with surprise after surprise!!! And I have to give credit to his AMAZING other daughter who was behind a lot of my surprises! I don't know how my day could have been any more INCREDIBLE!!! There were custom ChicOver50 cookies, and pink golf shoes, a beautiful birthday card, a haku, a delicious birthday cake, splashing in the ocean, some new Calloway clubs, a delicious dinner, LOTS of kisses and hugs, and the Hawaiian sunshine! WOW!! And then there's his FAMILY……they've adopted me in beautifully, but more about them another time! 
MY MESSAGE TO YOU…
My message for now is this…….IF YOU ARE LIVING IN ANGUISH, CHANGE IT! Have the courage to make the move. Be STRONG! Be CONFIDENT! Be a LADY BOSS! Seriously…..DON'T BE AFRAID LIKE I WAS. Now I say this because I was SO afraid and it stopped me for many years. I think many things had to happen in order for life to be where it is now. And so perhaps I had to wait for as long as I did…..only God knows. But this much I do know…..that it was HIM that led me to my BOYFRIEND! Psssst……I LOVE to call him my BOYFRIEND!!!!! I'm HAPPY BEYOND……….
This is all I want to say for now. This is enough, enough for you to know what really is going on. PURE HAPPINESS! I can't wait to share more. He's iNCrEdIBlE!!!!! He has made me SO HAPPY! If you are one out there like I was…..AFRAID…………I hope you take courage in this blog! If you need encouragement, email me! I LOVE you all and THANK YOU for your undying support!!!!!!!
I'm SO THANKFUL to have had one of the happiest days of my life….all in Hawaii…all on my 59th birthday……..and all with my BOYFRIEND!
Shauna XO
My swimsuit top is here and my bottoms are here…..all from Lime Ricki! LOVE their suits!!!!!! You can see their new arrivals right here!