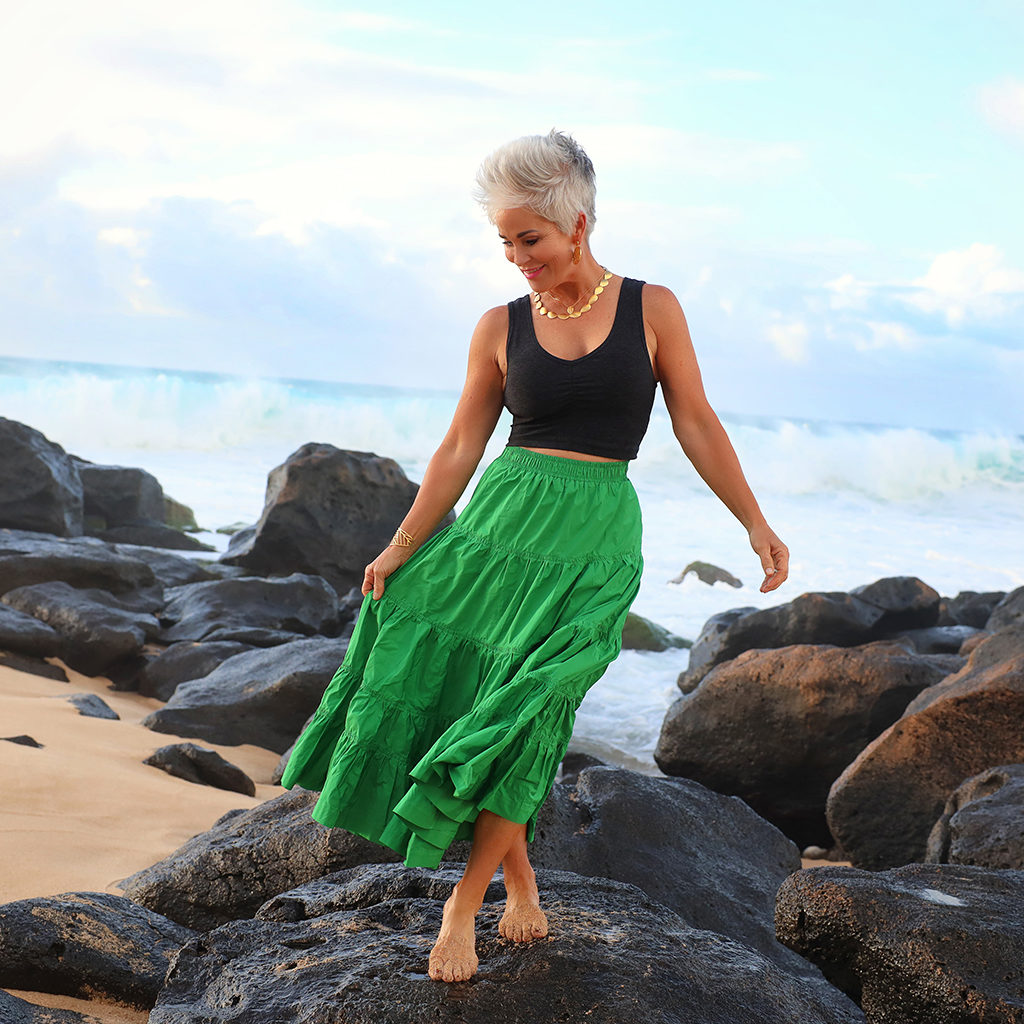 I bought this skirt slightly off season because I LOVED it. Today I wanted to show you this summer skirt styled three different ways for winter. I posted it here while I was in Hawaii and it was gorgeous in that setting. But can you wear it off season? I have always loved a good fashion challenge, and so I was determined to make it work for fall and winter. So let me show you what I'm thinking……
Paired with some TARGET~

This first look is all from TARGET, except for the skirt! The faux fur coat is amazing, the darling shoes, blouse, and earrings, all Target. So obviously this is so nice on the wallet. I think it's really fun to mix higher end pieces with things that are super budget-friendly!
Styled with Anthropologie~

I think THIS is so cute. It has a western vibe which is really hot right now. The hat, the denim, and the boots really lend itself to that look. Every single piece here I LOVE styled in nearly unlimited ways. The boots are FANTASTIC, and this packable hat I've posted before, and the denim jacket? How unique and timeless!
Styled very BOHO CHIC~

I think this is so laid-back and chill. Remember I'm just trying to show you, that indeed this green skirt can be worn through the next season. I've added mostly black, with the rugged boots and puffer coat but then with a fun bright yellow layer underneath. I love the texture of this darling sweater, almost like a quilt. It makes it super cozy and with the beanie, for sure WARM!
I should take a minute and talk more about the BOHO CHIC look. If this seems too much for you as far as trends go…. dial it down a notch maybe with a simpler bootie or a plain black coat. I always say that if I feel good in it, I can and WILL wear it. Key is that YOU HAVE TO LIKE IT in order to pull it off. It's really true. So just take this idea and go simpler.
~
So have I convinced you that a summer skirt styled for winter….. CAN BE DONE? It's really such a wonderful piece and HALF OFF right now! It was fun on the beach, but I'm looking forward to wearing it all winter long!!!
 HAPPY WEEKEND friends….. and stay safe out there!
Shauna XO
P.S. My BALI trip has been canceled for those who have shown interest. Maybe sometime soon!