Exercise Routine For An Active Lifestyle
I'll always be someone who loves to be active. Whether that's working out, walking, running, biking, golfing, or just being outside. It's something I've enjoyed from a young age. Being active not only helps with my physical health but also gives me CONFIDENCE and strengthens my mind. As we start into this new year I want to share with you the exercise routine for an active lifestyle that I'll be doing in 2022. But first, let's start by reviewing what I have been doing.
What I have been doing
For the last few months, I've started my routine with sixty minutes on the elliptical trainer. After my cardio I'll work for twenty to thirty minutes doing squats, lunges, push-ups, lifting free weights, and doing ab work. I work opposing muscle groups (biceps, triceps, quads, hamstrings, back, chest, and shoulders) and change this up every couple of weeks or so. I ALWAYS STRETCH after every workout for at least 10 minutes. That part should be more I know, but I'm always anxious to be done. 
Check this out for a quick look at my routine from 2021.
I work out six days a week, most of the time. If I'm traveling and miss a few days, I no longer stress over it. I give myself the time to rest knowing I'll get back on track when I'm home.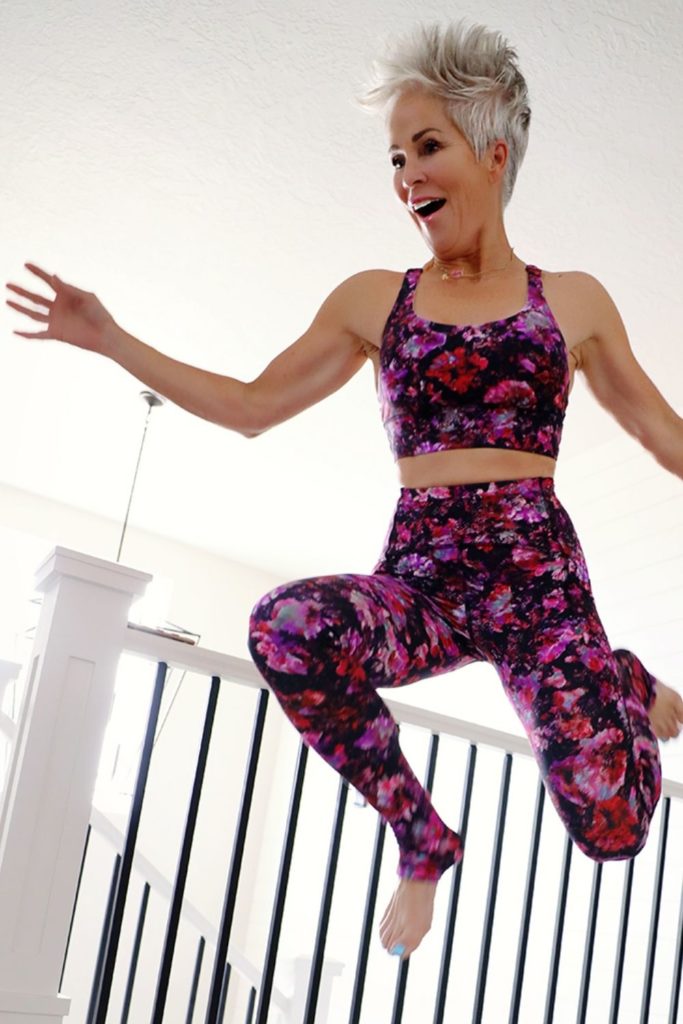 What I'll be changing going into The New Year
Going into this new year, I'd like to make some changes to my routine. I think it's good to switch things up every few months or so. It allows me to continue to challenge myself, plus it keeps things exciting. First, I want to add some more variety to my workouts like walking, and swimming. I also plan to do more weight lifting in place of some cardio. If you'd like to get the exact details on what this new routine looks like, let me know!
Now ladies, if you're like me, working out is so much more fun with CUTE clothes. My two favorite places to shop for workout clothes are Lululemon and Athleta. Here are some of their styles that I AM LOVING right now!

I think that brands have done such a GREAT JOB giving us CUTE WORKOUT CLOTHES….. I mean I've been known to wear them ALL DAY LONG!
Exercise Routine For An Active Lifestyle
Health is truly a gift and I want to do everything I can to take care of my mind and body! Staying active has become less about looking my best and more about FEELING my best and taking care of my body. I hope you can find ways to stay active this year, whatever that looks like for you! 
For more style inspiration, check out this post where I style a summery skirt for winter!
Shauna XO