Coming to the end of the year is reason to celebrate in Yellow…… celebrate that we GOT THROUGH THE CHALLENGES OF 2021!!!! Who besides me, has not LOVED this year???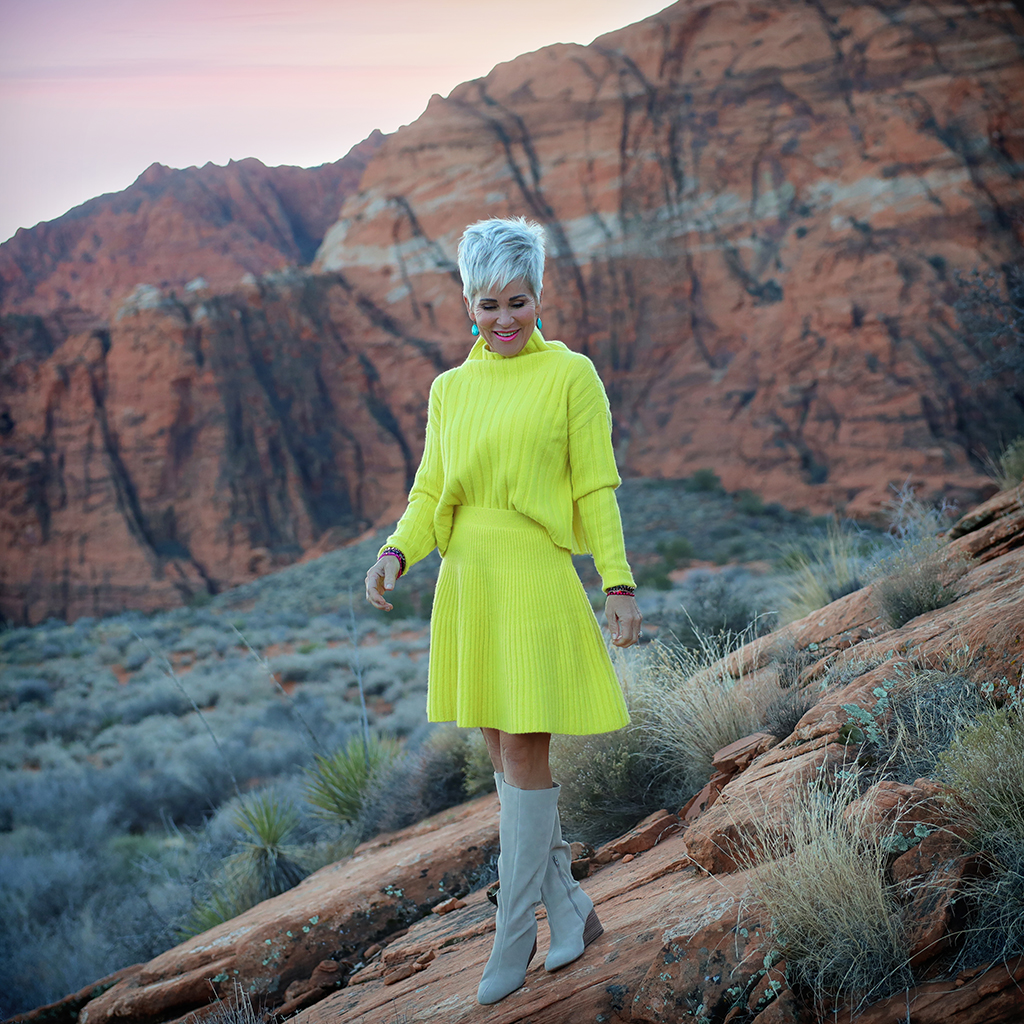 Oh my heavens! If any of you feel like we have over here….. THANK HEAVENS 2021 is over!!! So many challenges all the way around! I think we've seen more this year than we have since the COVID outbreak!
It gives us ALL THE MORE REASON, to celebrate a new beginning and fresh start, and YELLOW is the best way to do it. It is after-all, the HAPPIEST of all the colors!!!! This sweater set is so much fun! What do y'all think? Too much yellow? IF you love it but think it's too much, then BREAK IT UP!
Sets like this are really versatile! When you can take a set such as this, and break it up in to different outfits, you've just won! I will wear this sweater so much with my jeans, other skirts and even leggings. The skirt as well, can be paired with different jackets, even other sweaters, or what about a cute sweatshirt and flat boots?
Let me show you my ideas…..
MY FIRST LOOK OF YELLOW~

Here I have paired the sweater with these AMAZING JEANS. These jeans are brand new at Chicos and I have them and they are GORGEOUS! They are absolutely my favorite embellished jeans that Chicos has ever put out….. just fabulous! I just have some basic black pumps (btw these pumps come in SO MANY COLORS and patterns and are affordable) and some colorful bling!
MY SECOND LOOK OF YELLOW~

Wear the skirt with a simple sweatshirt and comfy flat boots! Depending on where you live, you may or may not want to wear tights with the skirt. This jacket comes in other colors and has such a great shape to it.
MY THRID LOOK OF YELLOW~

I styled the sweater with these fabulous suede leggings. I love the whole look with the loafer shoes. You see I've linked up two pairs. The first one is pricey but SO CUTE (so had to share), and the second pair is much more reasonable. Again depending on where you live, you could or couldn't wear the ankle socks. The leggings too, come in multiple colors of which I would wear any of them with the sweater and shirt combo. Such a cute and trendy look with the shoes! And what about these fun earrings??? ON SALE!
~
You can see how much mileage you can get out of a cute sweater set such as this YELLOW one! I have loved it and I'm sure you're going to see a LOT of it throughout the next months! ENJOY your days friends!
Shauna XO
One of MY FAVORITE COLORFUL posts of the year, right here.