Friends….. do you want to know WHY I LOVE MY BIRTHDAY!? I mean so many people (especially women) get a little uptight or freaked out or just plain want to ignore their birthdays. NOT ME! I'm one that doesn't mind sharing my age or talking about how getting to the midlife years is a beautiful thing. The view on aging is much more POSITIVE than ever before! Believe it or not getting older most definitely has its perks!
I wonder sometimes, if I didn't feel good due to poor health, if I would feel the same way? It's an interesting thought. I honestly don't know because I do have great health now and haven't ever really experienced a time in my life where I wasn't healthy. So….. who knows for sure. I guess that's why it's so important to me to STAY HEALTHY and to do all that I can to eat right, get plenty of rest, and exercise. Also ones mental and spiritual health is just as important. It all works together and each one plays upon the other.
So why do I LOVE my birthday? I love it because I've reached another year! And with each year, I realize more and more that with age comes CONFIDENCE. It's true that the older I get the more I see what's important. The more I see that those small things that used to get under my skin, just don't any more. At least as much as they used to. I have more acceptance of myself. I have become less stressed and less rushed. I do things better for the most part. I recognize the progress easier. I'm just plain not as hard on myself as I used to be.
With all that being said….. I'm still very far away from where I want to be. I love to be able to wake up each day with a NEW START. I love the idea of doing today better than I did yesterday. I guess that's a big part of how I stay motivated! I've always been very self motivated and I'm so grateful for that. I've never needed anyone ever to push me to reach my goals. Now for sure there have been people who have pushed me to try something that I've not thought of on my own, but for the most part I'm extremely capable of pushing myself!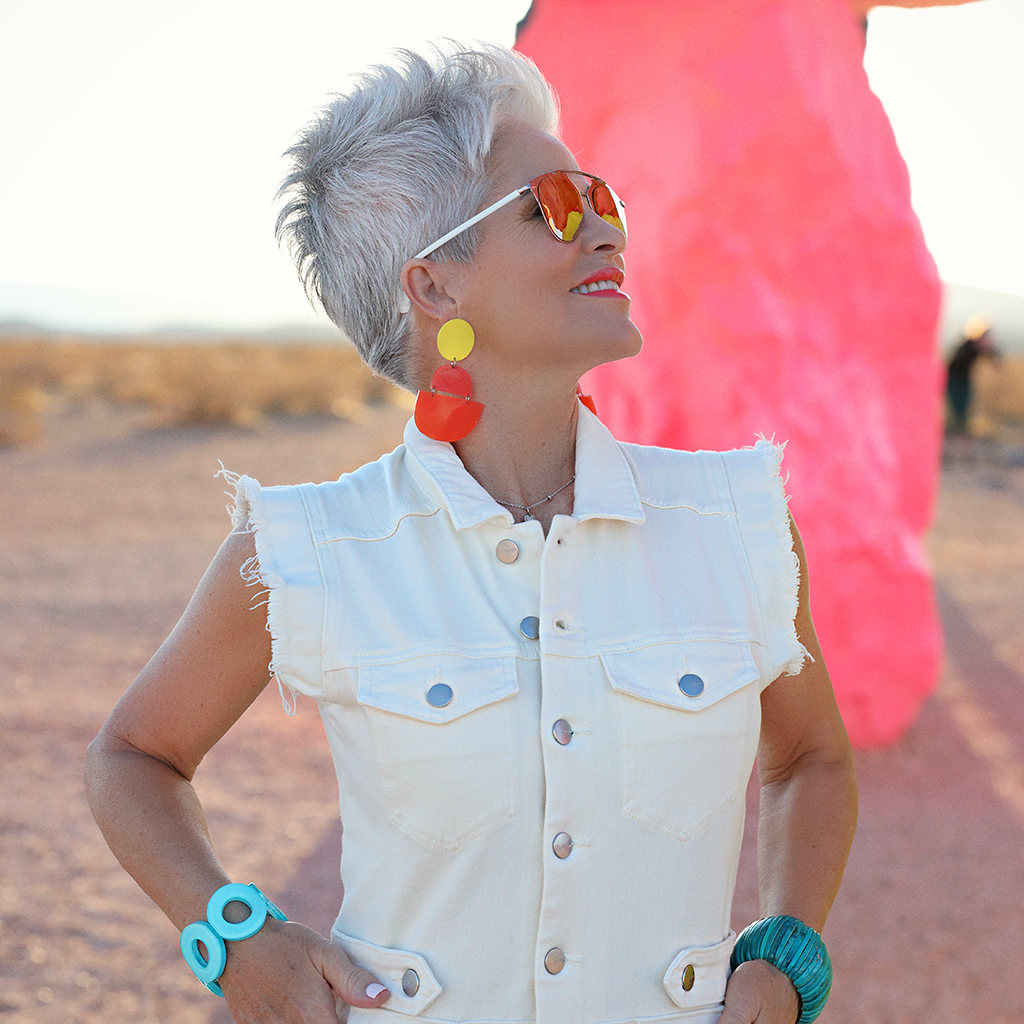 If I had any advice for anyone out there who is afraid of aging, I would tell them them this…..
LEARN HOW TO DO SOMETHING NEW…. this will not only give you confidence that you have learned something new, but it will be FUN! Stepping outside of your comfort zone can be hard, but when you do… it is so invigorating! Hobbies are so fulfilling!
HAVE FUN WITH FASHION AND MAKEUP…. and don't get stuck in a rut! Don't be afraid to experiment with new styles and colors! As you become more aware of what colors work on you, what shapes, what hairstyles, what makeup, you will not only look more beautiful, but FEEL MORE BEAUTIFUL. Is that all vain…… NO NO and NO! Self-care is good care, and so essential. And….. you have more time for self-care!
HAVE FRIENDS OUTSIDE OF YOUR FAMILY…. my mother is the very best example of this. She is 86 years old, and has had several circles of friends around her from the time she was married at 16 years old. She has high school friends, church friends, and neighborhood friends. These relationships have supported her through all of her years and especially since my dad passed away.
REALIZE HOW MUCH MORE TIME YOU HAVE NOW…. travel, explore, visit family and friends, learn, and sleep! Your life has been so busy up until now, and now is the time to ENJOY all that you've had to set aside up until this point! Take advantage of it!
KNOW THAT YOU CAN STILL BE MADLY IN LOVE…. I'm amazed every single day, at how the LOVE I have for my husband grows and grows and GROWS! We always tell each other, "I can't believe how much more I LOVE you today than I did yesterday!" It's really true. Even though I've only been married for a year and a half, if you've been married for years, it's so SO IMPORTANT to keep it fresh and new and FUN! Remember to DATE…. keep DATING ALIVE in your relationship!

So however you feel about the aging process…. there's no reason to be afraid of it! There's so much to look forward to! All of the reasons above are WHY I LOVE MY BIRTHDAY! Your life is just beginning at midlife… seriously! I'm going to just be right over here ROCKIN THE AGES friends….. with my cupcake and candle and MAKING MY WISH!
By the way….. I'm SIXTY-ONE YEARS OLD TODAY!!!!
Shauna XO
TURNING fifty-seven YEARS OLD HERE.
I liked this article on an 84-year-old's ADVICE ON AGING!