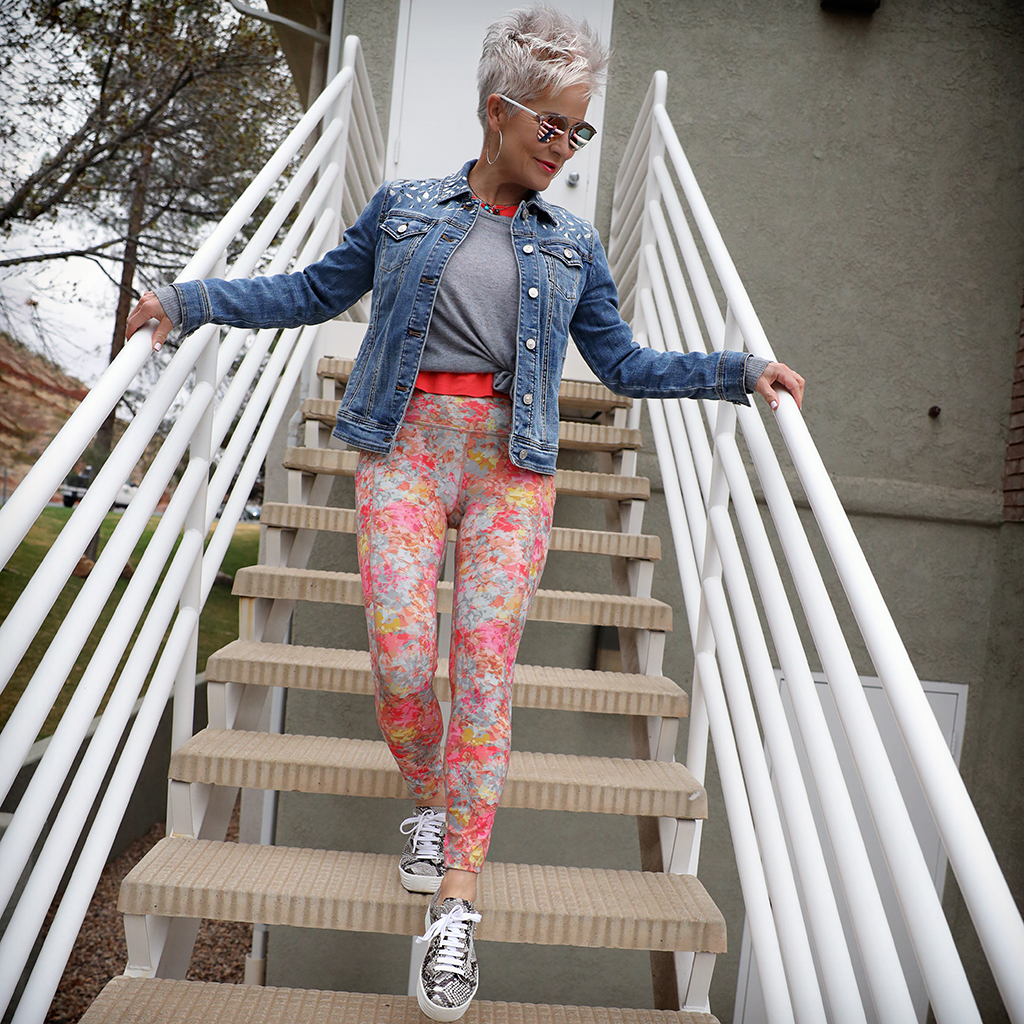 Even though we are all dying to get dressed up, ATHLEISUREWEAR IS NOT GOING AWAY! I think over the last year we've all gotten very comfortable styling our cozy pieces appropriately to go out and at least run our errands! It's crazy because I've been on the hunt for some high heels. I walked in to my local Nordstrom a couple of weeks ago….. and nothing. I'm TOTALLY SERIOUS. All their heels were from a year ago. I talked to the sales lady and she said that they haven't seen anything new for awhile. So PROOF that athleisure has been #1 for awhile now.
Things are starting to open back up thought, which is giving us all hope. It will definitely be fun to travel again and plan outfits…. OTHER THAN ATHLEISURE. But do you think that athleisurewear will go away? Will we all be so sick of it, that we won't want to EVER put on our leggings again? Nope, I don't think for a minute! It's not going anywhere! I've even noticed the athleisurewear brands upping their game! There is more out there that's more everyday stuff, rather than workout gear with the possibility of it looking like everyday wear.
I've even seen brands (like Chicos for instance) that are offering more lounge-type, athleisure-type options. Even when you go on to a big department store site to shop, there is less and less dress pants, dresses, etc. BUT… you CAN FIND lots of leggings, sweatshirts, and sneakers!
You can find MY SNEAKERS here!
By the way my sneakers here are from Sole Bliss. I can't remember if I've posted them within a blog before, but this brand is FANTASTIC and are actually meant to be GOOD FOR YOUR FEET! It's actually an award winning British brand. If you use the code CHIC15, you can get a 15% discount. I have three pair now… black, white, and this snakeskin pair. I have loved them. I don't even lace, just zip them up! Easy on and easy off!
But anyway….. I wanted to AGAIN, post some super cute and functional and GREAT SPRING ATHLEISURE looks because ATHLEISUREWEAR is not going away friends!!!!
LOOK ONE~

This long color-blocked cardigan is so vibrant and fun! I actually tried this on in the store a couple of weeks ago. The blue leggings are a cute contrast and what about these sneakers? These are 24-7 shoes. Comfortable and the blue could be worn with mostly everything! I loved the touch of the bucket hat with this look….. lots of summertime vibes here!!!
LOOK TWO~

Joggers are my favorite and this white color is so fresh for spring and summer. The tee is darling and comes in several colors and has the sweetest flutter sleeve! I LOVE this tee. This jacket is awesome and such a unique take on the denim jacket! The longer length covers all the stuff we want covered when wearing our leggings! Remember that you can wear your heels with joggers too!
LOOK THREE~

An athleisure SKORT is my favorite out on the golf course! These are feminine and cute and comfortable…. no need to worry about exposing the world to your underneath! I loved the soft peach color of this, and paired with the white pullover sweater it's beautiful! These sneakers from Target are really fun with the mix of white and off-white. And if you're going to the beach anytime soon…. these would fit right in!!
So ladies…. don't put your athleisurewear away…. cause it's not going anywhere!
Shauna XO
I wore my SOLE BLISS SNEAKERS here with plaid!