MORE FUN WITH CHICOS NEW ARRIVALS……. today on the blog! I have absolutely loved this line. I said before here, but wanted to post these new pictures to give you another taste of SPRING! I've got something very fun planned for next week…… stay tuned for more details. I will just say now, that I'll be going LIVE on Instagram sharing LOTS OF SPRING OUTFIT INSPO!
By the way….. these pictures were taken at Star Nursery here where I live. It was a gorgeous location to bring in SPRING! #ChicInBloom is what I'm doing! 🙂
So let's start with this blouse! I LOVE the pleated neckline of this top! And the color combination, is one of my favorites! I thought it was darling with these sequined striped jeans! I added a contrasting scarf as a belt….. possibly one of my signature style ideas! I had these hot pink suede pumps from last spring that I've paired with sheer polkadot ankle socks to give it a little SASS! As I've said before…. this bag has been FANTASTIC!
A lot of you have asked about these sunglasses. They are from CHICOS but very vintage!
Next is this floral topper, or jacket….. it is has all the SPRING FEELS! This is a classic. It is super CHIC and works dressed up or dressed down as I've shown you here. I can see it with all white underneath, how beautiful would that be? It may be my birthday dinner outfit! Wear it over a simple LBD or even some raspberry colored pants. And of course your favorite whatever kind of jeans would look fabulous too! I loved the mix of the stripes and flowers! Chicos has some great stripes right now!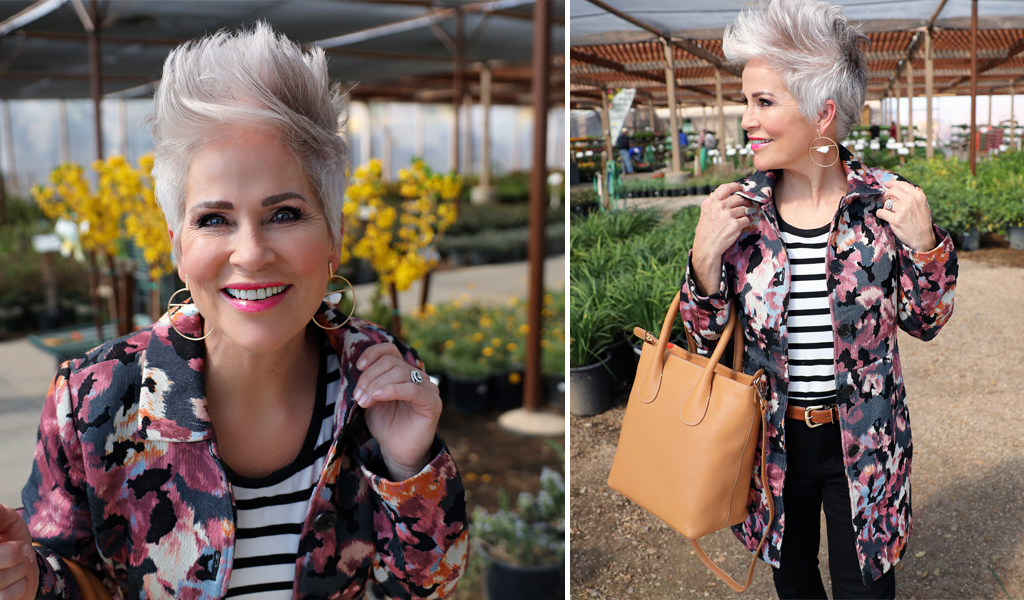 Below I've dressed my topper up with a silky tie neck top in floral as well. Mixing floral and floral….. YES ABSOLUTELY! You can do this if the colors are complimentary, which these are! I'm wearing my black CHICOS jeans with this look. These jeans have been on repeat for months now! And the earrings??? I LOVE the detail on these! They're a lot of fun!

I've had MORE FUN with Chicos new arrivals!!!!!!!
Ok…. now how many days until SPRING??? Are you guys gardeners? I'm telling you that whenever I visit a nursery, suddenly I THINK I'm a gardner. My dad was an amazing gardner and so was his mother. I remember visiting my Grandmother's house on Sundays in the summers. You would walk out on to her patio and the smell of flowers was everywhere! My dad inherited this love from his mother. His yard was immaculate! Not a blade of grass was ever out of place! He would tend to his yard for hours upon hours! I LOVE this memory of him!
HOPE YOU'RE ALL WELL and EXCITED FOR SPRINGTIME…… coming this week!
Shauna XO