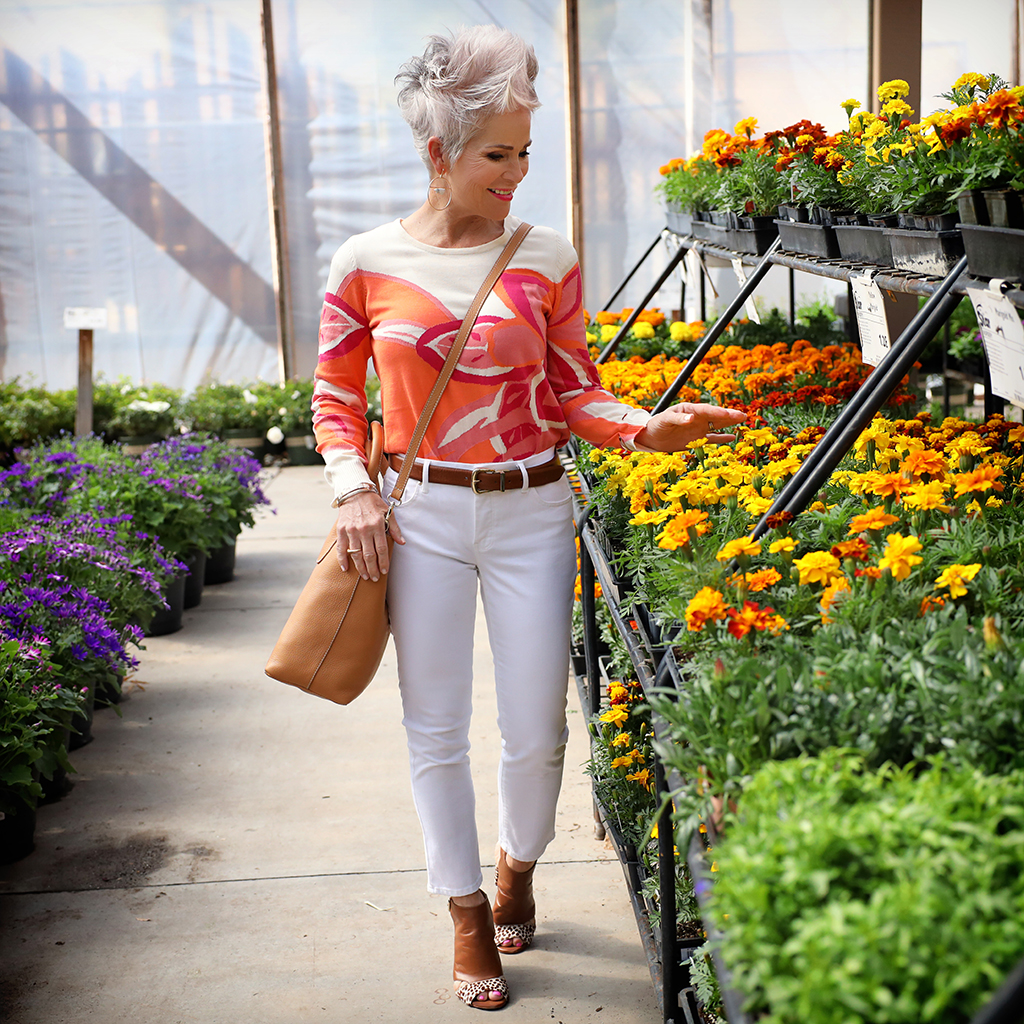 Hello friends! SPRING IS SPRINGING UP EVERYWHERE, and I had to share just a little bit for right now from CHICOS. I usually wait until I've shot a couple different looks before I write a blog. But this is SO CUTE I had to share now!!! The colors and themes they have going on at Chicos right now is MOST DEFINITELY SPRING-LIKE! The color is vibrant and so punchy and fun! These are the kinds of clothes and styles I LOVE the most!
So, here we go……..
When I saw this colorful lightweight sweater I knew it was for me. It's a long tunic style, so for you taller ladies you'll really love this one. I just tucked it in to my Chicos white jeans and wore a simple brown belt, and loved it best this way on me. Everyone is different though, which this sweater can pretty much work any way you need it to! I love these lightweight sweaters this time of year….. actually any time of the year! They are perfect for where I live here in the desert.
Another thing I love about Chicos, is that they actually draw out the designs on their clothing! They have a whole section at their headquarters in Florida, devoted to the art of their designs. They are always inspired by something. These next lines that we'll see coming out with the Chicos brand are all inspired by beautiful gardens. Another way that CHICOS is just a little more special than the next brand!
My white jeans are SUCH A GREAT CUT. They fit but aren't the TIGHT-TIGHT style. They are very flattering and even come in the NO-STAIN fabric……. a no-brainer! The brown belt is a staple and the color is so good for the warmer months.
As always the accessories at Chicos are TOPS. LOVE the interesting shell detail in these hoop earrings. And the watch is blooming too…. I haven't worn a watch forever and this one is adorable! And what about THIS BAG???? I'll be carrying it all spring and summer long. LOVE the crossbody style. It is such a great versatile bag of which I would HIGHLY recommend!
Anyway….. just a little taste of Chicos spring line-up, since SPRING is SPRINGING up everywhere! I have much more coming which I'm SO EXCITED about! Stay tuned ladies!
Shauna XO
Related blog is here.