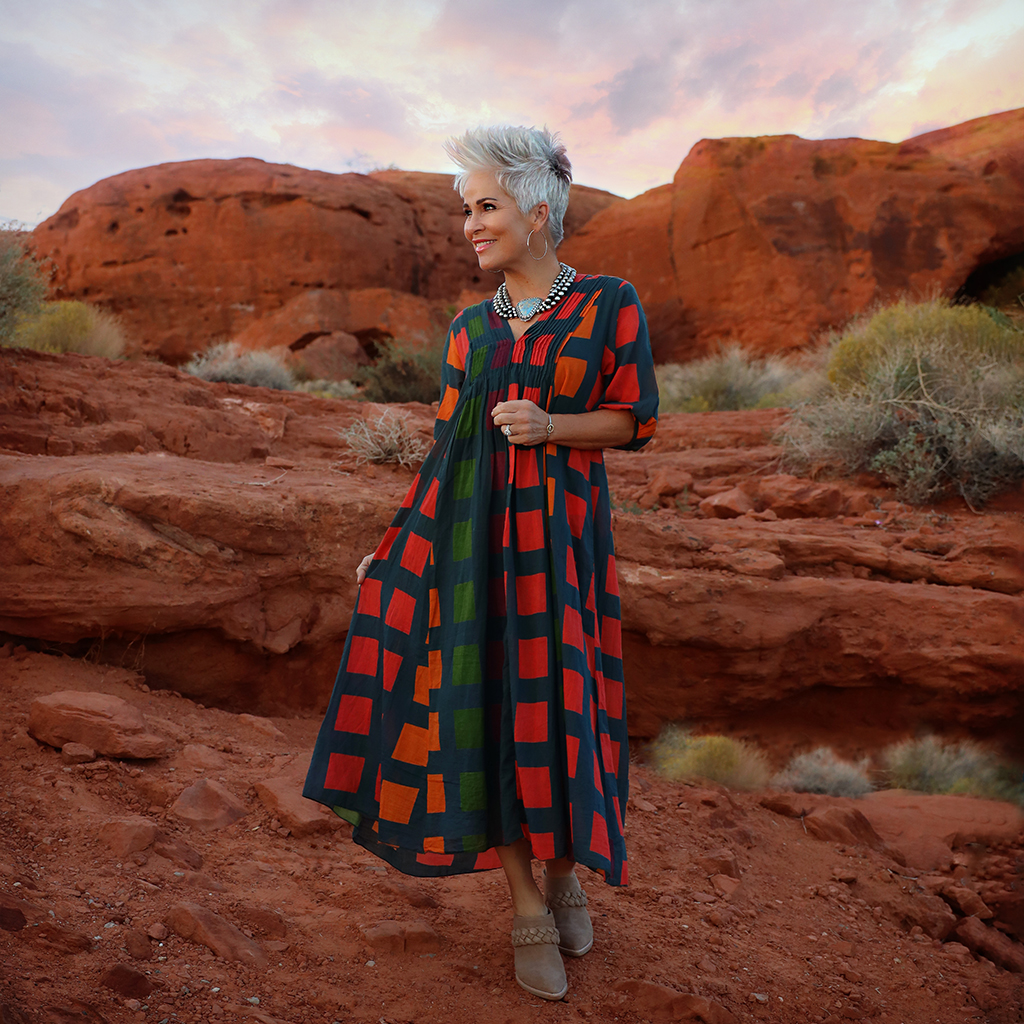 What does it mean to MAKE A STATEMENT in fashion? To me it's wearing something that will turn heads and make conversation….. like this DRESS! When I first saw it, it was the COLOR and PRINT that caught my eye. And then when I really looked at it, it had all the COMFINESS to go along with it.
When I'm styling a look, I never really think of it in terms of MAKING A STATEMENT. I dress in things that I'm comfortable in and that make me happy. And it's interesting to see what gets a reaction or what makes a statement. It's usually something just like this….. LOUD AND BOLD!
So back to, what does it actually mean? I really liked this from an article I read online.
"The first time I heard someone refer to something they wore as a statement piece was in 2009. A friend had come over to my house to do nothing but lounge, and she was wearing what you might expect of a close friend who had no plans but to watch TV on your couch: A pair of boyfriend jeans, a gray pullover, and a sports bra whose neon stripes were peeking out of her shirt. Except one thing. She had on a chunky, silver chain necklace. The addition not only exuded a sense of style, but it also took the look from plain to noteworthy. Without the necklace, you wouldn't notice her outfit if she were to walk past you on the street. With it, you would."
Doesn't this paint the perfect picture of MAKING A STATEMENT? It was only a silver chunky chain necklace that took this whole look to quite another level. It's what put the !!! on her look! I love this, and it's something I would totally think of to do. What is the ONE EXTRA THING that you can add to a look to take it from a 5 to a 10?
A BEAUTIFUL COLLECTION OF STATEMENT DRESSES & JUMPSUITS~

Whatever it means to you to make a statement in your fashion sense…… it really does elevate your look! It can be the smallest of things. For example, some jeans, sneakers, and tee….. add a HAT and some colorful earrings and some bright LIPSTICK. It's usually the LITTLE THINGS that will get you from 5 to 10!
Shauna XO
My dress is from the MINA BOUTIQUE here where I live. It should be re-stocked and available. You can contact them HERE.
I wore a STATEMENT JUMPSUIT is HERE.
SHOP my BRIGHT and BOLD LIPSTICK HERE….. it definitely makes a statement!