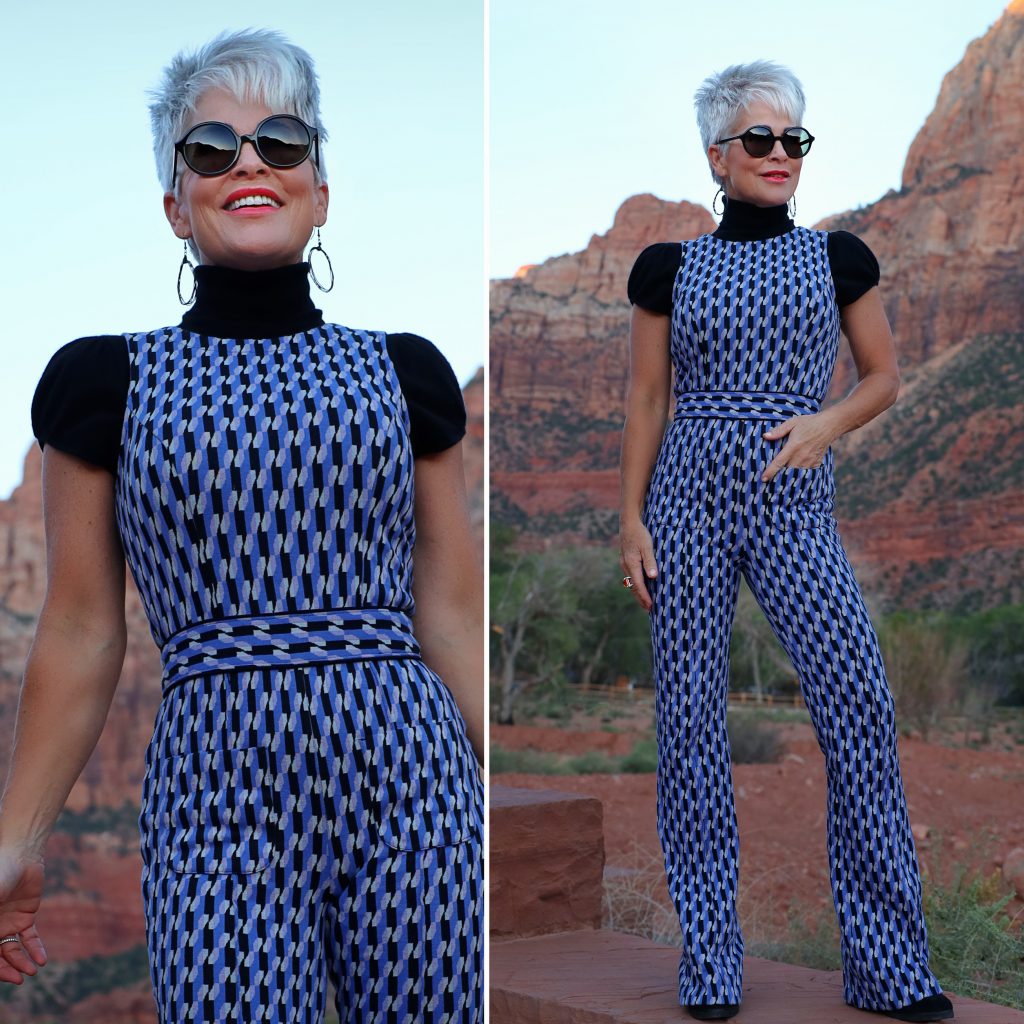 About this jumpsuit….. I wanted to show you HOW TO MAKE A JUMPSUIT VERSATILE. Do you remember the big question I ask myself when shopping and considering something new? CAN I STYLE THIS AT LEAST THREE WAYS? This one may seem like a challenge to many, even for my self, but just for a minute!
My favorite way, was with this short puff-sleeve turtleneck sweater. I've had this for years, and it's such a great basic to have! It fit perfectly underneath, and I loved how it went with the black piping on the jumpsuit. I accessorized SIMPLY with some black wispy earrings and black suede booties.
I wore it a week or so ago to a concert in Las Vegas. At that time I just wore a basic black tee underneath and some black heeled sandals. I don't wear a lot of sleeveless, unless I'm working out. So that isn't really an option for me, unless I wear a sweater or jacket over the top. But sleeveless for many of you would be ADORABLE!
I wanted to just quickly link up several looks, so you can get an idea of how you could change it up. I'm in the process right now of REALLY THINNING OUT MY CLOSET, and it is SO NECESSARY to have clothing that can be worn and styled MANY WAYS! So many of the things I'm giving away are things that AREN'T VERSATILE. Since I LOVED this jumpsuit so much, I was definitely going to MAKE IT WORK more than one way!
LOOK ONE~
Wear this to the office with confidence! It's professional and classy, and a bit unique and way MORE FUN than the "norm". Do it with a black blazer and white shirt. This blazer is a boyfriend style (a bit looser), but you could wear any of your favorite black blazers. I've accessorized all of these looks with very simple jewelry.

LOOK TWO~
Dress this way down and make it weekend worthy! Add a tee (or not) underneath and then a denim jacket with some personality… because afterall, the jumpsuit doesn't have enough on it's own! 🙂

LOOK THREE~
By wearing a pullover sweater with this jumpsuit, you can make it appear as if you're wearing pants instead. This sweater is loose, comfy, and pulled in with a beautiful belt. Again I added some simple earrings, as well as some tan booties, and a scarf for an added layer of warmth!

I've positively shown you how to make a jumpsuit versatile. What's your favorite look? Take care sweet friends and have an AWESOME and SAFE week ahead!
Shauna XO
THIS is a fun article on HOW WE FELL IN LOVE WITH THE JUMPSUIT!