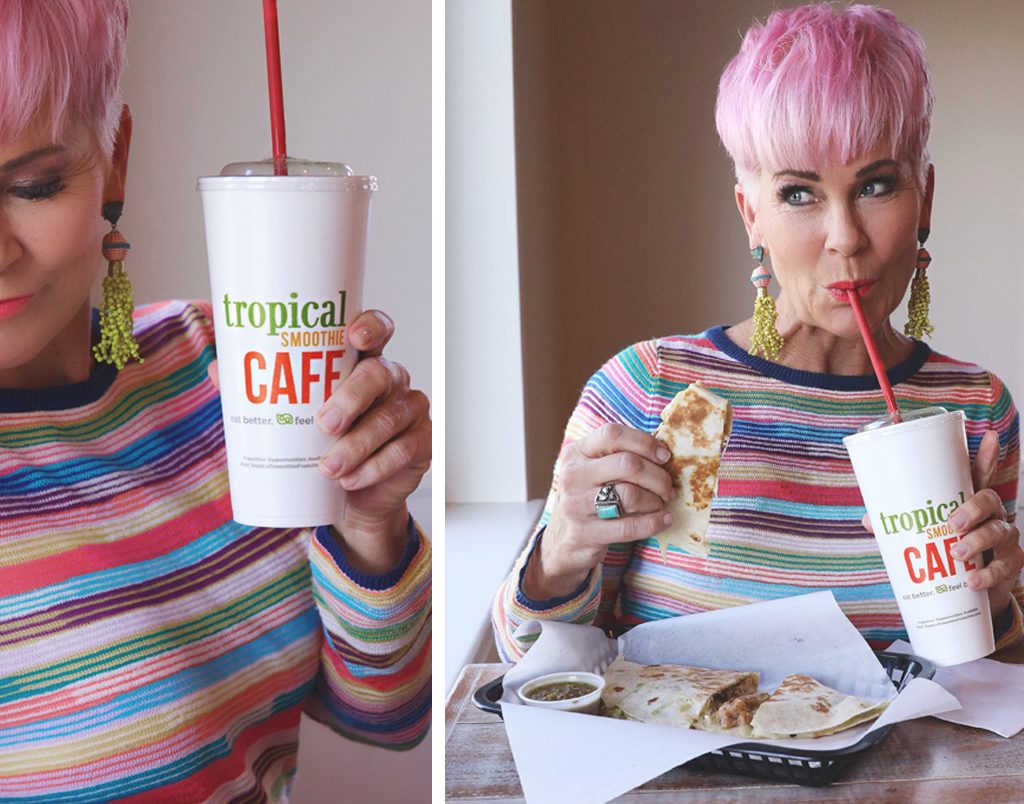 Do you ever feel so overwhelmed in your day to day life, that you can't even find time to eat??? It seems that my life gets faster and faster, and busier and busier! Yesterday I FINALLY found time to eat at 4:00! And that' so bad for your overall well being. When you're out and about, and look around at the options available…..there's not a lot to choose from when it comes to FAST and QUICK!!!!! Well….I have some good news for you…TROPICAL SMOOTHIE CAFE IS A HEALTHIER CHOICE for YOU!
I first tried TROPICAL SMOOTHIE CAFE over a month ago. That review is right here. I really LOVED that I could grab a quick bite to eat that was satisfying and didn't feel heavy in any way! This time I want to introduce you to their quesadillas, grilled to order! There is an Island Chicken and a Santa Fe Chicken. I chose the Island Chicken along with the Island Green Smoothie! It was absolutely SO DELICIOUS!!! I enjoyed every single bite! It filled me up and was just right…..in fact I couldn't even finish the smoothie! I love that it was convenient, and then quick, and then affordable, and THEN DELICIOUS too!
Tropical Smoothie Cafe is the perfect food destination for anyone! It's so nice to have something available that uses tasty, quality ingredients! These quesadillas are really delicious and something everyone in your family will enjoy! And the smoothies are so good too. I would even drink a smoothie in place of a meal! The quesadillas will be available for a limited time only, so if you live near one, stop in and try for yourself! They are VERY CRAVE-ABLE!!!!!
Shauna XO
P.S. My shoes are here and SO SO SO budget friendly!