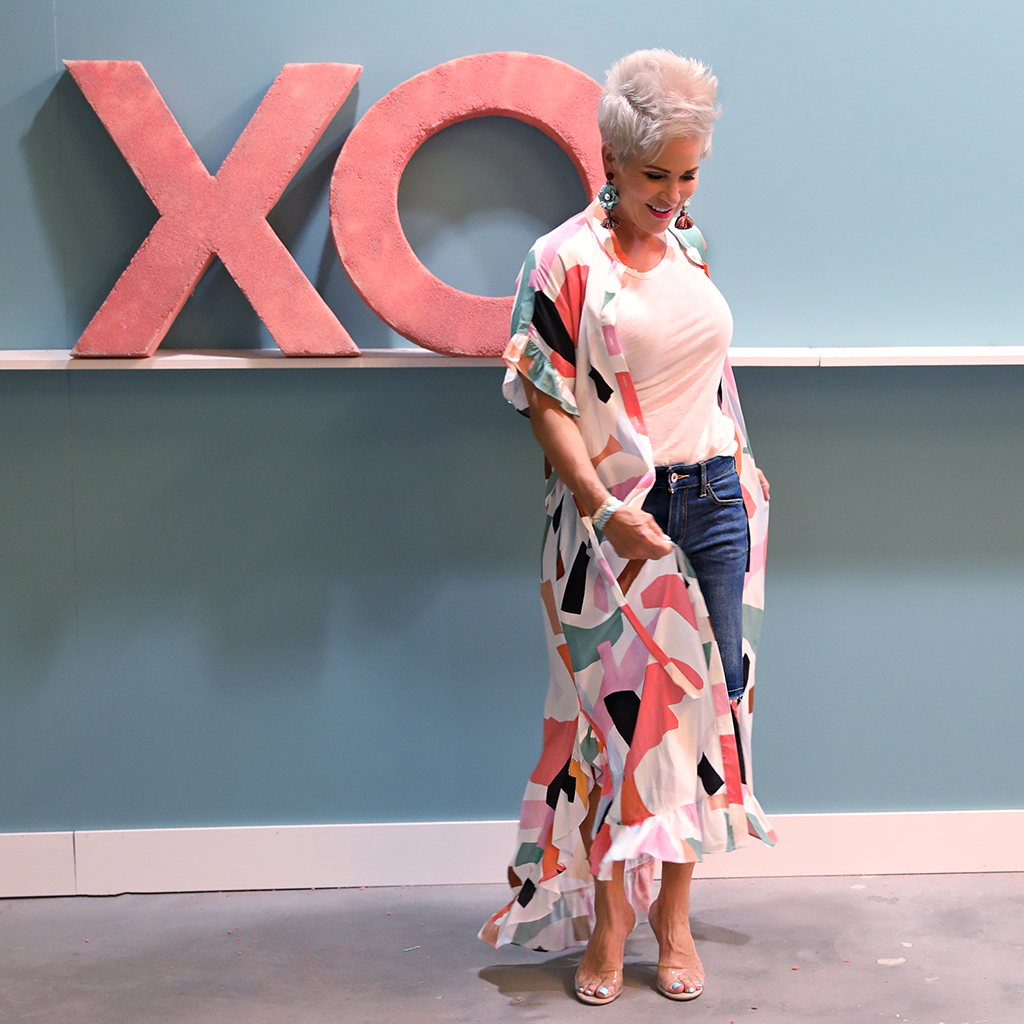 This has been my favorite dress this summer, and now I want to show you how this dress can be worn like a kimono! The dress is a simple button up the front shirt dress…..but with a twist. The ruffled edges would be the twist here. I love this detail on the dress because it makes it super girly!!! Here it is worn like a dress!

Shirt dresses are THE MOST versatile of all dress styles. They have such a classic sophisticated look to them. I think too, that dresses can be the hardest thing in your closet to change up. My favorite way to style them, at least the button up type, is like a kimono! By unbuttoning the front, you can take this dress nearly anywhere. Your options will suddenly be wide open!
I loved it styled with the longer denim shorts, a basic white tee, and some fun heels! Wearing it kimono style certainly made it look very casual and laid-back. I added my SUPER FUN CHICOS statement earrings, and it looked darling! Psssst…you've seen how much I wear these earrings and this is a GREAT deal! In fact I wear them so much I may just need to get another pair!
I wanted to show you another way to style this dress like a kimono. There are so many ways I can think of, but I wanted to show you how I would dress it WAY UP! Since the dress/kimono is all pull of color and pattern, I like the idea of a pair of simple black pants and a solid black shell underneath. Let the kimono do all the talking! And THESE pumps are a classic and come in 21 colors!!!!!!
DRESS IT WAY UP!

DRESS IT FOR THE WEEKEND!

And let me just say that THESE earrings in my SHOP CHIC would be fabulous with this weekend look, along with any of the necklaces!!!!!!! The earrings are INCREDIBLE, so intricate and delicate…..SO COOL!
So ladies….remember that your dress can be worn like a kimono! Everyone has a denim version, and they can be the very most versatile! Have a wonderful week!
Shauna XO