Mothers are the backbone of families and the glue that holds them together…. would you not agree? The impact of mothers on society is invaluable! As we celebrate the most important of all holidays, our MOTHERS, it's always wonderful to reflect on the impact that they have on each of us. Indeed they play an instrumental role in shaping the lives of their children and creating a stable and nurturing environment in which they can thrive. However, mothers don't just impact their own families…… additionally they have a significant impact on society as a whole.
I was with my granddaughters all this past week, and was reminded of the tremendous impact we as women have on our children. Without a doubt, they rely on us for so much, as they should. The moral support we can give them and the confidence we can instill is crucial in today's society! Being an example of gratitude and optimism will teach them more than we realize! Certainly mothers and grandmothers are key in helping children build resilience and coping skills through the adversity they will face.
MY MOTHER'S IMPACT ON ME
Unquestionably, my mother taught me all of this! She made parenting look easy as she raised ten children with my daddy! Without a doubt he was the disciplinarian, however my mom was the one that was the more sensitive parent! Without a doubt she worked tirelessly at providing a safe and well-kept home for us to live. She was ALWAYS THERE for us. Coming home to the aroma of her homemade bread or chocolate cake, was especially comforting!
This cake brings back many memories. I wanted to share it with you in her honor! While I haven't made it for years, we have sure enjoyed it! My mama used to make this for me every year for my birthday. Indeed I've missed it since her passing. I hope you'll try it and I hope that you'll LOVE it as much as I do! In our opinion, it's the best chocolate cake you'll ever have!
MY MAMA'S CHOCOLATE CAKE…
1 T vinegar
1 C milk
1 square of softened butter
2 C sugar
1/2 C cocoa
2 eggs
1/2 t salt
1 t vanilla
2 1/2 C flour
2 t baking soda
1 C hot water
Add vinegar to milk, set aside. Cream together butter, sugar and cocoa. Add eggs, salt and vanilla. Add milk mixture and flour alternately. Put soda in water and add to mixture. Pour into a 9×13 greased and floured pan (or PAM baking spray). Bake at 375 degrees for 30-35 minutes. Frost when cool with your favorite frosting or dust with powdered sugar!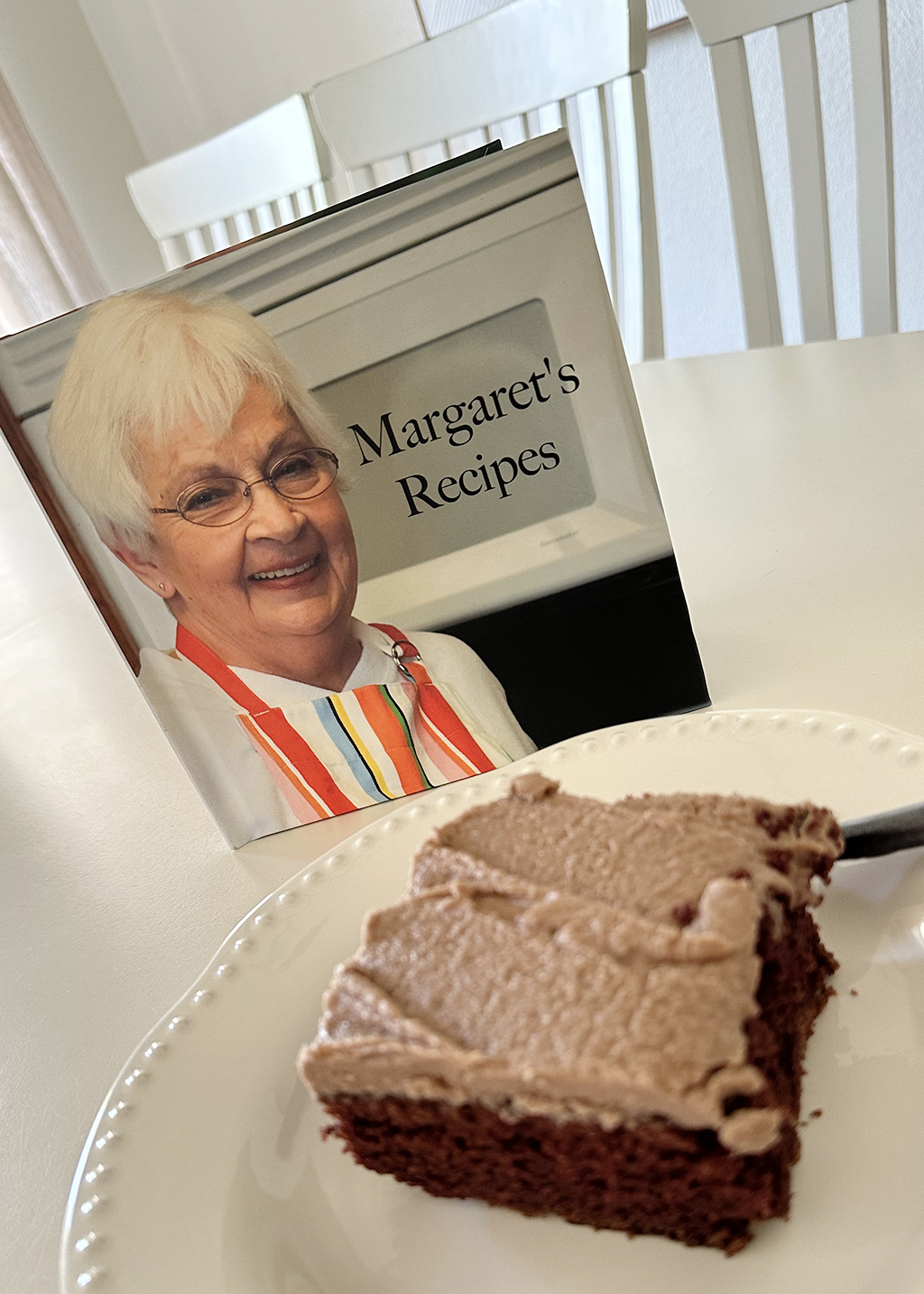 ____________
I miss my mama every day! I wonder often what she's doing up in heaven with my daddy. Even though she's been gone now for two years, I still have moments when I want to call her and get her advice or ask her a question. Obviously she played a vital part in who I am and I will always look up to her and honor her the best way I know how. To my angel mother….. I LOVE YOU!!!!!!

CLICK HERE TO SEE HOW IT'S MADE