Ladies…… have you been looking for the best and safest way to defend yourself? I've discovered something SO awesome and SO cool and had to share it with you. I've never owned anything to defend myself besides my muscles and my mouth. I've not been around guns a lot, and never had the desire to own one. THIS Byrna HD is a great alternative, and will allow you to have something you're comfortable with and that WILL PROTECT YOU!
It's easy to go along and forget how scary it would be to be confronted by someone dangerous. You just never ever know when something could happen. We get used to our environments and neighborhoods….. until something happens. And it can happen anytime and anywhere!!!
So first a little bit about the Byrna HD. This is a non-lethal self-defense product. They call it the UN-GUN, which I think is a brilliant way to think of it. So many of "US" are a bit afraid of guns, and aren't comfortable with having one in our homes. And although you still need to follow all of the safety precautions with the Byrna HD, it's a much better alternative for you to protect yourself in case something should arise.
The Byrna HD is powered by compressed air (CO2), just like a paintball or airsoft gun. It shoots .68 caliber round kinetic and chemical irritant projectiles, that can literally disable a threat from up to 60 feet away!!!!!! It's pretty powerful. I've taken mine out in to the desert a couple of different times to target shoot. My husband is quite impressed with its power! And what girl wouldn't love a PINK self defense weapon?!!
Another thing I LOVE about this, is that you DO NOT need to have any sort of a permit to use it. And no background checks either. However you DO HAVE TO BE 18 YEARS OLD to purchase one. This is for men and women to use of all ages. What better device to have at home, to protect you in any situation where you feel threatened.
My Byrna has been super easy for me to use as well. The instructions are simple and easy to understand. The BYRNA LAUNCHER KIT includes the launcher itself, two 5-round magazines, two Byrna CO2 cartridges, one 5-round tube of Byrna inert projectiles, one 5-round tube of Byrna chemical irritant projectiles, one 5-round tube of Byrna kinetic projectiles, and one #byrnanation medallion.
You can learn more about the BYRNA HD right here.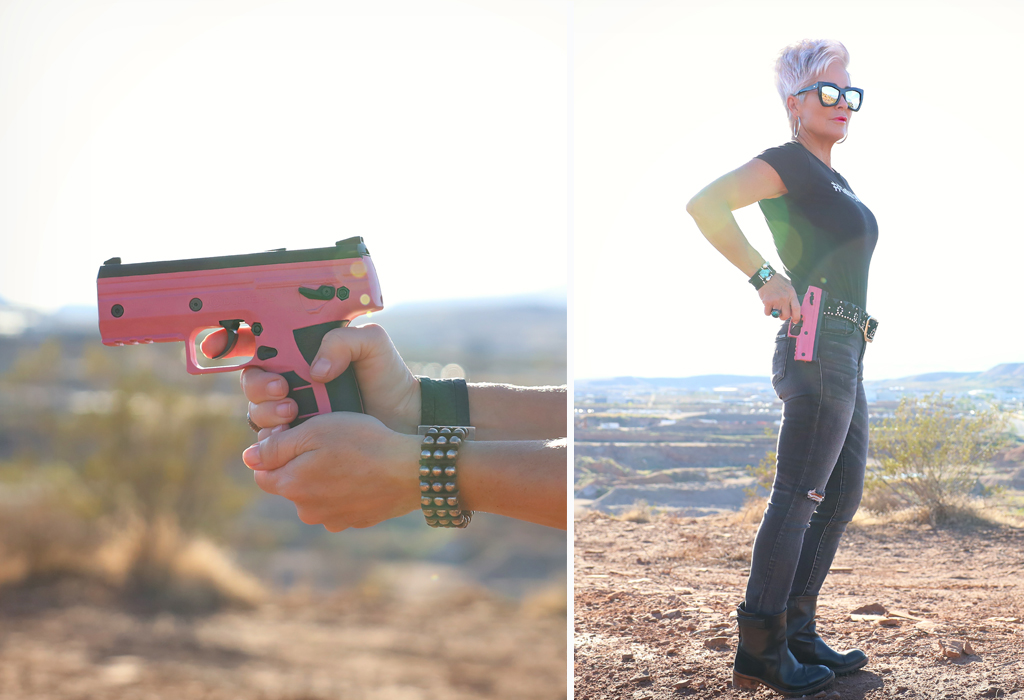 If you are looking for THE BEST and SAFEST way to defend yourself…… please look in to this amazing self-defense device. It gives me such peace of mind knowing that I have access to it in an instant, for any confrontation! It's absolutely amazing…… and definitely makes me feel like a LADY BOSS!!!!!!
Shauna XO