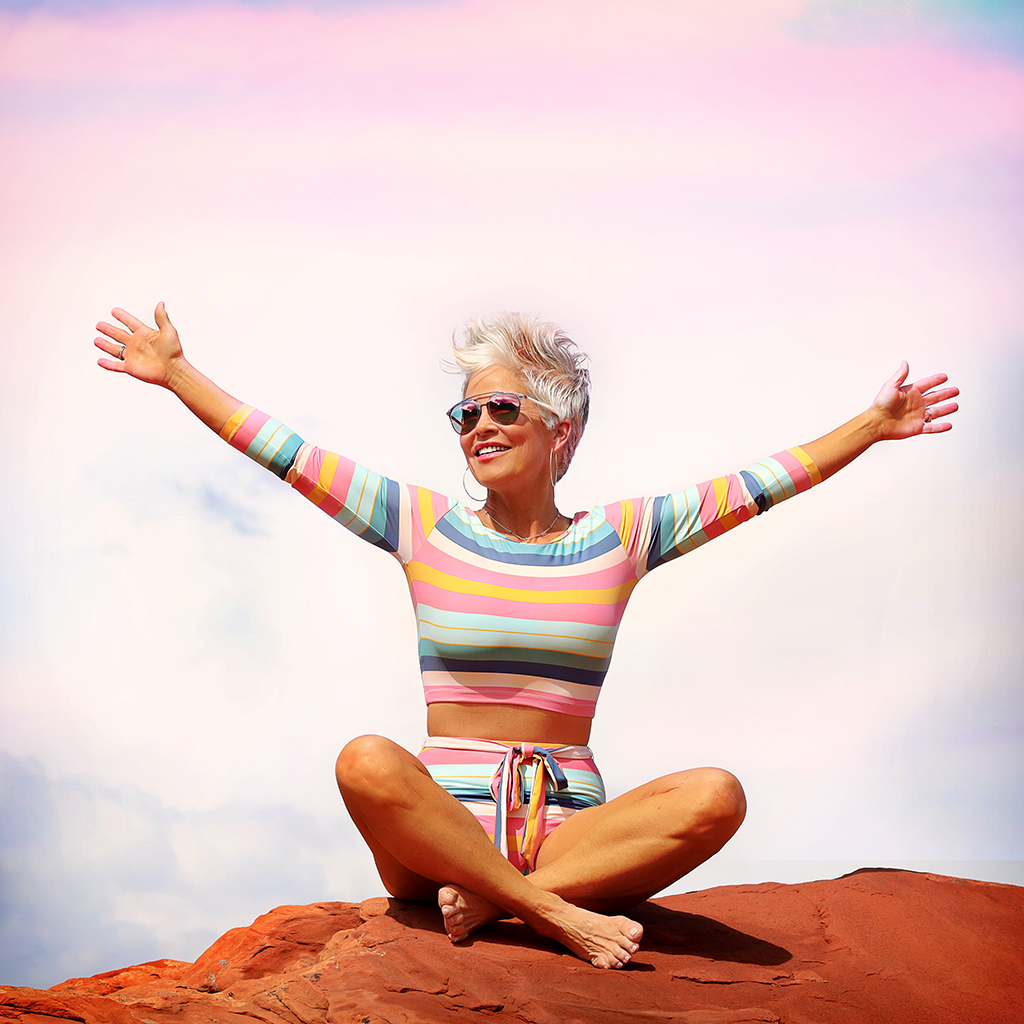 Swimsuit season is here and I'm just a little bit excited about it. I have NEVER been excited about swimsuits as much as I am this season……. WHY??? Because there is SO MUCH out there right now that I LOVE! I have a lot coming your way that COVER and are CUTE and that YOU should be EXCITED about too!
THIS one and here, are from JCrew. I spotted it a couple of weeks ago and LOVED the covered top, and of course the colorful stripes! The bottoms come to my waist, but remember I'm very short waisted. These will not come up quite as high for a more normal sized girl. STILL CUTE though! The back scoops out so there is some skin, but it's in the back and not the front, which I like that!
It comes with a top, but I would never wear it so I didn't get. The top I'm wearing here, doesn't have a bra in it, so you're best bet I think is to wear something like this with it! JCrew has some ADORABLE stuff right now. I have this one coming but am going to send the top back because it just doesn't cover as much as I want. It would look great on a flatter chested girl!

Swimsuit shopping can be SO STRESSFUL! EVERY girl I think feels the same! My favorite coverup for swim attire are cut-off denim shorts! I just think they are easy, not fussy, and great for a boat! I love this suit and the punchy floral with the cut-off denim! Below are some cute denim options.

LimeRicki is another brand that I've worn a lot of. Their line this season IS SO DANG CUTE too! They have a lot of that new rusty brown color I've been loving recently! Take a LOOK! I've got a whole collection of this brand that I'll be posting in the coming weeks! And it's extremely modest!
Coverups are just as important too!! THIS ONE is so playful and fun! I've linked some super cute ones below. I hardly ever just wear my suit around…. I must be covered up, so I pay a lot of attention in this department! Are you confident enough to wear your swimsuit just around and about??? Eeeeeeek….. not me!

Anyway friends, swimsuit season IS here and I'm prepping early because……. well because I'm ready for the BEACH and A BOAT!
Shauna XO