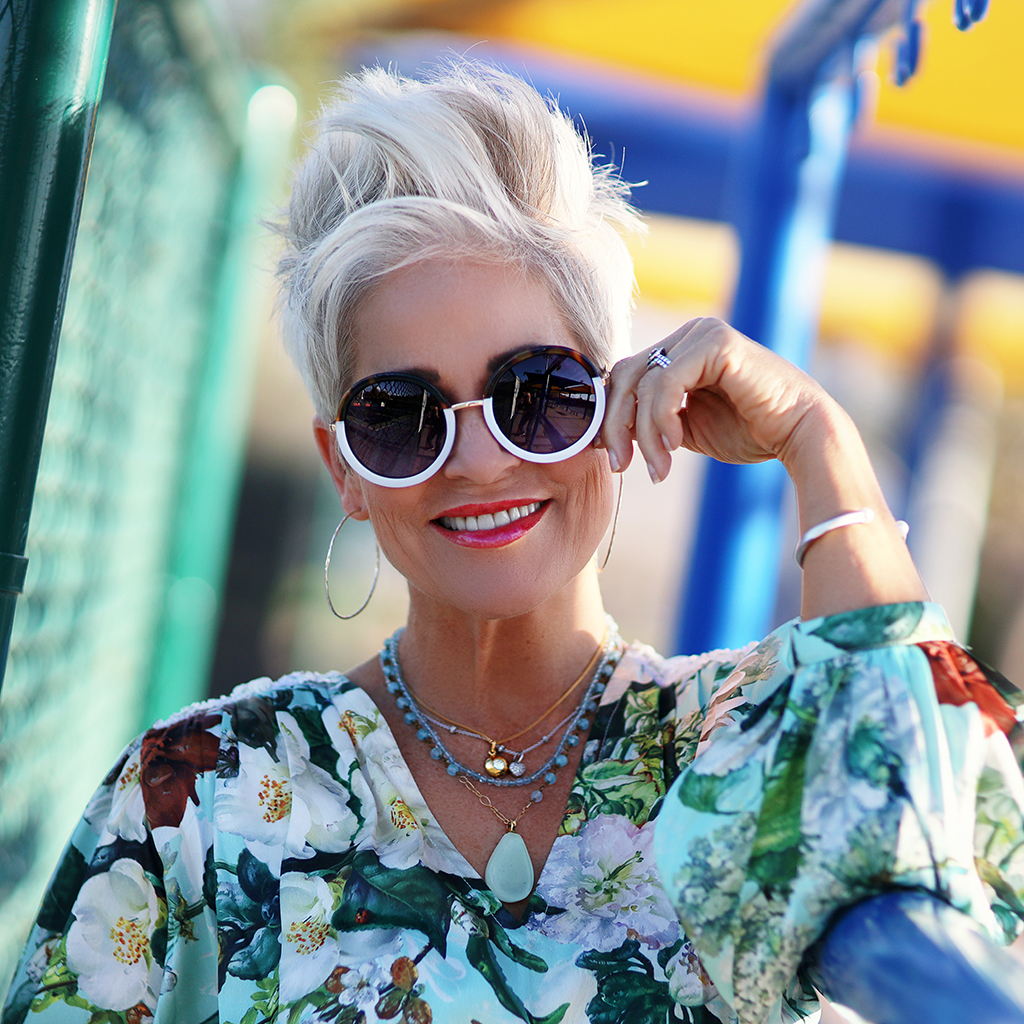 Are you growing out your hair because you have to??! I was asked recently to blog about HOW TO GROW OUT a pixie cut. I thought it was a timely topic because of COVID-19! Your hair stylist might just be the one that you are missing the most…… besides your family! Thank heavens I don't color my hair anymore! My cut however, is one that really, really needs to be trimmed every four weeks. I've now surpassed that, as many of you!
THIS IS WHAT I CURRENTLY USE ON MY HAIR~

Our hair I believe is the number one thing that makes us feel beautiful or not! If our hair isn't good, there's usually nothing that can make us feel like we look good! At least that's the way it is for me. My hair has to look good for me to feel my best! I think I've ALWAYS been like that! Even back in High School when my hair was ginormous! I would spend most of my getting ready time, ON MY HAIR!
So…. NOT THAT I'M GOING TO GROW MY PIXIE OUT, I'm only giving you MY TIPS and my hairstylist's tips on what you can do to make the process easier! I'm actually leaning a lot on her and her expertise, because whenever I've decided to grow mine out, it NEVER lasts! But with her tips along with my own experience, here are some pointers that might help you!
Healthy hair is beautiful hair! Even if you're growing it out, keep the dead ends clipped off. Even if it's just a little snip in to your bangs. I have actually done this a lot to my own hair! Cut them on an angle and NOT straight across! Just by getting a neck cleanup can make a world of difference! My husband did mine for me just a few days ago!
Endure! It's been said that if you can endure the first couple of months…. you're on your way. They can feel the most awkward, so hang in there and give it at least three months!
Your hair is as healthy as your diet and lifestyle. No kidding. What you eat and how much rest you get can definitely affect the overall health of your hair! NUTRAFOL is a collaboration I did a few months ago, that helps with the health of your hair!
You have to have a good stylist that you can trust! Obviously we aren't able to get to our salons right now, but WHEN you can get back, make sure you jive with your stylist!
When you're growing out your hair you will need to change what hair products you use. The paste that you've been using for your pixie, won't be the right product for longer layers. Probably a smoothing cream and root lifter would work better! THIS thickening product works GREAT!
You don't have to, and shouldn't, wash your hair every day. I wash mine every 2-3 days. When you're shampooing, really dig in and give yourself a good hair massage. I even take my fingertips and scratch lightly and vigorously to help stimulate hair growth!
THIS line is great for hair health as well. It actually focuses on thinning hair, which if you're growing it out, thinning hair can be a nightmare!
Take time to play with your longer hair! THIS actually makes me crazy because if I have to spend any length of time on my hair it MAKES ME CRAZY! But IF you're going to grow it out, you should definitely experiment with new ways to style it!
Use hair accessories! This is where it can get FUN! I love them even with my pixie. Clips, barrettes, headbands, and scarves can turn an ordinary messy head of hair in to something very CHIC!
One last tip…. IF YOU COLOR your hair, just know that it's susceptible to breakage. So by growing it out longer you will see it more! Keeping the bleach and color out as well as leaving your heating tools out of it, will really help in the long run to achieving a healthy head of hair! THIS is the best hair blower that is made to protect your hair from damage!
I hope these tips on how to grow out a pixie cut help you! I don't know that I'll ever grow mine out because it just doesn't look good on me. And…. it really doesn't even suit my personality! So for me, I think my PIXIE will always be my signature look! Good luck friends!
Shauna XO
This is a blog on when I changed up my hair a teeny-tiny bit!