I'm finally getting to my travel adventures in Memphis a couple of weeks ago with my two travel pals, SheShe and Jamie. We were hosted by MEMPHIS TRAVEL who were OUTSTANDING! We had the most magical time. Who knew that MEMPHIS was as much fun as it WAS…..I sure didn't! I'm not sure what I expected, but certainly not what we saw, and ate, and did! Here's your travel guide to Memphis on where to stay and what to see and where to eat! This will not lead you astray!!!
We were there for four nights and five days and stayed at three different locations. The first was the Big Cypress Lodge and it was such fun as we stayed in the GOVENOR'S SUITE….and it seriously was like a small house! Big Cypress Lodge is located in the Bass Pro Shops pyramid. We felt like we were in the middle of the woods except really in downtown Memphis! Our suite was incredible…..with a kitchen, living area, three bathrooms, and two huge bedrooms! It was so cozy and such a unique place to stay! We were all together here, which is always a blast!
The first night we all went with our cute guide Alex from Memphis Travel, and had dinner at Bounty on Broad……check out this menu! My first experience with REAL Memphis food and it was unreal! I mean EVERYTHING we tried was DELICIOUS! I walked away a little more than stuffed! If you're ever in Memphis, this one IS A MUST!
Our first full day was jam-packed with all kinds of fun activities around town. First off was a delicious breakfast at Sunrise Memphis. I mean the biscuits are a meal all by themselves! Holy smokes….ginormous! Such a fun little diner with LIVE music and yummy southern food! Here we met our "team" of travel guides, our photographer, and our videographer. Such NICE people and SO ACCOMODATING! We were actually videotaped the whole time which that video will be used by MEMPHIS TRAVEL for advertising purposes! Can't wait to share it with you!
Then off to Sun Studio THE birthplace of Rock-n-roll!!! And let me just say WOW….welcome to Memphis! This music studio is where legends were discovered….Elvis, Johnny Cash, BB King, Jerry Lee Lewis, Roy Orbison just to name a few. We got to actually stand in the spot that Elvis recorded his FIRST song! Incredible memorabilia and actual recorded voices of these artists. Our tour was fantastic! There truly has to be MUSIC LEGEND SPIRITS that live there….people talk about it all the time! Don't miss this stop while traveling Memphis!
Down the street is the Edge Motor Museum an exhibit featuring the evolution of the American sports car! So much fun looking at these exquisite old cars! Afterwards we were treated to another delicious meal at RENDEVOUS. Now this is what you call BARBEQUE!!!!! We were definitely fed….the whole time! I don't think any of us was EVER hungry! Then we went on a really fun and chilly riverboat cruise down the Mississippi! And even though chilly it was still a fun way to see Memphis from the water!
Later that evening we got all dressed up and went to dinner at a really FABULOUS restaurant called Felicia Suzanne's. It was WOWZERS in the taste department! We got to meet Felicia and she was LOVELY! It's always great to know a handful of excellent restaurants when you're visiting a new city, and I think we must have gone to EVERY one!
After dinner we walked the famous BEALE STREET. What a BLAST that was. We went in to BB Kings Blues Club and listened to the amazing live music and even danced some! It was nice working off some of the good food we ate!
Wow and that was just the first day!!! The next day we checked out of the Big Cypress Lodge and in to Central Station. This is a brand new hotel that's built right in the train station and is SO COOL! We visited the STAX Museum of American Soul Music. Stax is a record recording studio where some of the best music was born! Here is the story of STAX. Again the history, the cultural, and the guts of Memphis you truly felt here! It was so nostalgic!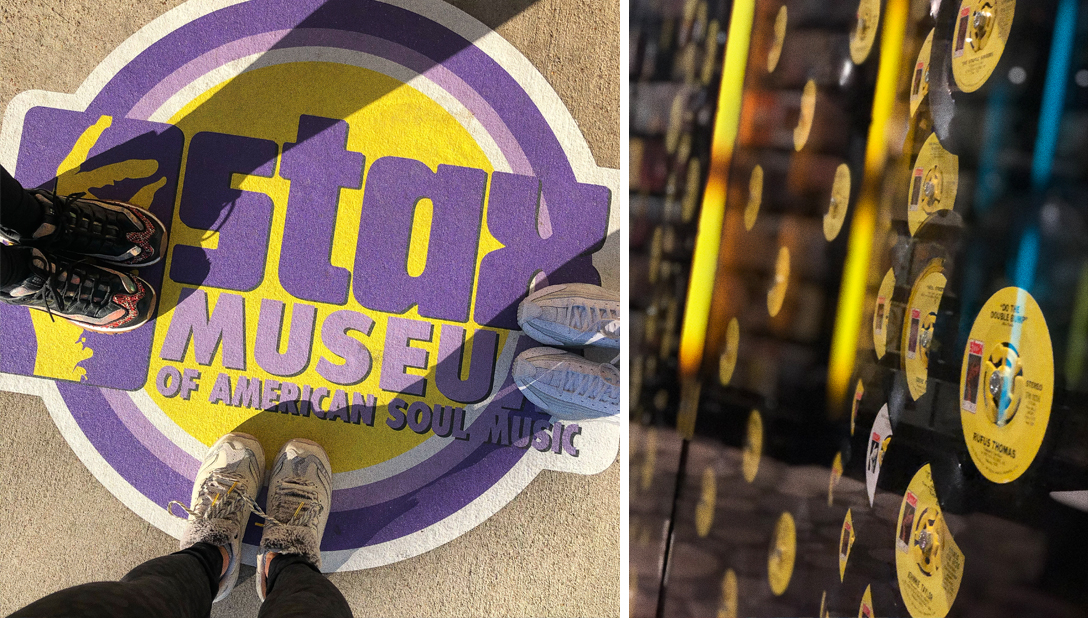 Later on this day we got to go have some fun at Shelby Farms Park. This is where we got to ride bikes. It was gorgeous and so full of people enjoying different activities from kayaking, to playgrounds, and trails for horse riding. I LOVED the chaise lounge chairs you could just park yourself on for the day and read or whatever. BEAUTIFUL place! Later it was yet another delicious southern meal at Rizzos. Don't miss this meal either when you visit Memphis! Michael Patrick owner and chef….DOES IT GOOD! He serves brunch, lunch, and dinner.
We checked out of Central Station the next morning and headed straight over to the National Civil Rights Museum. I have to say, I haven't been that moved since visiting the Holocaust Museum in Washington DC. This museum was SO WELL DONE. The storytelling and exhibits and the way it was all presented was absolutely so touching. It's built right around the room of the Lorraine Motel that Martin Luther King, Jr. was assassinated at in 1968. I believe after visiting a museum such as this one, your life changes. I could have spent much more time there. This is another MUST SEE in Memphis!
Afterwards we went over to the famous Peabody Hotel. I had SO MANY people say to me, "You must go see the DUCK MARCH over at the Peabody!" I hadn't ever heard of it, so was anxious to see what all the fuss was about. When we got there someone had reserved seats for us right in the front! There was a red carpet rolled out and the anticipation of the five minute event was escalating. The Duck Master was there of which we got to meet.
We sat down and the Duck Master turned to me, held out his hand, and took me with him to be the HONORARY DUCK MASTER!!!!!! I was completely surprised and so excited to see what this was all about. We went up the elevator to the roof of the hotel where the ducks are housed. They have a beautiful home on top, and as we approached they all started quacking and getting lined up to be let out and taken downstairs and up the red carpet to the fountain. They change out the ducks every 6 months so they never get tired of being super-ducks! The duck master talked to me the whole way telling me about the event and different famous people who had come to watch and who had also been chosen to be the honorary duck master!
This picture is the only one I can round up…..hopefully one will surface of me walking down the red carpet with the Duck Master. Notice his DUCK cane that he uses to move his ducks along!
After, we went shopping at LANSKY BROS. which was Elvis's clothier. You should have seen the leather jackets, and clothing, the fun accessories, and shoes! I bought the CUTEST booties there (pictured)! We were all going a little hay-wire….as fashionistas would, at all the amazing things!!! It definitely was a place we could have used MORE TIME!!!!
And then there was the BEAUTY SHOP lunch. DO NOT leave this out of your itinerary. The first picture was taken there….in our tulle skirts and graphic tees. The milkshakes were my favorite! It is such a hip and friendly place where they say….LOOK GOOD EAT GOOD! And we did!!!
We checked in for our last night at the Guest House at Graceland. This was my favorite I think of the three. It was obviously ELVIS inspired everywhere you looked! In our room was a plate of peanut-butter sandwiches, Nutella, and bananas. WHAT A TREAT…..I LOVE peanut-butter and thought it was the most genius idea for a hotel room snack! Remember peanut-butter and bananas were Elvis's favorite!
As I continue with my travel adventures in Memphis…..we were finally off to see the divine GRACELAND! I LOVED visiting Graceland and seeing the actual home of Elvis. It was frozen in time. The kitchen reminded me of my kitchen growing up with the geometric kitchen carpet in the bright colors! Each room was over-the-top as you can imagine. The billiard room with the folded and pleated fabric walls and ceiling was my favorite! It was so colorful and fun! The whole house is open except for the upstairs. There were framed pictures all over of him and his family, which made it feel so homey! Elvis wasn't afraid of color as you can see!!!!!!
We got to see all of his cars, his plane, I mean literally his whole compound. It was really quite something! We were so tired but there was yet another delicious dinner to attend…..at Acre. The food was exquisite and was the perfect last supper to top off our fabulous trip to Memphis!
And that wraps up my travel adventures in MEMPHIS! I mean seriously we saw the BEST of the BEST and ate such incredible food and had such a LOVELY time. I honestly would not have believed that MEMPHIS could be as fun as it was. Everything about it…all the history and music, shopping, and restaurants! WOW!!! It was one of those vacations that I will never forget! We……the MEMPHIS ANGELS had the time of our lives eating and dancing our way through Memphis, Tennessee!
Shauna XO
Some of our other travels together were here and here. And….more to come! Stay tuned!