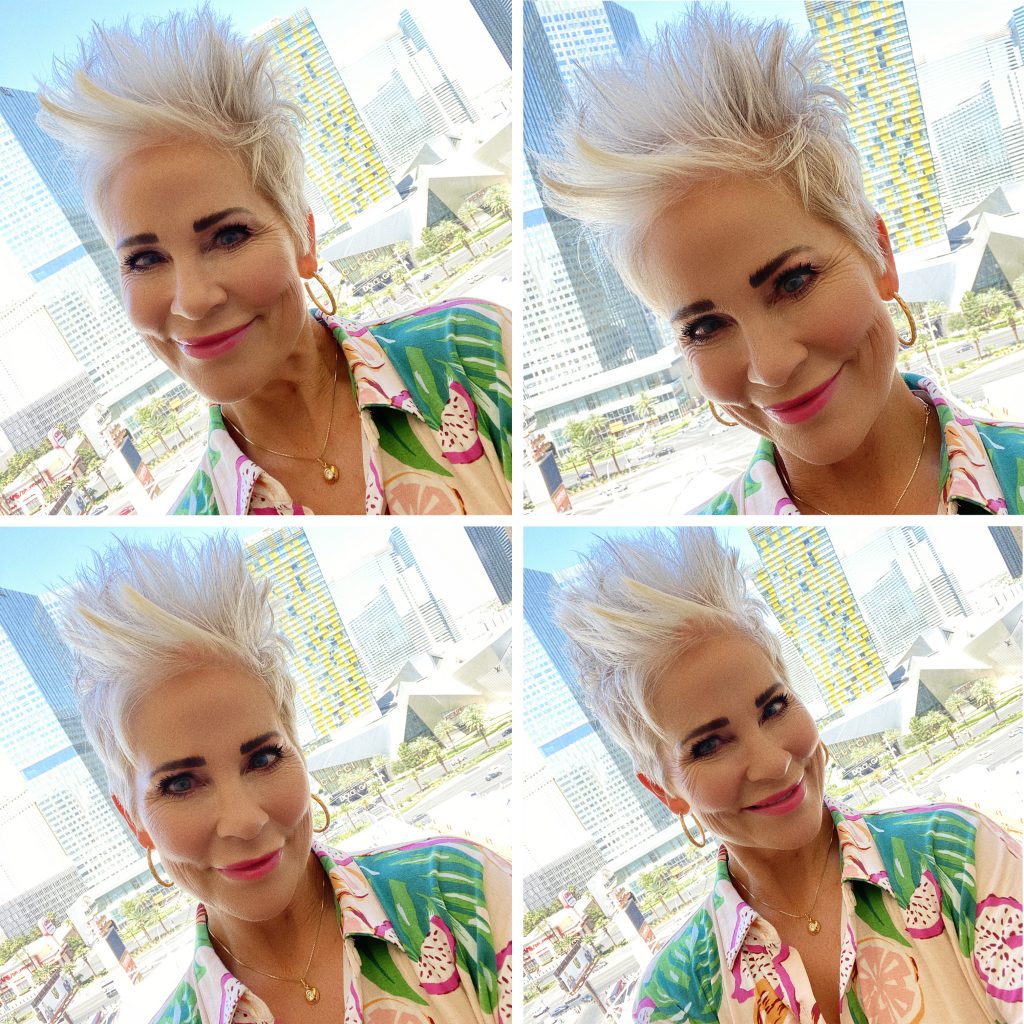 Another installment of MY PIXIE CUT AS A WOMAN AT MIDLIFE. I get the most questions ABOUT MY HAIR, so I thought it was time for another blog on my signature PIXIE. I've had a short hairstyle for most of my adult life. It suits me. It's easy….. I hate to fuss over my hair, makeup OR clothing. When I have to keep adjusting and fixing my hair, it drives me CRAZY!!!
One of the reasons to wear a pixie cut as any aged woman, is the SIMPLICITY. Some say they are harder, because you have to actually DO something with them as opposed to long hair that you can pull back in to a ponytail. But to me that is very boring. It WOULD BE very blah on me. I seriously don't look good in long hair AT ALL.
I GOOGLED pixie cuts for older women, and LOOK what came up??? In the TOP SIXTEEN BEST, my pixie was in there twice! The one on the left was actually bleached. The one on the right is all natural. You see that I haven't really styled them much different other than the one on the left is down more in front. I've always needed height, so will most always have some in the crown area.
My pixie has evolved little by little, going shorter or longer, messier or not. But the way I like it the most is very textured, lifted and piecey. I don't like it to look too set or too neat. This cut takes me no longer than 5-6 minutes to style from wet to dry. And another note to add, I don't wash it every day. Every other day or every two days for me. I feel like it's easier to style when it has some grit to it after a day.
My TOP FIVE REASONS For A PIXIE CUT For Women at Midlife
1~ Most women as we age, get dryer and thinner hair. It looks less healthy. A pixie cut will always look healthier in my opinion.
2~ A pixie cut CAN make you look younger by bringing out your cheekbones and eyes. Long hair can pull your face downward. A PIXIE truly can enhance your features.
3~ I feel like a pixie is a really fun way to show off your personality. Oftentimes as we age, we lose a lot of our personal style because we begin to lose our shape, lose our desire to look pulled together, etc. A pixie can really add a lot of sass and personality to your look!
4~ A short pixie cut can give you a BOOST. Sometimes that's just what we need at midlife is a powerful BOOST of fun!
5~ A pixie is EASIER and less fussy! Now I suppose that this is a matter of opinion depending on what you're used to. But with the right styling products there is no reason to spend more than ten minutes on your hair! Let your hair work for you. If it's curly… let it be curly. If it's straight… let it be straight. There IS a short cut out there for every hair type!
I met a women just the other day, who was my age and had long hair. We chatted a lot about hair. Hers was dark but graying, and very healthy. She looked BEAUTIFUL. I told her to not be afraid of letting it go silver. There are so many women out there with long and short silver hair that look AMAZING. I encourage any of you to let it go and embrace those platinum strands!!!!! They'll look beautiful on your beautiful face……. just make sure you add in some lipgloss!!!! My pixie cut as a woman at midlife has been A BLAST!
CURRENTLY USING THESE HAIR PRODUCTS~

Take care friends! THANK YOU to all of you for your support here! It means the world to me!!!!
Shauna XO
HAIR TUTORIAL HERE