I wanted to share with you (before they are gone) some of my favorite summer looks with you today. I don't normally wear workout shorts and skirts around for everyday wear…. although with these you sure could. But I think this is an area where it gets hard to look CUTE. Workout wear and athleisure wear can be very boring and ordinary, so I wanted to show you that YOU CAN look pulled together and really good during your summer activities!
This look is from Lululemon. The sandals are from San Antonio Shoe Company. The cute pink bucket hat is from Anthropologie (I've linked a similar one). I've mixed the patterns here which adds an element of personality and the frayed bucket hat is really super fun!!!! I've loved this hat! It's so easy to pack! I wore this look while out hiking in my red rocks!

This look is all from Athleta. I wore this recently out golfing. We were staying at Pronghorn Resort and it was about 110 degrees and so this was so cool and breezy and fuss-free. Wear it to play tennis, pickle ball, hiking, and I would even wear it to the beach! Yep….. if you've followed me long enough, I don't necessarily wear a swimsuit to the swim pool!

My swimsuits below are from LimeRicki. I've worn their suits for several years and love them because….. they are inexpensive, cute, and modest. You can wear their suits again, for MORE than just the pool. I wore a short white denim skirt over this to a local stream to go crawdad fishing with my darling granddaughters. This has a navy skirt that can be worn over the the bottoms which turns it in to almost a tennis outfit! The second look, I've paired the striped bikini brief with the adorable floral rash guard top, for a fun look to wear when you need to stay covered! Isn't this FUN? These rash guard tops are a lifesaver in your full sun activities! And I love that they cover everything up, and not just keep the sun out!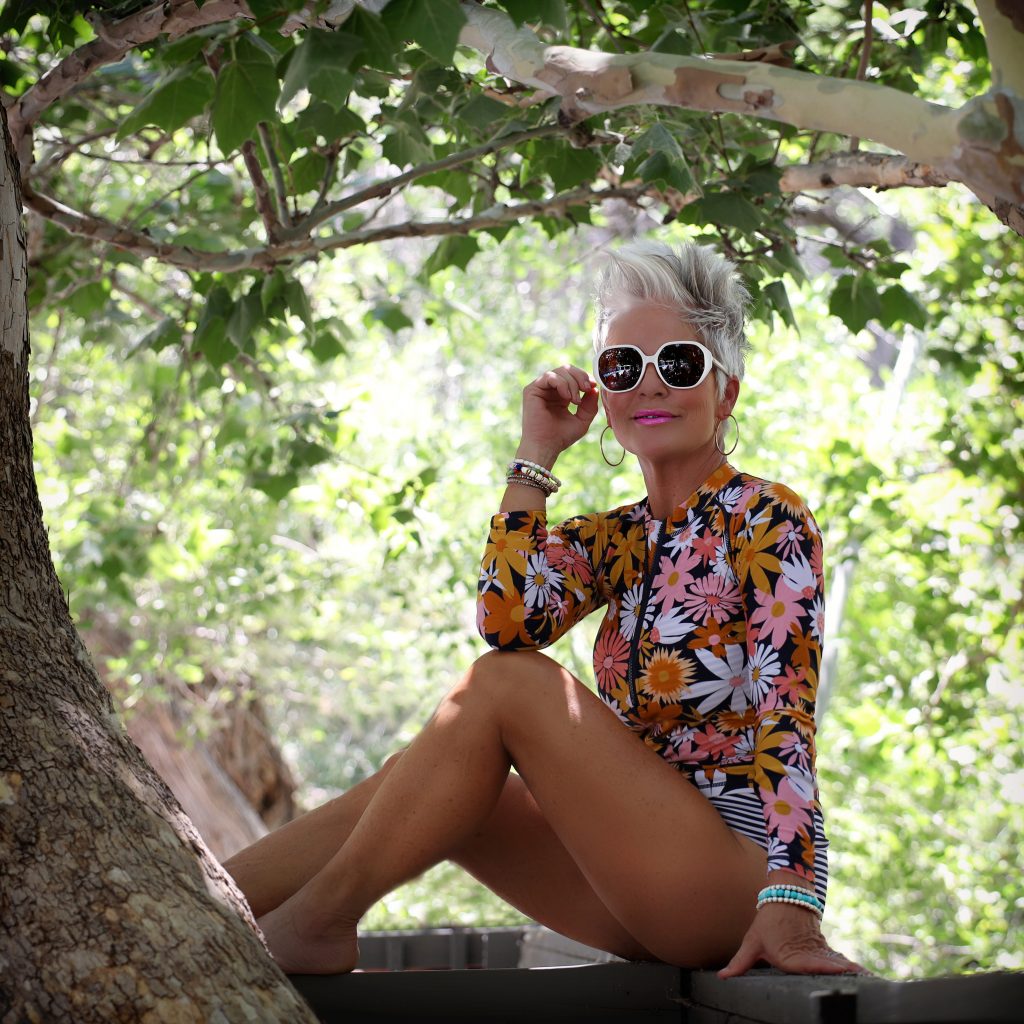 My love for rompers continues with this cute one from Athleta. I love the Lavendar color and the cut of this. I wore this golfing and to the pool while on vacation at Pronghorn. It's super flattering and extremely lightweight!

Look and feel SUMMERTIME CHIC in some of my FAVORITE summer looks here! Take care friends and don't forget to use your sunscreen!!!!!
Shauna XO