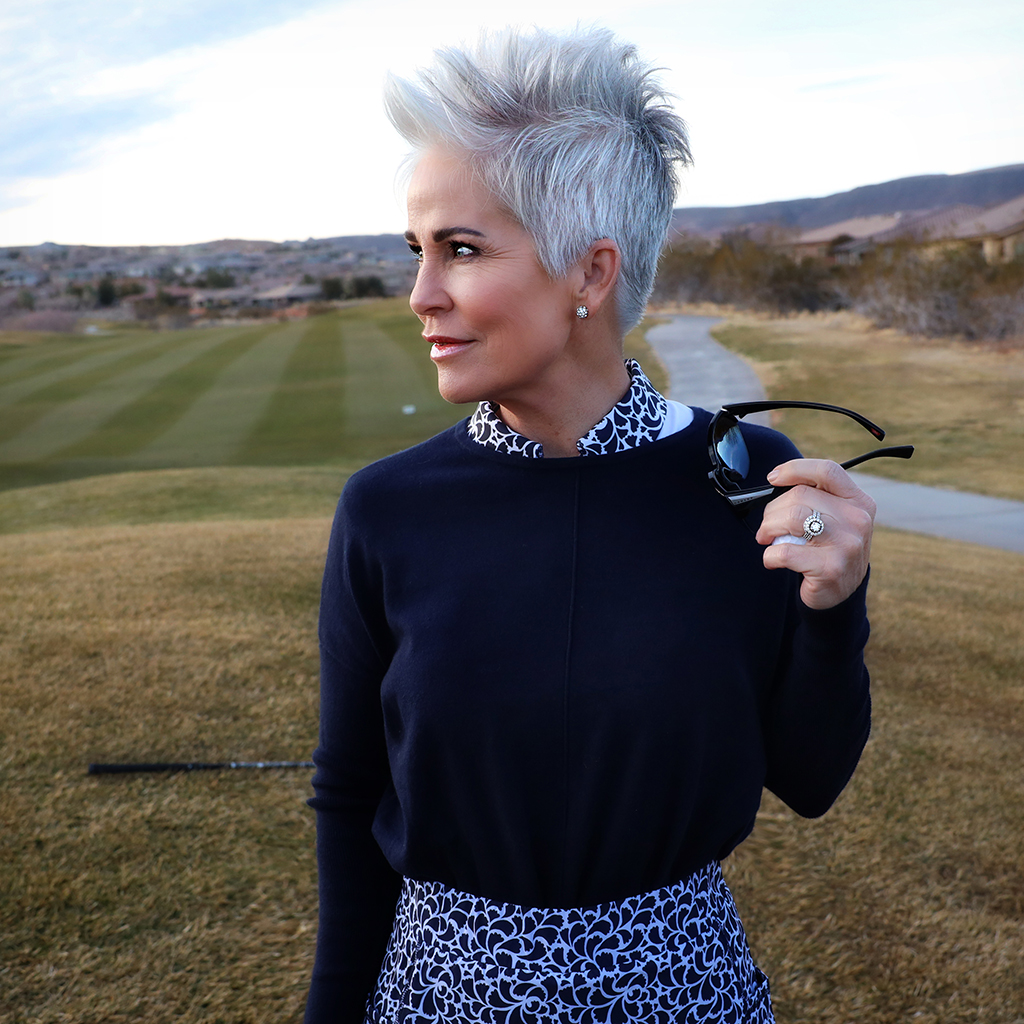 MY FAVORITE GOLF LOOKS
Sharing my favorite golf looks today because I take my fashion seriously, no matter what I'm doing. It's always in the forefront of my mind…. even when I'm just here at home. When I'm golfing, no question I want to look stylish, but obviously it's important for me to be comfortable so I can play my best.
This look above is from Chicos. I've loved their skorts (skirt/short) through the years. They are so ideal for golfing in particular. This one comes in two different lengths. Mine is the shortest one at 15.5″ which is here. It also comes in a longer length at 18.5″ which is here. I LOVE that they offer the two lengths, ESPECIALLY the shorter version!
Here is another longer skirt that would be great for you longer legged girls!
ABOUT MY LOOK

The polo shirt is really cute with the matching collar. I've layered mine with a navy cashmere sweater. These sweaters by the way are beautiful. My favorite is cashmere and the looser fit is so on trend right now. They aren't bulky as you can see in the picture. I was able to tuck mine in to my skirt with no bulk at all!
PAIR A PUNCHY RED WITH SOME BLACK

Basic black with this punchy red jacket is classic and fun! I always have the basics when it comes to my golf attire… these neutrals can be paired with any of your colors! This skirt is so slim and has a super flattering cut to it. A fedora styled hat is my preferred style. If yours is a visor, this one is cute!
ADD SOME FLORALS TO YOUR GOLF FASHION

This shirt and jacket are simply ADORABLE! I love it paired up with a simple white pair of shorts, or you could sure pull in one of the other colors for the bottom half. The top is a bit cropped, so make sure to wear a high-waisted bottom. A cute pair of golf shoes add even more fun to this look.
ALL ABOUT THIS JACKET

I just got this jacket and it is SO cute! The cropped style works so well on me. I ordered an XS and it's plenty big. Adding the bright colored skirt and some simple white golf shoes with the colorful striped detail is perfect. Wear the long sleeve top with it for cooler golf days, or add any of your whites in its place.
LET'S TALK GOLF SHOES
My golf shoes above can be found here. This brand Duca Del Cosma is so dang fabulous! It's actually MY FAVORITE! I have several pair and they are comfortable and unique. I have these as well and they are really REALLY cute! Amazon has some cute golf shoes also.
So…. whether or not you golf, any of these looks can be worn out playing any of your sports. Tennis, golf, or pickle ball. My favorite golf looks are just an inspiration board for you. How would you wear them? Do you prefer skirts, skorts, or shorts?
Shauna XO
Other brands I LOVE for golf are HERE and HERE.
READ HERE about THE IMPORTANCE OF MOVING!