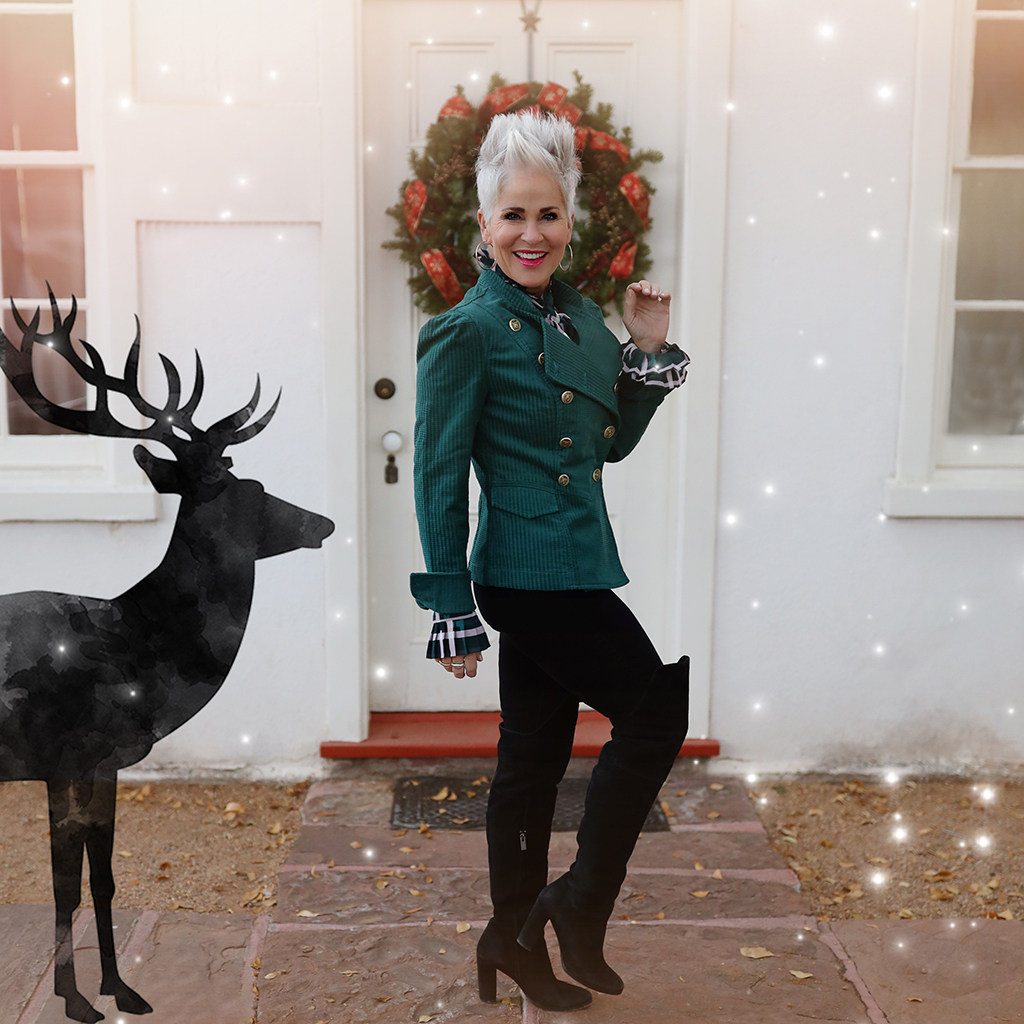 My CABI style continues….. continues to be SUPER FABULOUS and GOOD! I wanted to save THIS JACKET for December! It's the most beautiful green and the double-breasted buttons are such fun. They remind me of the jackets that you see on a Nutcracker! It's a GREAT jacket for all you have planned for the holidays!
Probably my favorite thing though, with CABI Clothing, are the blouses. They are ALL super frilly and flouncy! The movement you get with their blouses is like no other that I've ever had. It has to be partly because of the fabric they use. But the design too of course plays in to it all. The detail here on this blouse is fantastic! I love it by itself just as much as I do underneath the jacket.
I've worn my basic black CABI jeans here, which btw, I wear with everything! These are a true essential to any girl's wardrobe. I wore them here as well. These have a POWER STRETCH denim fabrication, which means….. they are super comfy and hold you in at all the right places!
I pulled out my OTK boots to wear with this CABI look! They are several years old, and I don't wear much, but when I do they are super fun! That thing you hear about short girls should NOT wear OTK boots….. it's just a myth! HERE are some similar that I just found that are PRICED JUST RIGHT!
This jacket looks beautiful with THIS dress! It is also fun with these skinny cords! I would wear this or this top underneath! But really the jacket will be one that you'll wear for a long, long time! It's a darling jacket with ANY of your denim as well!
Of course my CABI style continues…. forever! I have some new things coming that I'm excited to share with you! Oh my goodness this belt is one of them that I can't wait to wear with my favorite jeans! Isn't it fabulous?? A sure STATEMENT!
TAKE CARE FRIENDS!
Shauna XO