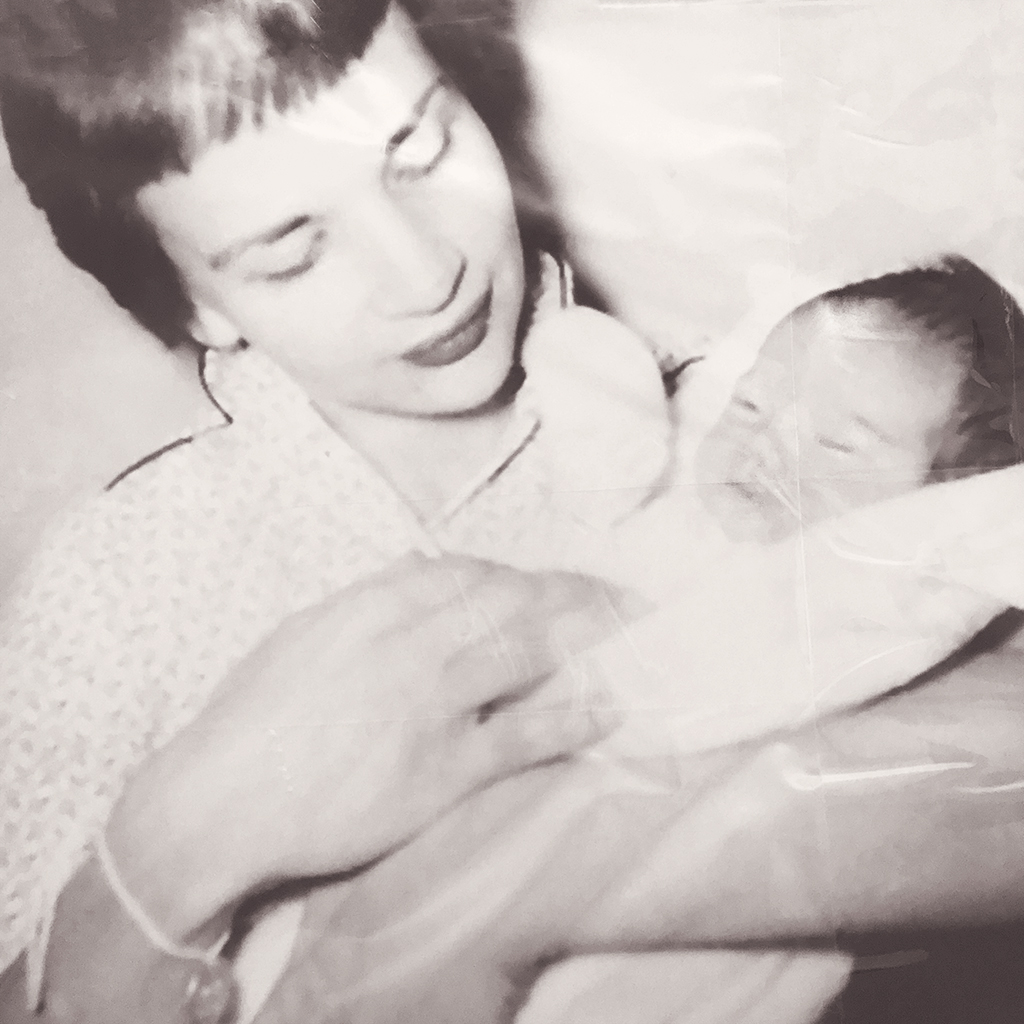 MOTHER'S DAY has special meaning for me this year. I almost lost my mom a little over a month ago. I've taken her health for granted and realized through all of this, that my time with her is precious and oh so valuable! It's easy to get caught up in the craziness of the world and forget about our precious relationships with each other. Both of my parents have had a rough go of it this past year. I'm so blessed that they are still here and I continually look to them for support.
My mom showed me this picture a few weeks ago. I had forgotten about it, and it was so sweet to see it again. I don't know if you can see, but my mother had a white lock of hair right in the front, that she inherited from her father. This mark goes generations back on her side of the family. You can only pass it if you have it. So out of my mother's ten children, four of them got this white lock of hair. And guess who was one of them……ME! You can see it here in this picture, even as a baby!
When I was growing up I hated it. It brought attention to me which I hated. Anyone remarking on it made me very self-conscious!! I don't think I really appreciated it or liked it until I had my own children. Out of my three sons, two got the white lock. There's something about a personal trait you have, that when you pass it to your children, it suddenly becomes more meaningful!!!!! Today I have two granddaughters that have this in their hair too…..even though it's very small, it still makes me happy that they have something that came from me, that came from my mother, that came from my grandfather, and on and on!
Right before I started my blog, I colored my hair platinum because it was easier to cover all the gray. When I did this, obviously the white lock of hair just blended in now. That was the only thing that was hard in coloring my hair, was the fact that I wouldn't have that trademark of my mother's anymore. I think even for her it was hard to see it go! People that have known me for years have mentioned that they miss it in my hair too. But hopefully I'll see it being passed through my family through the generations!
I'm so thankful for my mother and for her sacrifice that she puts forth for our family. She has been the GREATEST CARETAKER EVER, in caring for my dad! ALWAYS on top of things and organized in every single detail! What an example to me, of all that is good! I remember as a little girl wanting to be just like her when I grew up. I wanted to stay home and be a mom and care for a home and for my family. I emulated her behavior through my dolls. They were so real to me….they were my babies!
I'm so blessed by my mom. I love her dearly and am grateful for her every day! When she was in the hospital….and so sick this particular night I visited her, she was still teaching and leading her family. Through her very raspy voice and her body so weak, she was able to tell me of an experience she had with my son. Even in that state, she was still teaching us and having great influence on her family! I'm one lucky girl to have her as my mother!
This definitely will be a Mother's Day with special meaning! I'm grateful too, to be a mother to my three boys. I love each one dearly and am so blessed to have them and my grandchildren in my life! What a gift they are!!! XOXOXO XOXOXOXOXOXO XOXOXOXO
HAPPY MOTHER'S DAY TO YOU ALL OUT THERE! I hope that it's a BEAUTIFUL day for you!!!!!!
Shauna XO