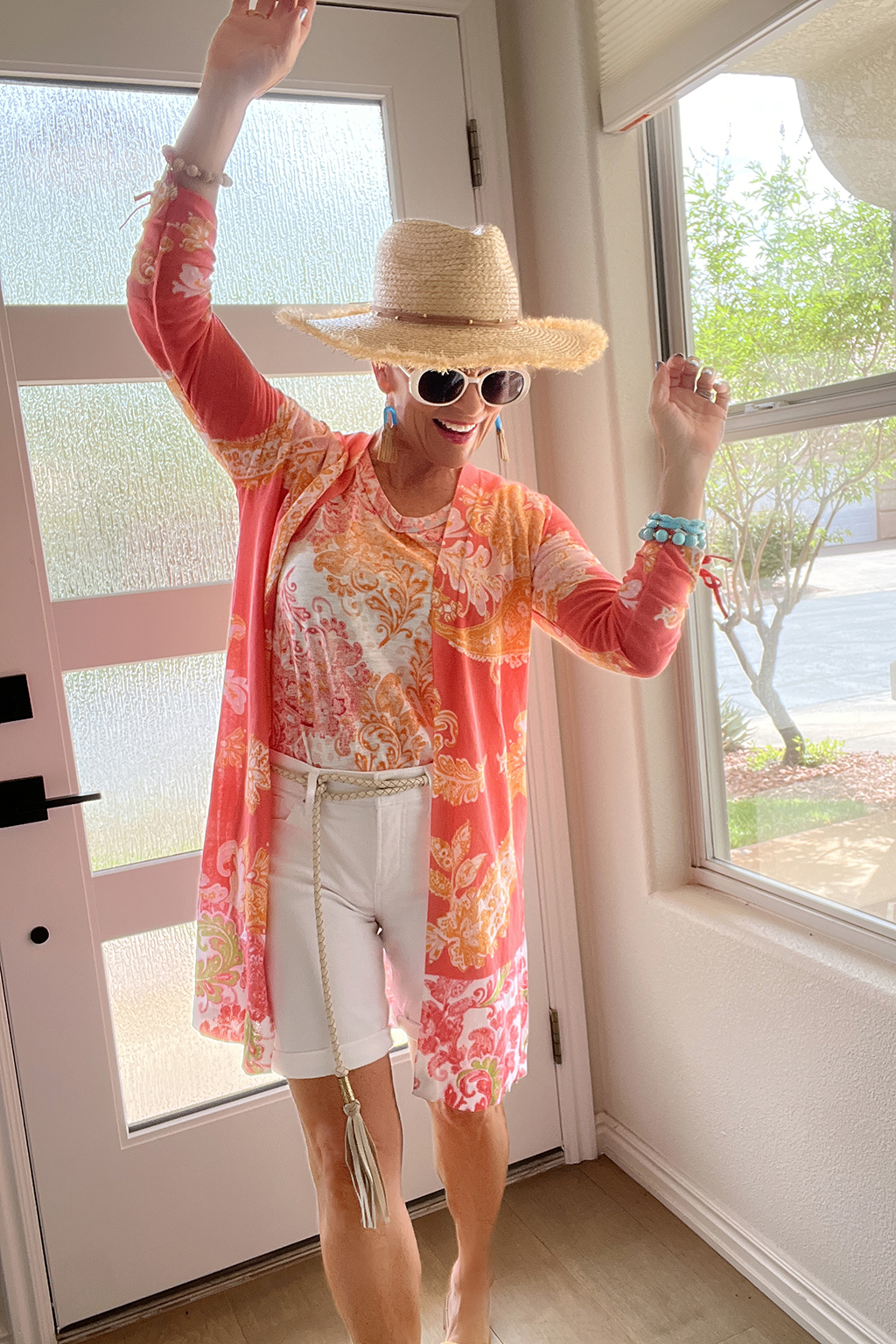 HOW TO WEAR SHORTS AT MIDLIFE
Wearing shorts at midlife can become less and less flattering. Unfortunately our skin can look splotchy and crepey, which then takes away so much of our confidence. We lose the muscle and definition in our legs and that can be very discouraging as well. I've always been fit and healthy and even for me, sometimes I wonder how good shorts look on me. Indeed we should put some thought in to our SHORTS game!
But regardless of all that, if you like shorts and feel confident in them, then YOU SHOULD WEAR THEM! I've said over and over, that CONFIDENCE IS KEY! It really can change your whole appearance!
So, if you'd like some of my tips on HOW TO WEAR SHORTS AT MIDLIFE, then that's what this blog is! These are my TOP FIVE TIPS for how to still look CHIC in your shorts!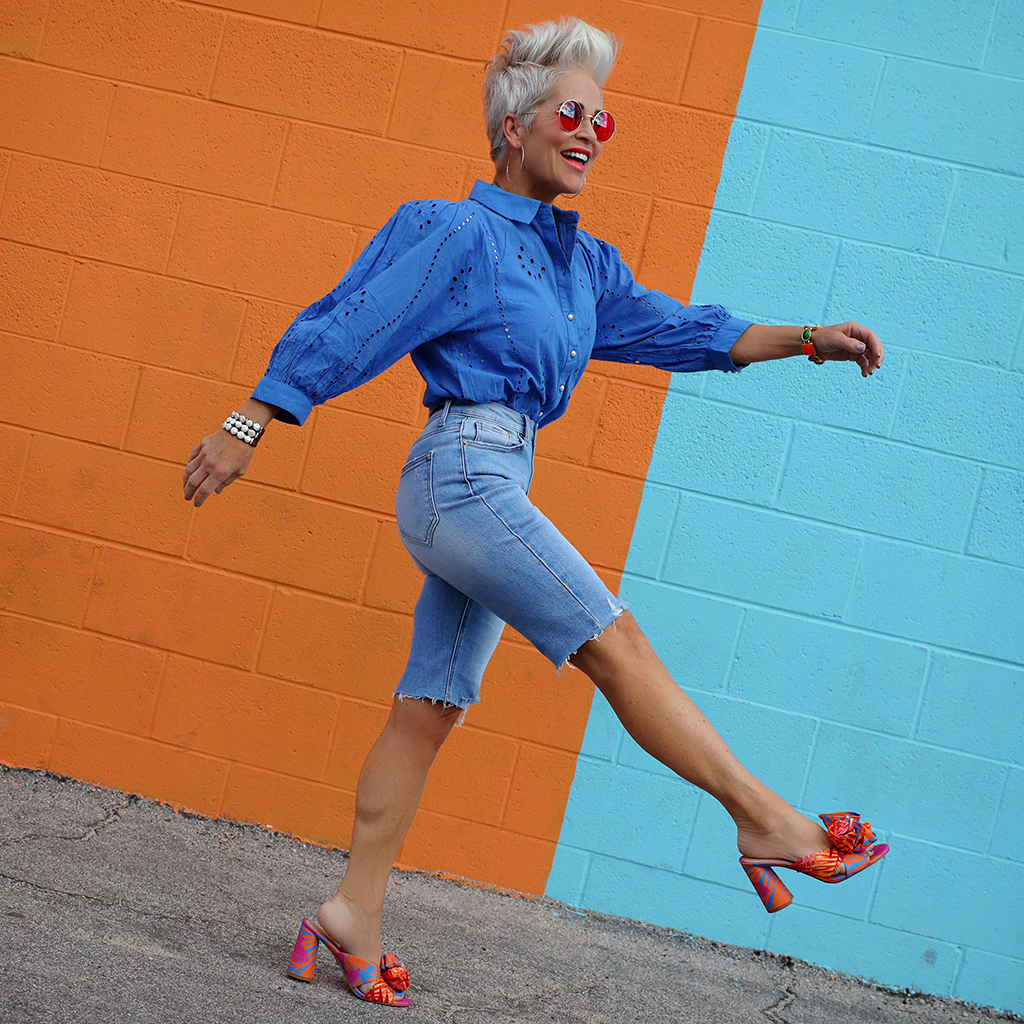 LENGTH IS VERY IMPORTANT!
Too long can look frumpy but too short can look like you're trying too hard. I do wear shorter styles when I'm playing tennis, hiking, things like that. But still then I will go for the longer inseam in an athletic short. THESE have a 4″ inseam which works well for my short legs. THIS BRAND makes a longer inseam as well. The bermuda short can look really classy but personally, I like to wear them with a heel. They can be a safe way to wear shorts as they cover. It's been said that the best length is at the end of your fingertips or slightly longer, when your arms are at your side
PROPER FIT MAKES SUCH A DIFFERENCE!
It's tempting at times to wear a really baggy boyfriend style of shorts, because they are so comfy. However for shorts, I would advise not to because they will most likely look very frumpy. I had some a few years ago and every time I wore them, even though comfortable, I hated the way they looked. Above all your shorts should fit properly….. meaning not too baggy but not too tight either! And don't forget to take a peek at your backside!!!!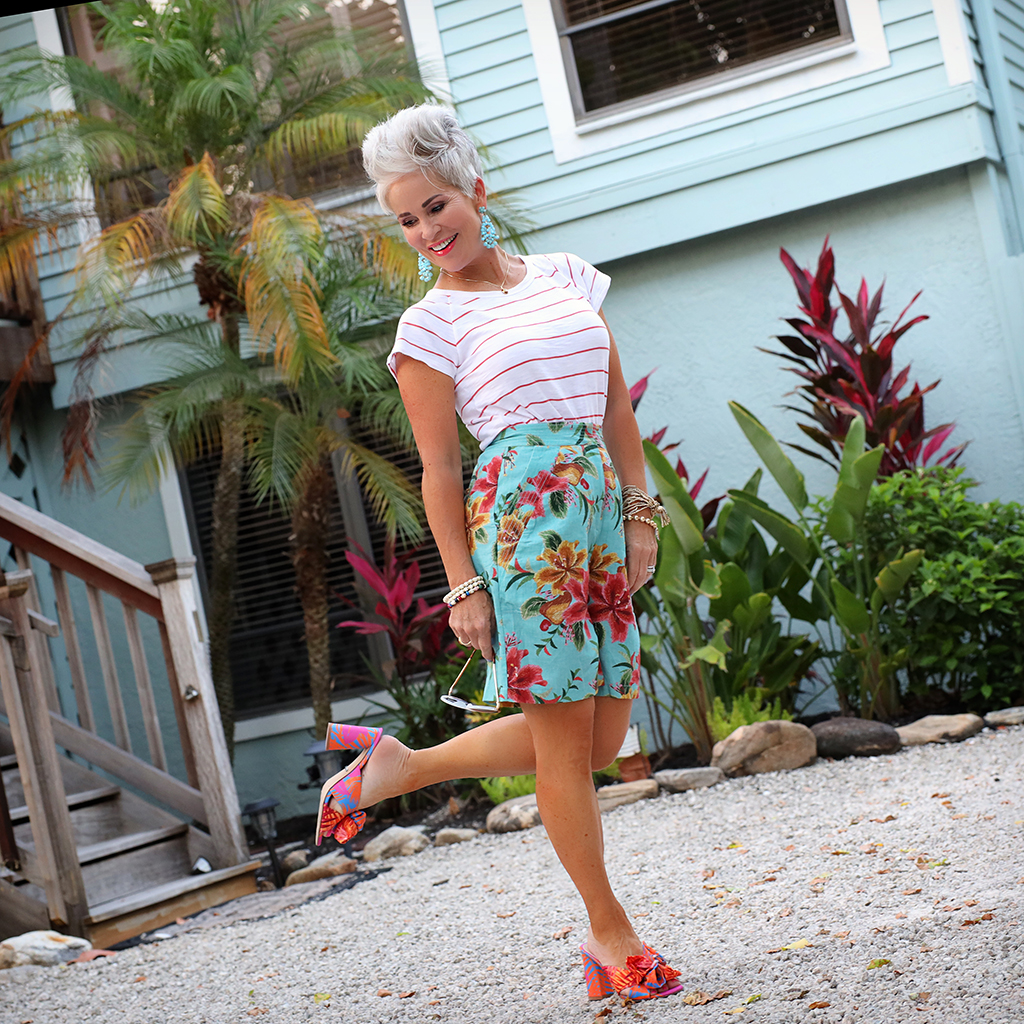 WHAT YOU PAIR WITH THEM MATTERS!
Wearing a tee and flip flops can work and look nice IF you put some effort in to your overall look……  groomed, accessorized, etc. Shorts can look as put together as you make them, it's always the whole package. I like to wear my shorts with a little bit of a heel. This will always elevate any look. Even with a tee! A mid-rise heel is the best choice, like  THESE.  My look above is a great example of if the shorts were styled with the wrong thing. They require a heel because of the looser fit, along with a fitted top.
SHORTS OR SKORTS!
A fun way to wear shorts is SKORT STYLE meaning they look like a skirt but are shorts. They are feminine like a skirt, and you could wear a little shorter than you would a skirt, but don't have to worry about the wind, or bending over. However don't go too short. Just a note… I'm only 5'1.5″ so I can wear a much shorter style because they look longer on me than on someone with long legs. CHICOS has some fantastic skorts HERE. I prefer a little heel to this style (even a platform sneaker), some fun accessories, and maybe even a jacket for an added level of sophistication. I would wear a sandal like these.

FIND A STYLE AND CUT THAT FLATTERS YOUR BODY!
Just like your jeans or just like pants…. when you buy the right cut, you'll be on the right track. If you like pleats, wear shorts with pleats. If you like skinny jeans, buy skinny denim shorts. If you like looser style pants, buy a looser fitting short….. just remember to pair it with a fitted top TUCKED IN! There are so many types of denim shorts out there right now, and so choose your denim shorts as you would choose  your long jeans. Light or dark wash, distressed or not, frayed or hemmed. Scroll through my favorite denim shorts below…..

~~~
HOVER – CLICK – SHOP

So ladies if you are a mid-lifer…. undoubtedly you CAN wear shorts and still look CHIC! Think about a flattering LENGTH, PROPER FIT, how you PAIR them, and STYLE or SILHOUETTE.  Last but not least let me know in the COMMENTS how you are feeling about how to wear shorts at midlife!
WATCH MY REEL HERE SHOWING MY LOOK ABOVE!
Shauna XO