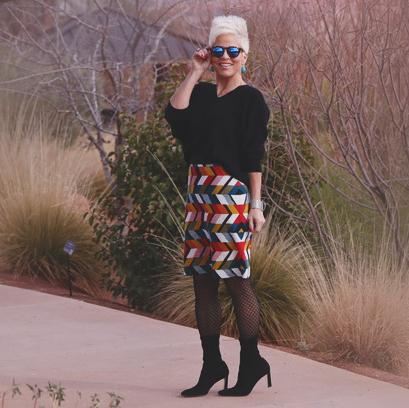 I want to talk about how to wear graphic prints. I believe anyone can pull off this look, however there are a few things to think about when doing so. This skirt is still available at Anthropologie and is right here. My sweater is from Eileen Fisher and is a basic wardrobe essential. You can find one similar right here. But first let me talk about how YOU can wear GRAPHIC PRINTS in case you're wanting to try, but not quite brave enough.

First, a good rule of thumb is, if you're petite, wearing a smaller scale print is probably your best bet. That way, it won't overwhelm you. I would be the one however to push the lines when it comes to any kind of a print. If you're taller, you can wear a larger scale graphic print much easier than a more petite person.
And remember to think about accessories as a way to introduce a graphic print in to your style. I LOVE this bag as well as this one. SO CUTE! And this scarf and this one are super FUN too!
Wearing graphic prints is sure to make a statement, and a great way to add interest to your style! And think of it like this….if you want to try this look out, start small with just one piece being the showcase, just like I did here. It's the safest way to experiment! I've shown you below how to wear this look both in a casual way, a dressed up way, and a way to wear it to the office. I especially love the WEEKEND look! It's such a cute way to wear it in the warmer weather!
FOR THE WEEKEND

VERY DRESSED UP

FOR THE OFFICE

I wore the matching top right here and here. I haven't yet worn them both together, but definitely will! For me this much pattern doesn't stop me. I might wear some sort of a black sweater or jacket over it to maybe break it up a bit. But for sure the skirt is versatile, and I think can be worn any season. The skirt is a pull on style and so extremely comfy! I love it, and when it has this much color…..I would say FABULOUS!
Shauna XO