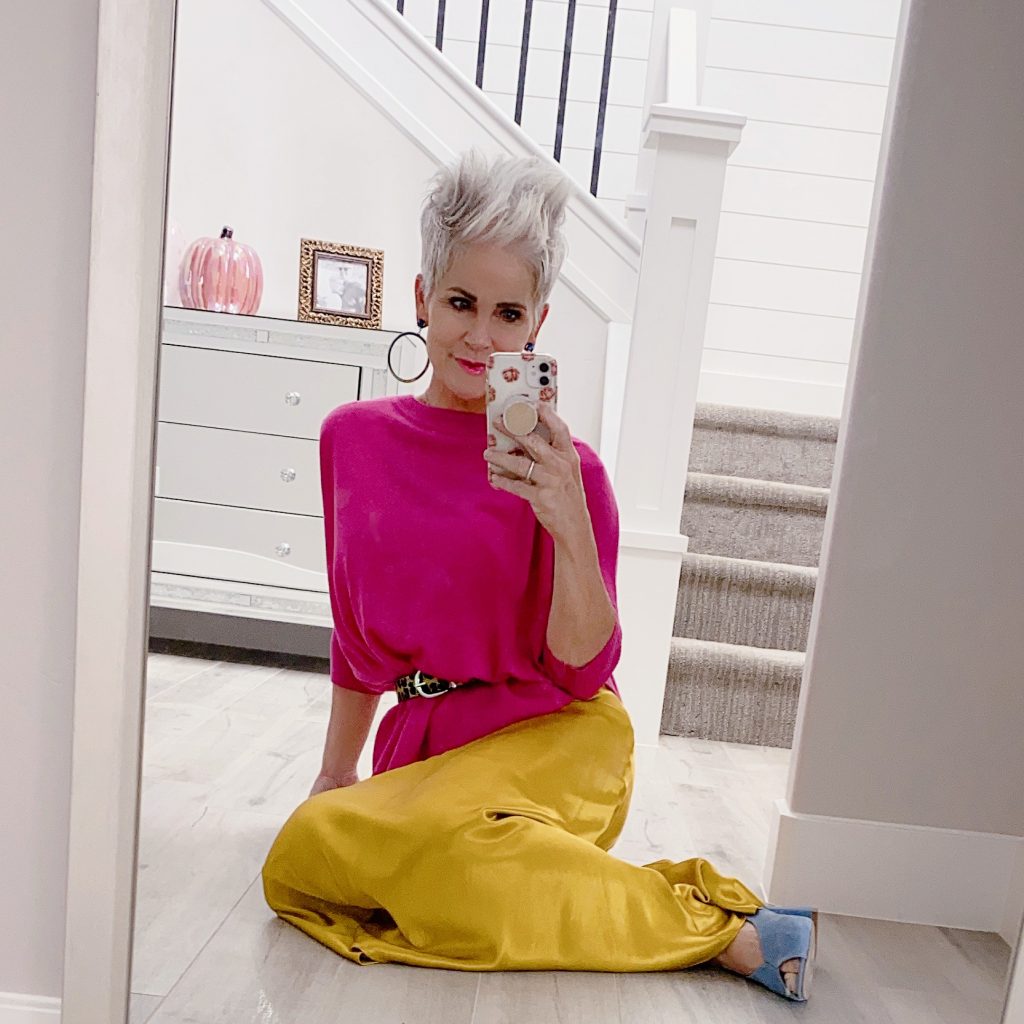 How fun is COLOR-BLOCKING??? I love this way of dressing and would love to do more of it, but………… my closet seems to be FULL of prints and patterns and not enough solids. I've decided to start wearing this look MORE! Time to go shopping! LOL!!
This is Wikipedia's definition of COLOR-BLOCKING~
Color–blocking is thought of as the exploration of taking colors that are opposites on the colorwheel and pairing them together to make interesting and complementary color combinations. It is commonly associated in fashion as a trend that originated from the artwork of Dutch painter, Piet Mondrian. An example of his work is below.
You can see that you could have all kinds of fun with this look. In my outfit above, I've paired a very inexpensive silky slip-on skirt, with a bright pink loose fitting sweater, and then added some blue suede shoes. I pulled the sweater in with my favorite leopard belt. I think a good guideline for this type of look is to stick with three colors.
Here are some super cute COLOR-BLOCKED outfits I've put together.

LOVE these colors together…. green, orange, and pink! This is just gorgeous for the fall season! And these pants are a steal!!!!!!

This outfit not only is full of stunning color, but also texture too. The velvet skirt, lace top, and suede booties are beautiful together! I've added some simple gold earrings to tie it all together!

I LOVE these skinny cords…. I wore them here. They come in all kinds of colors, but loved this punchy red color. Add a simple cashmere sweater, and bright turquoise coat and a pop in your earrings! You could substitute these fabulous blue suede heels with something like this in the turquoise color.
THIS SWEATER comes in so many gorgeous colors, 20 plus!!! It's one of the easiest pieces to put with ANYTHING! It's for sure a great color-blocking piece to have in your closet! JCrew is a great brand to shop to find solid colors in coats, tops, pants, and sweaters!
How fun is COLOR-BLOCKING…… super fun and so eye-catching too! I think this would be a great way to pack for a vacation!!!! It would make putting outfits together SO EASY!
TAKE CARE FRIENDS!
Shauna XO