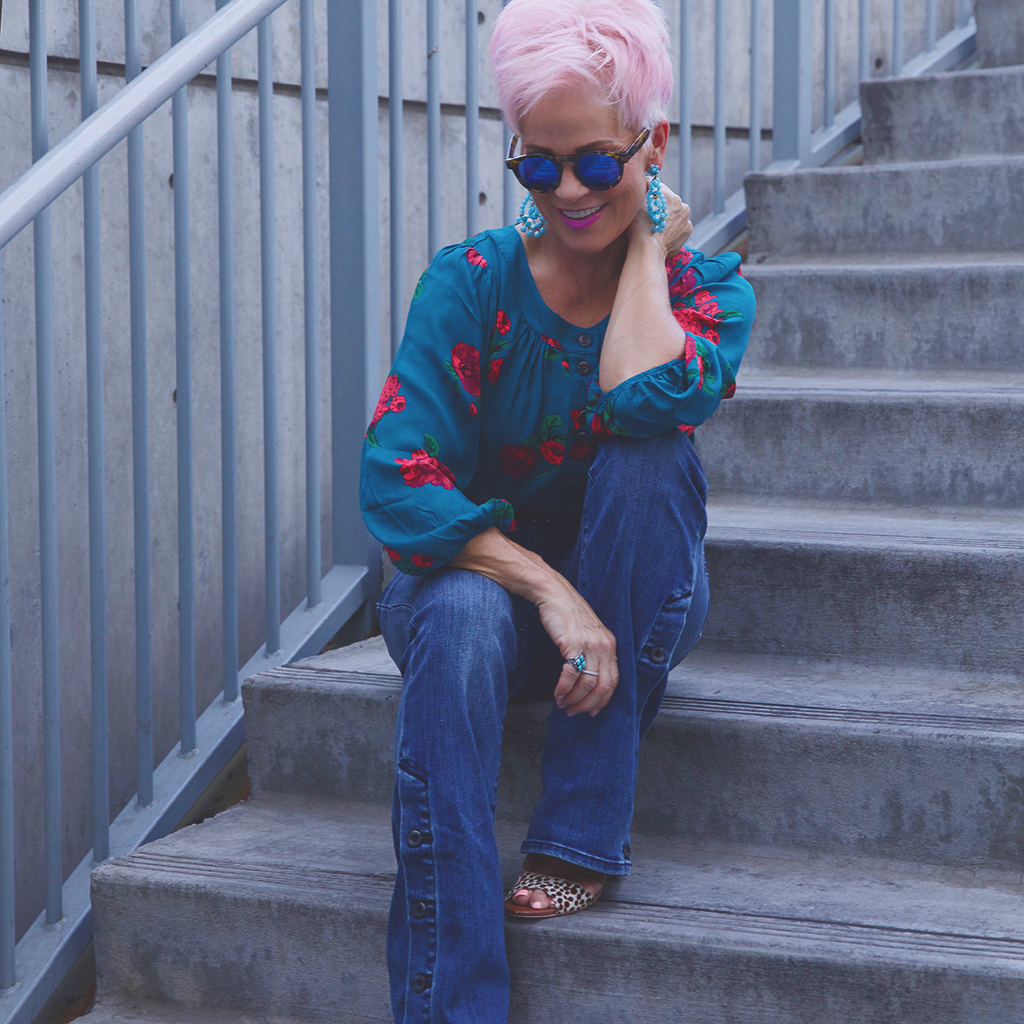 The first week of fall and I couldn't be happier! This is my favorite season of all, and I think the best fashion is always FALL FASHION….my choice floral and denim! It's much easier to change things up this time of year with the option of layering….with jackets, sweaters, or scarves! I've already picked up a suede jacket that I'll show you here in the next few days! What are your favorite fall looks? Leopard always (it's in my belt and shoes), rich florals (it's definitely my top), and some dramatic wide legged denim (mine)!
ABOUT THIS LOOK~
I'm always prone to find the florals first, and LOVE this one with it's rich colors! This will be so cute underneath any sweater or jacket, with a skirt or dress pants, and dressed up or down! It's all pretty with my favorite punchy colors, so all my accessories will work so beautifully! I've mentioned this before, but I think it's important to show you what's in my closet, styled MANY DIFFERENT ways. These earrings would be that! I just wore them right here and right here too! These fabulous jeans are my favorite style with the high waist and super flared bottoms. They are the most flattering to a woman's body, as they accentuate the waist and make your legs look longer….and heaven knows I need that! I love the button detail on the bottom! I wore these jeans at the City Creek Center Fall Fashion Show! And what about how they drag a little bit? Doesn't bother me a bit….it sort of lends to the hippy-chic look!
ACCESSORIES~
And when it comes to accessories…..leopard and brown tones always for fall!!! The belt is an essential! You'll wear this a million different ways, through your belt loops or over a sweater or dress! Leopard shoes will again be a go-to for you, and remember a neutral all through the fall and winter seasons! These sunnies with the tortoise frames and blue lenses, I've been wearing them for years, and mostly during the fall season!
SHOP THIS LOOK~
How would YOU style each of these pieces for your FALL FASHION???
Shauna XO