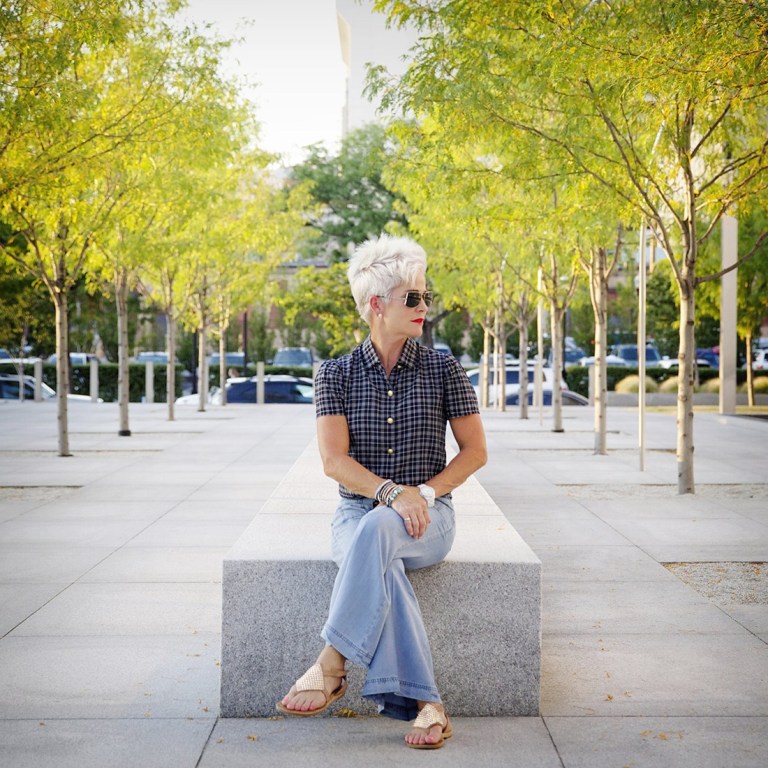 Do you recycle your clothing? I ran across this picture a few days ago and realized that I still had this outfit, clear to the sandals. This picture was taken probably three years ago. The same day I stumbled on to it, I saw a post on Instagram that was talking about how we should be more conscientious about recycling our clothing. I'm good at this and I'm NOT GOOD at this!
What I mean is…. I have clothing in my closet that is years and years old….. I mean probably some things that are over 20 years old. These would be expensive designer clothing that I spent an arm and a leg for. Usually pieces like this would be worthy enough to live in my closet forever. One in particular is the Chanel chiffon skirt I have that is STILL FABULOUS. That's where I'm GOOD.
But when it comes to just plain not buying anything and only using what's in your closet….. I'm not so good! That's where I'm BAD! Being the fashionista that I am…. I always want new as well. But, I'm really good at wearing old with something new! In fact I do that A LOT, and think it's so easy to update old pieces with something new and fresh! But this is all part of my job too. To talk and tell you about clothes!
So how do you all feel about this topic? Do you fall along the conservative side, or are you always on the hunt for the next best thing? I'd really love to know! I feel like with MY clothing, if I'm done with it, it's always going to a good cause, or to someone who can get some enjoyment out of it at a very good price! So, that's how I justify it. I'm also trying to be more careful about buying ONLY things that I LOVE! If there's a question, then it's a NO! At least….. that's what I strive for!
So…. do you recycle your clothing? Do you feel the need? Leave your comments below! I'd love to know your thoughts on this! I'd also like to know what you're interested in me blogging about? I feel sometimes like I talk about the same things. Leave me some ideas! THANKS FRIENDS!
SIMILAR SUMMER TIE FRONT TOPS~

SIMILAR SUMMER RELAXED PANTS~

SIMILAR EMBELLISHED SANDALS~

Shauna XO