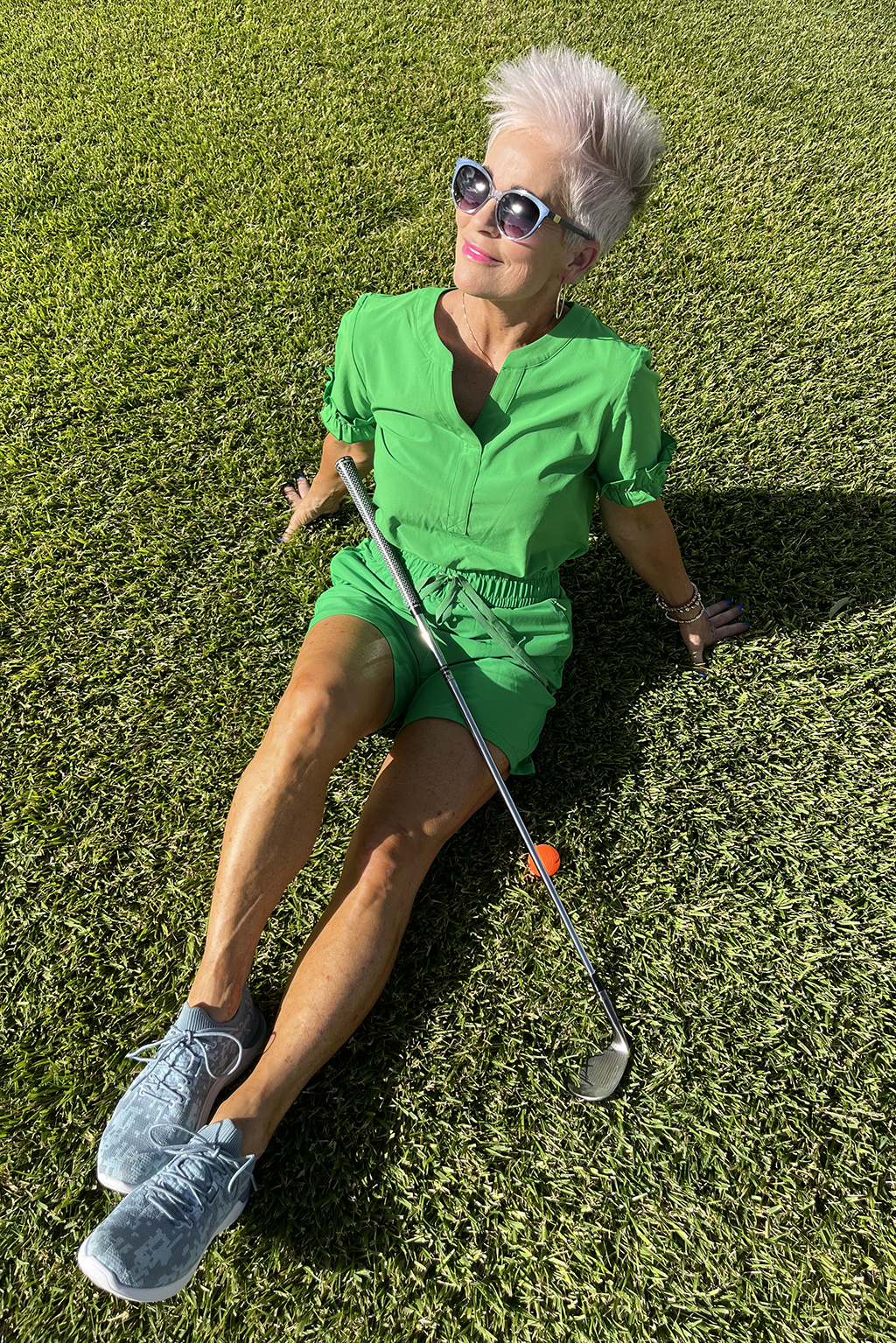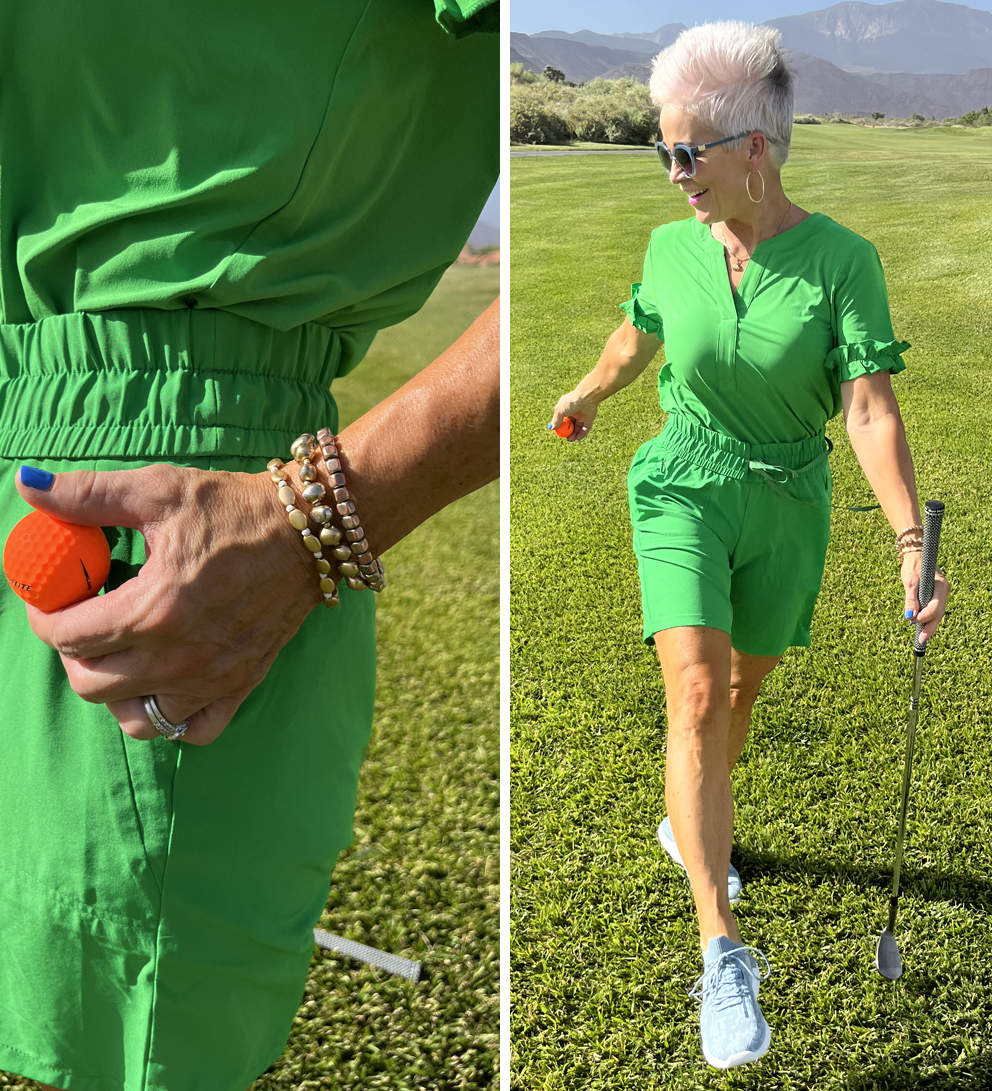 CUTE GOLF OUTFITS FOR WOMEN
Ladies no matter where we are…. I believe we all want to look good. And the golf course is no exception! It can be a struggle to find CUTE and FUNCTIONAL golf attire, especially for women! It seems I'll find something and wear it once or twice and then the next time I wear it, I don't like it. Then I start allover again looking for the perfect thing!
My outfit ABOVE is from CHICOS. They have a line called ZENERGY   which is all activewear. I've worn it a lot out and about bike riding, hiking and golfing. THIS particular outfit has been my favorite. Can you guess why? Maybe because of the bright green color? And maybe because it looks like a romper! No question BOTH! I love the way the waist is made on these shorts. It's wide with no bulk, and the drawstring brings it in how you like. I LOVE the sweet details of the ruffle, and the pockets are perfect for your golf balls and tees. It also has UPF protection!!!
CHICOS has really nailed it with their ZENERGY line. Here are some more looks I love for golfing. If you lead an active lifestyle, or just want comfortable and fashionable clothes….. this line could work very nicely for you!
MORE CUTE GOLF OUTFITS FROM ZENERGY

Nothing is classier and more summery than shades of red and blue. I think this is adorable! I love the fedora style hat to go with it. This is the type of hat that I wear the most while out golfing.

The pink will always be a favorite color of mine to dress in. The over shirt in the mint green is a fun contrast and good to have that second layer for wearing inside for lunch after your game.
~~~
GOLF OUTFITS FROM OTHER BRANDS I'VE DISCOVERED

THIS is the CUTEST line I've just discovered. It has such a fun retro feel. If you're interested in making a statement out on the golf course, THIS is what you want to wear!!!!!!

This is a great golf skirt because it's not too short but still long enough! I loved the pastel colored top and shoes to go with the white. The sunglasses are my preferred choice for golfing. They are more of a sport pair than fashion, which if you're serious about your game, you want serious sunglasses! They can make all the difference!

If you prefer to keep your legs covered during your golf round, these white pants look super cute. They have stretch and are also moisture-wicking. And of course these would go with ANY of your tops in color or neutrals.
~~~
Women's golf fashion has gotten so much better than even ten years ago. There are all kinds of cute golf outfits for women if you just know where to look! I LOVE that Chicos has their Zenergy line. They do offer so many cute things for all kinds of leisurely activities and lifestyles.
WISHING YOU ALL A WONDERFUL WEEK!
I would LOVE for you to follow me here on INSTAGRAM!
YOU CAN WATCH MY GOLFING REEL HERE.
RELATED BLOG HERE.
Shauna XO