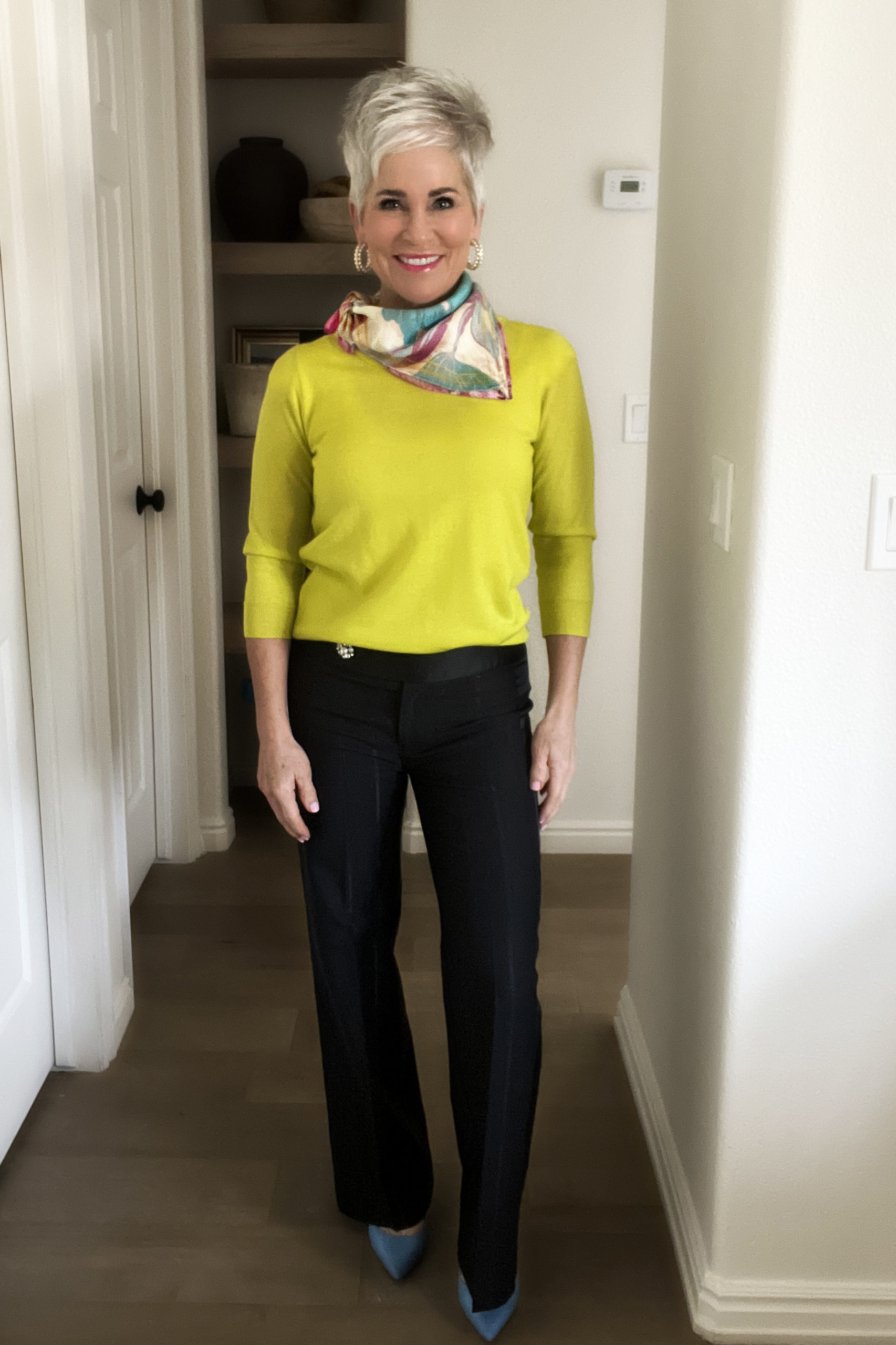 BUSINESS CASUAL MADE FUN
I was asked awhile ago to write about how to wear business casual in a fun way. I totally agree with most women that it can be very boring. I've never worked in an office and so don't have to think about blazers, dress pants, and white button-down shirts. I'm sure I would be the one in the that breaks all the rules about what's appropriate in that type of a setting.
So today I'm going to talk about how I would dress, and how I could make this more conservative look, MORE FUN. There are all kinds of ways I can think of right off the top of my head….
TRY WEARING COLOR
Color will be way more interesting than the usually grays, blacks, and tans. What about a cobalt blue suit? Or possibly a turquoise blue blazer with some classic black pants. Wear color underneath your blazer for some fun. If you don't want to wear a lot of color, wear it in your accessories such as a scarf. Or perhaps wearing a pretty floral dress with a blazer over the top! Still professional but more fun!
MIX IN PATTERNS
There are a lot of fun ways to play with pattern. My look above I'm wearing a subtle pinstriped pant with a basic black blazer and the vibrant floral shirt underneath. How about a pinstriped shirt with a floral scarf? Or a floral top with some plaid dress pants. Depending on your office, you could wear as little or as much as what seems appropriate. These culottes may seem a bit out there, but what about wearing them with a basic black blazer and white shirt? CUTE!
ACCESSORIES CAN CHANGE ANYTHING
When it comes to accessories, this can be a great way to spice up a conservative look! Bold earrings or necklaces would be fantastic with a white collared shirt. I personally would just wear one, and not too many. Scarves (Chicos has the BEST) can be worn around your neck in so many ways! Also remember to wear them as a belt. SHOES again, can change a look up in an instant!
PLAYING WITH DIFFERENT PROPORTIONS
These classic white CROPPED pants can spin your business casual look in to a much more interesting way. Playing with different proportions such as cropped or perhaps an oversized blazer, can really update a conservative look.
HAVE YOU THOUGHT ABOUT A VEST
Vests are really trending right now, and there are so many fun ones out there. Read THIS BLOG I wrote about vests. You can be as conservative as you want with a vest. I love this one, it's pricey, but so tailored and cute with the belt! I've linked an outfit below for you to see how much fun you can have with a vest.
…..
HOW WOULD YOU MAKE THESE OFFICE WORTHY…

So, this is my take of business casual made fun…. I mean I would wear some of these looks out to dinner or an important lunch with someone. You will look professional and polished for sure,  but still look fun at the same time. Try some of these ideas, and let me know what you think!
Shauna XO