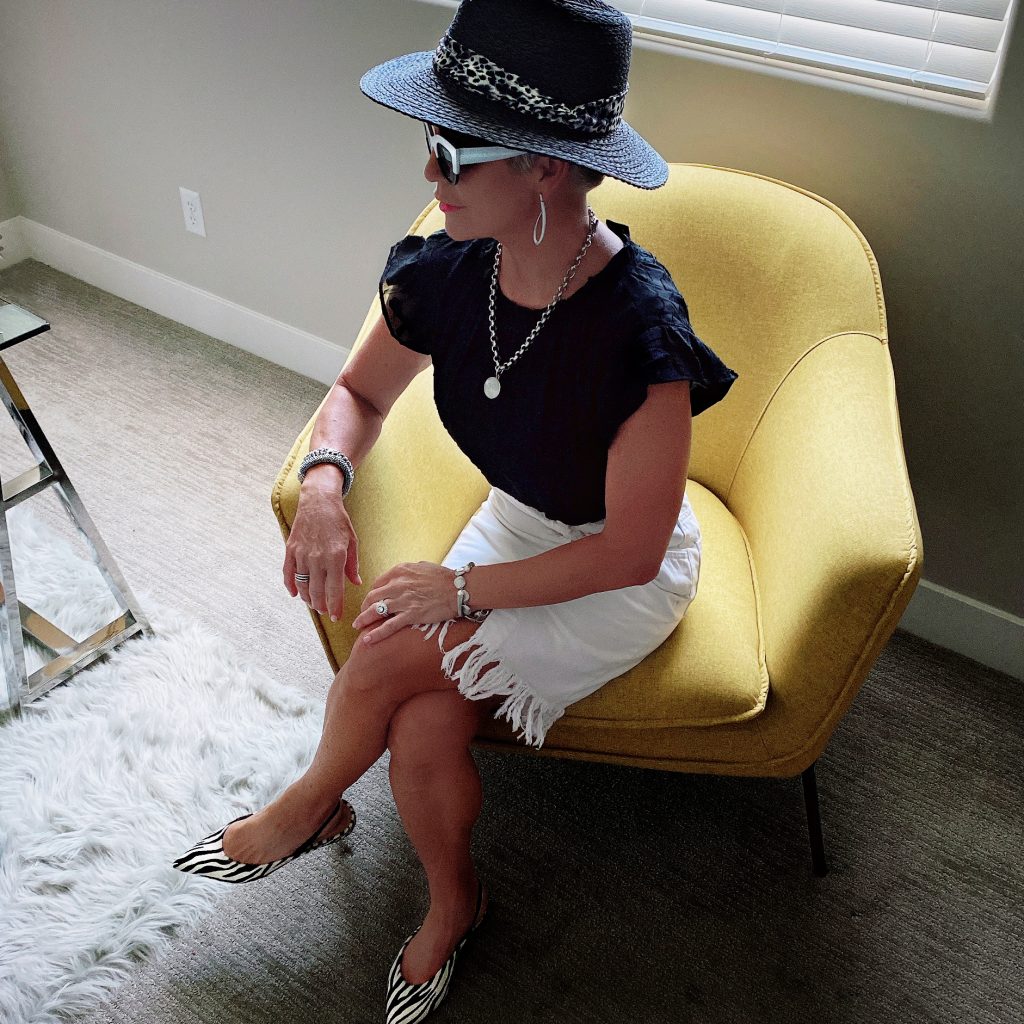 Black and white fashion for women is SO CHIC….. and I don't always say that! But I needed a new little black top and so found this one (sorry sold out). Here is similar. It has the cutest lace details and the sleeve was really sweet! When I got it I immediately thought of wearing it with this vintage Anthropologie white denim skirt. And then the hat and then the sunnies and then the shoes….. BAM!!!

I went in to ask my husband to help with a picture and he said to me…. "You look SO STINKIN CUTE!" I suddenly loved the black and white outfit a LOT! So I thought it would be fun to talk about black and white fashion for women for a minute…..
I'm all about color as you know! You've hopefully noticed my new logo and branding??! Of course it's VERY COLORFUL and BOLD, and unique which I LOVE that it's not at all similar to all the other fashion bloggers out there. More about it later…….
I was in a store last weekend WHITE HOUSE BLACK MARKET, and although they do have a little color, most of it was the very CHIC BW. I thought it would be fun to put some looks together that would be super cute this summer! I've done this before, but a refresh is always good!
Black and white reminds me of these two words…… CHIC and VOGUE. When I put on the black and white outfit above, I definitely felt CHIC and VOGUE! Of course anything can look dowdy and boring, but for a quick go-to outfit that you don't have to put a lot of time in to, the black and white route is a great way to go!
Here are my CHIC and very VOGUE LOOKS for you to SHOP!

This is such a lady-like classic look! Wear this to a wedding or to lunch with friends. The skirt could be dressed down with your favorite tee!

How about these checked pants….. ADORABLE! The mix with the shoes is maybe a bit unexpected! I've added a real simple top with some great accessories!

The thing I LOVE the most with this look, are the accessories! I mean…. how cute is the bag???!
Black and white fashion for women can be ALMOST as fun as something colorful! Make it as simple or as fun as you'd like! I will still always go to color first, but it's fun to mix it up a bit with blacks and whites!
One last thing …….just a little something about how I came to my new design with my logo. I had help from a lady who has helped with my website and brand since the beginning. XO is special to me because my mother always uses it in her notes, emails, and texts. She has used it since I can remember! Her mother and grandparents used XO as well. When I first started my blog I liked using them because it just brought a little bit of her in to my business.
The XO was in my first logo as well. This new design, I was going for more color and print and I LOVE how we ended up! It's perfect for my personality and vibe! So…. now you know why I LOVE XO!
Shauna XO