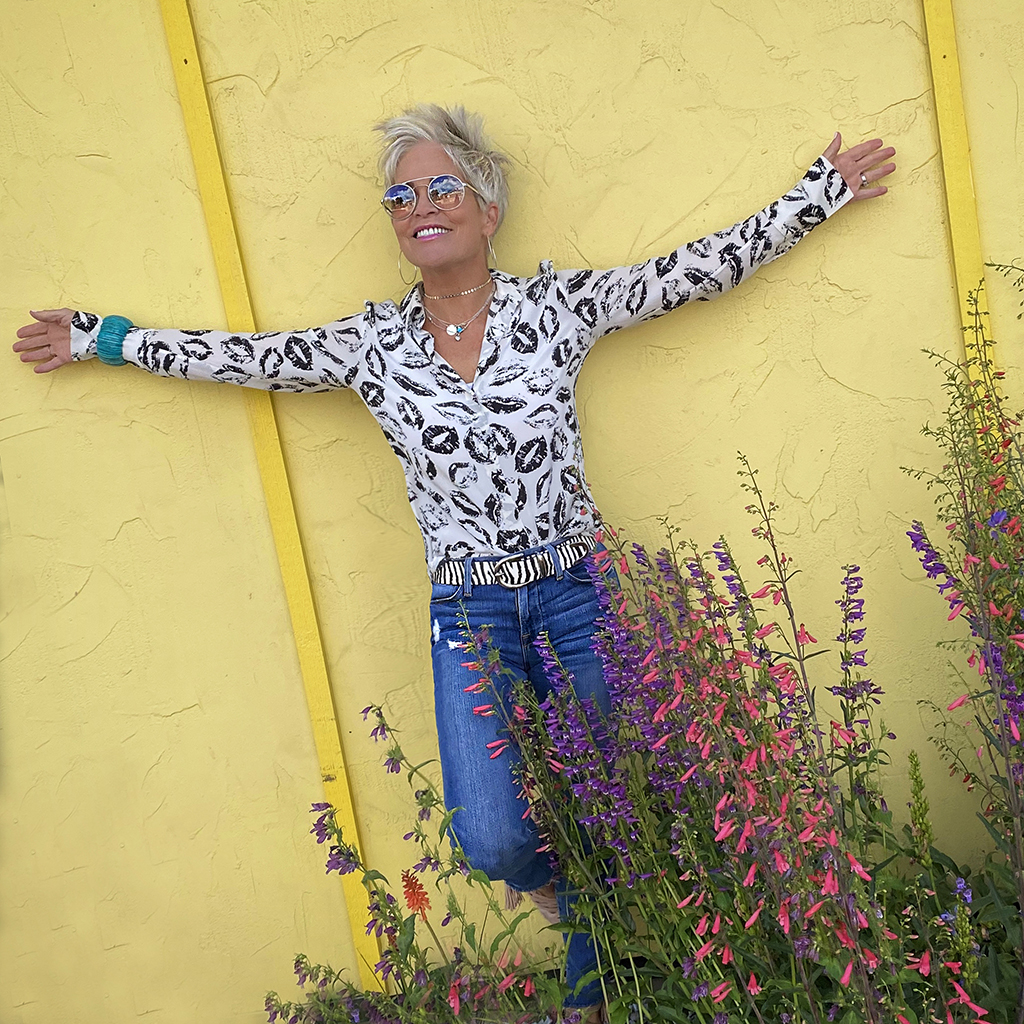 You don't have to dress in COLOR to be BOLD and SASSY! Oh how I love color! If you've followed me long enough you know this about me. Hence….. the new logo! And when it comes to FASHION…. my eye will go to it before anything else. That's why I LOVE Anthropologie and Chicos, because there is always a big variety of COLOR and PATTERN.
My home is mostly all white! I love it that way for photography! It's light and bright and there's always enough natural light to capture a beautiful picture! I wouldn't change it at all. But….. the way I accessorize is always with COLOR! How color affects my mood is so obvious to me…. it makes me HAPPY, period!
But… with that said, I don't ALWAYS like to be COLORFUL! I get bored with that and so like to sometimes dress with less color, but will always need to make it fun! Example above! My outfit above isn't colorful, except for the pops of turquoise in my bracelet and necklace. I loved this look with my Catherine Gee lip print shirt and zebra print belt. The pattern mix took this look from boring to sassy just by mixing the prints. I usually have more color on than this, but I still loved it and still felt like it was "ME".
I know that I will always have COLOR in my life….. in the way I dress, in the way I decorate my home, and will always be drawn to COLOR first! The picture above got so many comments on Instagram about how HAPPY it was! Was it more the YELLOW, or was it the mix of prints, or something else? Regardless, I always find a way to add color to everything!
HERE ARE SOME SUPER FUN NON-COLORFUL LOOKS~

This all white outfit with a POP in the scarf is exactly what I mean. There's very little color here, but just enough! I would wear the scarf in my hair, as a belt, or draped loosely around my neck! And the sunnies…. WO! So easy on the wallet! Also these are my favorite white jeans and ON SALE for less than $40!

The fun here is with the embroidery on these kaki pants! I LOVE these and will be posting them later this week! The details make them much better than the basic pair of kakis! I've paired them with some sparkly flip-flops and earrings! The bag is SO GOOD and I hope to have it soon! Such a fun summer cross-body bag from CHICOS.

This look has enough personality for me with the bold print of the skirt! THIS may be my favorite "non-colorful" look of all! I LOVE this loose drapey tee and casual sandals. Add a hat and some statement earrings along with a touch of color in the beaded bracelets. THIS look is fantastic and comfortable enough to wear all day. The skirt can also be worn as a swimsuit coverup, and a DARLING one!
So know that you don't have to dress in color to be bold!
Shauna XO