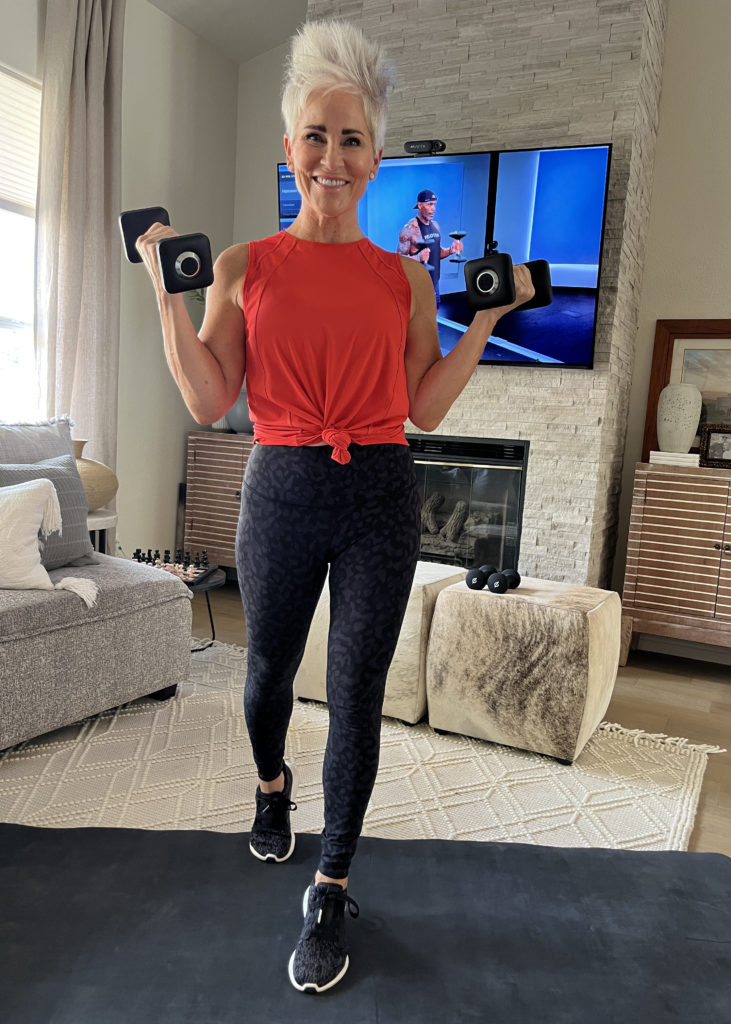 Working out with Peloton Guide has been so convenient! I wish I would have had this at the beginning of the COVID pandemic! The feeling back then when COVID hit, not being able to go to the gym, was awful. I'm such a proponent of EXERCISE, and so my only option was to go outside and run on the hard pavement. This wasn't the best for me because of  my foot issues….. implants!
I was lucky enough to get my hands on an elliptical trainer for my home. If you remember, getting anything during this time was hard and especially difficult was exercise equipment! I was on it every single day working out. It was truly a lifesaver, but I sure didn't have much variety in my workouts! Variety is super important in our overall fitness. Working different muscle groups is vital in order to stay balanced and strong!
Exercising within the walls of my own home is IDEAL in my opinion. PELOTON has made it EASIER to stay fit with their GUIDE! No more having to schedule your workouts. Work out whenever YOU want! And you won't have to get ready to get your workout in. Just that alone, can take so much time! Talk about the perfect solution for busy people!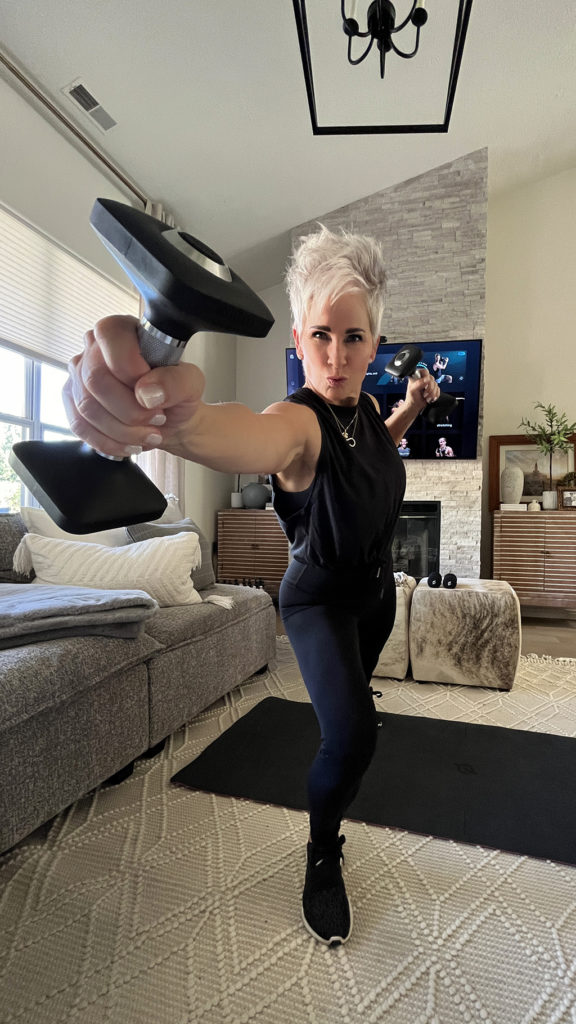 HOW THE PELOTON GUIDE WORKS
The Peloton Guide is a device you attach to your TV…… can you see it on the top center of mine? It's super simple to set up. It's as easy as attaching the GUIDE to your TV and plugging it in! You will have instant access to all kinds of STRENGTH training workouts. I don't know that you could ever get bored!
The PELOTON GUIDE also has the ability to track your progress, and motivate you to do MORE! The GUIDE will hold you accountable! You will have an avatar that you'll see on your screen as you work your body. PRETTY GENIUS I'd say! There are NO MORE excuses friends, and I love the ACCOUNTABIITY!
BENEFITS OF WORKING OUT WITH THE GUIDE
Did you know that as we age we lose a tremendous amount of our strength? This is why you should always have STRENGTH TRAINING as part of your routine. It builds bone and muscle and will help to strengthen your core! You could call the GUIDE your connected STRENGTH device that will teach you and motivate you to be your MOST FIT SELF! You will be instructed and led by world class Peloton instructors. THIS IS SO COOL! I love the idea of working out when I WANT TO and at MY OWN PACE!
____________
SHOP PELOTON'S WORKOUT WEAR HERE!
Working out with my Peloton Guide has really made my workouts much more balanced. I do still go to the gym, but several days a week I'm working out with my GUIDE. You can SHOP FOR YOURS HERE. If you act fast you can get a FREE HEART RATE MONITOR using code SHAUNA through November 13th.
Shauna XO