I'm SO EXCITED to announce that SHOP CHIC BOUTIQUE IS NOW OPEN!!! I have wanted to open my own shop for years, and it has finally come true! It has taken a bit longer than I was expecting, but wanted to get it just right before I opened it up TO YOU!
I have worked very hard, hand selecting items that are COLORFUL, CUTE and GREAT QUALITY! And most importantly things that will help you feel PRETTY AND CONFIDENT! This is so important to me, and since starting my blog seven years ago, this has become my mission! I'm a firm believer that if we feel our best, we are better humans and the world definitely needs that!
WHAT'S IN MY SHOP CHIC BOUTIQUE
MY SWEATERS are all such fun! The pink bow sweater sold out in a couple of hours and I'm trying to get more now. There are two LARGE sizes left. You'll find the green zebra sweater (pictured above), a beautiful blue cap sleeve style, and an over-sized striped cardigan. SHOP THEM ALL HERE!
THE JEANS I chose to be in my boutique are all excellent quality. These are as good as any of your expensive designer jeans and at a FANTASTIC price-point. You will find three styles….. a WIDE LEG CROP, DARK WASH CROP, and BLACK. I LOVE every single style. I also have a fabulous JEAN JACKET available! The distressing on this one is what caught my eye….. it's just right! SHOP THE JEANS and JACKET HERE.
ATHLEISURE SETS had to be a part of my store because I LIVE in them! They are cozy as ever, and these are no exception. I have two styles available in two different colors. One is hooded and made with a bit thicker and super soft fabric, and the other style is velour with a slightly cropped top. These are what I'll be wearing through the airports and traveling this fall! I think you'll really LOVE these! SHOP HERE!
CHIC SWEATSHIRTS because we all want to be CHIC! These come in several styles and the colors are SO GOOD! What a DARLING Christmas gift for your mother, daughters, girlfriends, and of course one for yourself! The big varsity CHIC letters have so much personality and will be sure to make a statement! There is an oversized style, one with puff sleeves, along with a cropped style! SHOP MY SWEATSHIRTS HERE.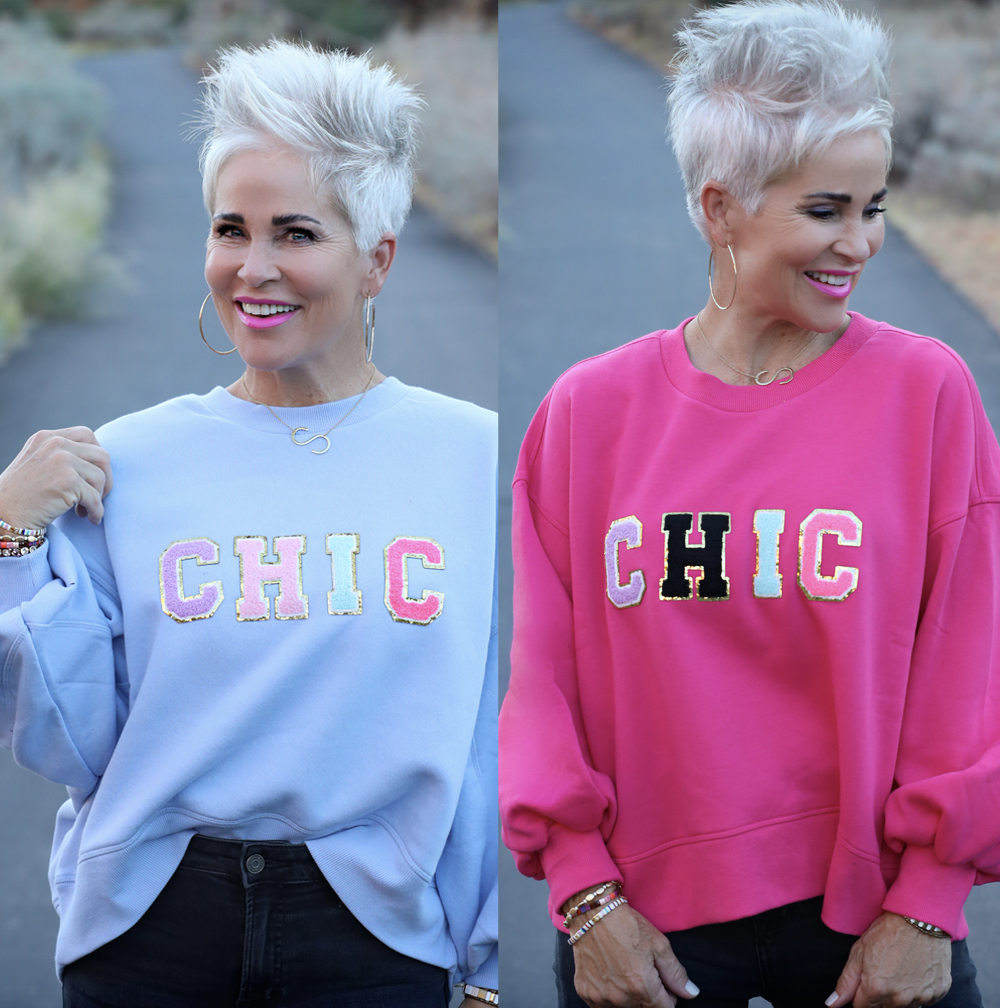 ____________
Friends above all, act fast! These are going so fast!! I've already sold out of a couple of things and working on getting more! I will continually be replenishing and posting NEW THINGS! I'm committed to making my SHOP CHIC BOUTIQUE a fun experience for any of you!
Just a note, I will be leaving the week of Thanksgiving. I can ship out until Monday the 21st, and then any orders after that will have to wait until the first week in December. But I urge you to place your order and it will be fulfilled as soon as I get back in town!
HAPPY SHOPPING my friends! SHOP CHIC BOUTIQUE IS NOW OPEN….. just in time for the holidays! Clearly you're going to LOOK SPECTACULAR!!!
Shauna XO