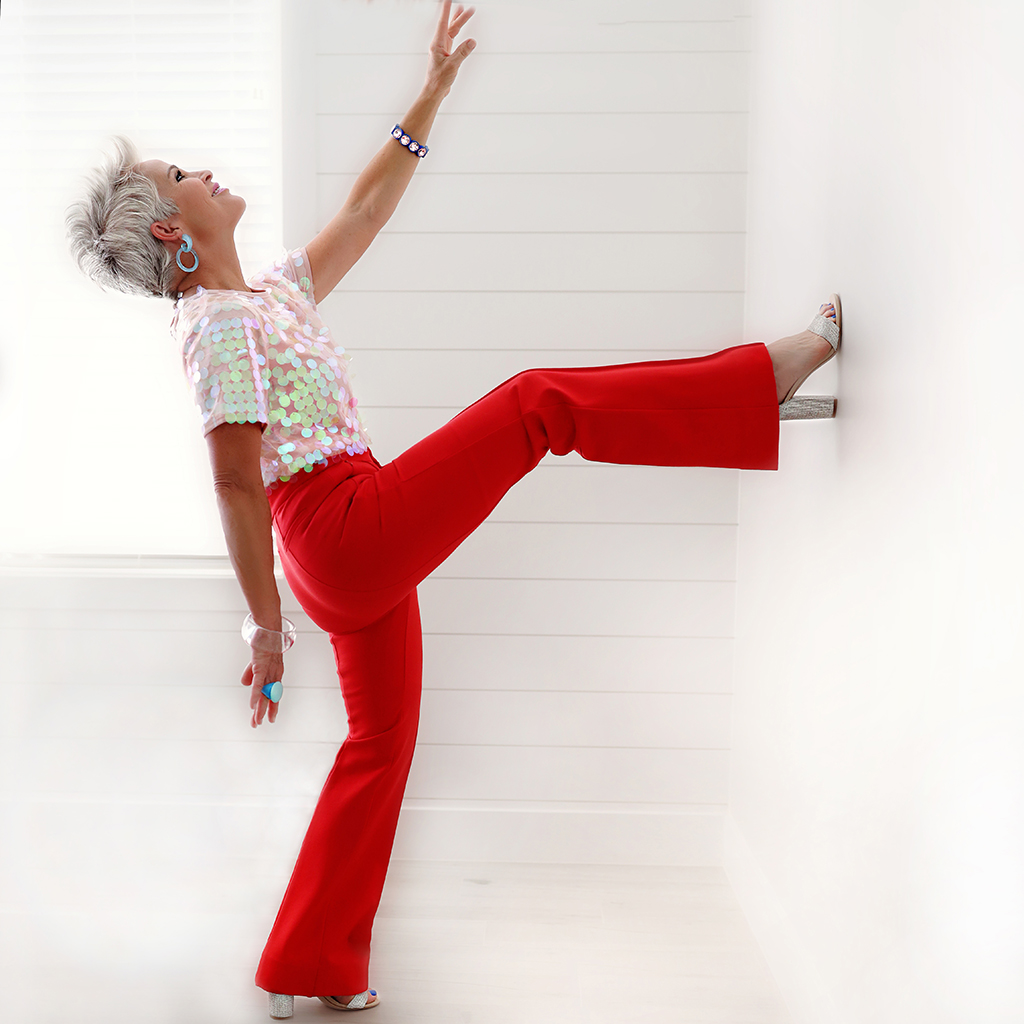 I read something on Instagram the other day…. WHY WAIT TO GET DRESSED UP? Do you wait to wear something fabulous? Do you ever buy something really fun and then SAVE IT to wear to something special? Well……. why not now? Why isn't today SPECIAL ENOUGH? I have thought about that since I read it, and have had so much fun getting those "special" things out of my closet and wearing them!
This top is the perfect example. I got it because it was SO FABULOUS, but definitely would have SAVED it for a date night, or a party, or maybe lunch with girlfriends? But I said NO WAY….. it's going to be worn NOW! So I pulled out my red pants from my closet and my GLITZY HEELS that I just re-bought! These were my wedding shoes, that I lost on my honeymoon to Europe last fall. SAD!!! I found them ON SALE and was so glad to have them again.
Pink and red are my favorite color combination, so this just seemed fitting together! How would you wear this top daytime…. or would you? I realize that it wouldn't just be worn around the house on a lazy day, but I think you could wear it way more than you might think!
Here are the three ways that I would wear it!
I love the mix here with these simple pink jeans. A monochrome look is always slimming. I've added these fantastic shoes at an amazing price with it! I liked the cute black summer bag to tie in the shoes.

What about a skirt? I love both of these! The white denim gives it a very casual vibe, and for summertime I like the flatter sandal. The green skirt is a gorgeous fit and such a striking color combo. I would wear it with the same type of sandal. These sandals are what I wore in Italy last year and on MAJOR SALE!

Lastly is my favorite I think…. with some rugged jeans! You could wear it tucked in or out, a personal choice. But I LOVE the jeans with the sparkly top and paired with a heel. JUXTAPOSITION is one of my favorite looks! The hat takes the look down just a touch. It makes those sequins less fancy!

So back to the question….. why wait to get dressed up? DON'T! I really love the idea of NOT SAVING those special things in your closet! Use them…. wear them…… and have fun with them! This top is a FOREVER top. It won't go out of style. It will be one that you'll always have a good time with!
Shauna XO