WHAT TO TAKE TO THE BEACH
If you aren't one that lives by the beach and it's NOT second nature for you to whip together a beach bag full of essentials for the day…… this blog is for YOU! I've never lived even remotely close to the beach, so packing for a beach day can be a bit challenging. There's nothing worse than getting there and wishing you had something! So these tips might help you pack the right things so that you can enjoy your day in the sun and sand!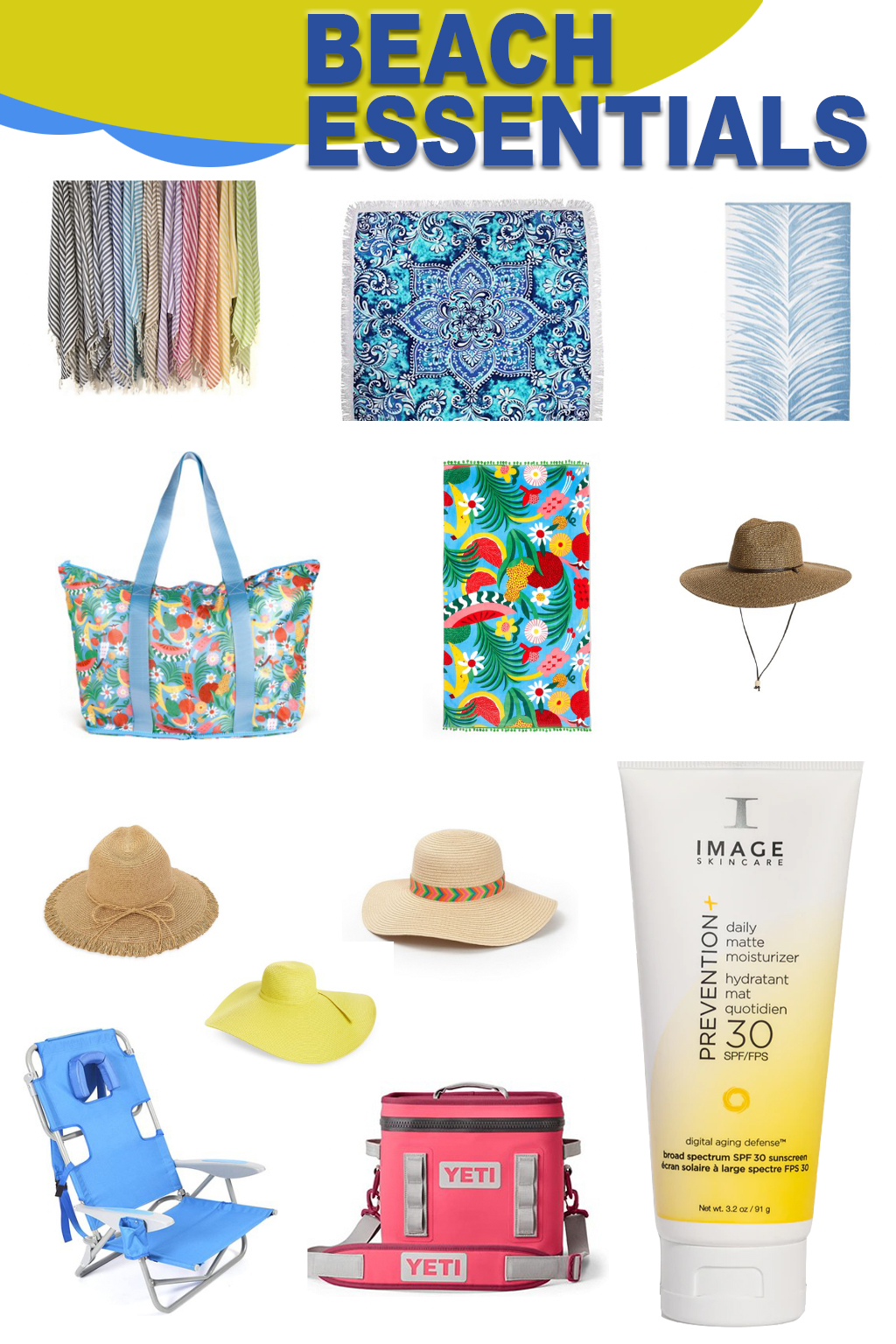 ~~~
REMEMBER YOU CAN HOVER OVER ANY OF THE PICTURES IN THE COLLAGES BELOW,  AND CLICK TO SHOP EACH ITEM!
1 – SUNSCREEN
Most importantly is SUNSCREEN. Sunscreen can be very personal. There's nothing worse than slathering on a nasty icky feeling sunscreen on your face! So I'm pretty particular about what I use. Both me and my husband use IMAGE most of the time. It's a brand that I use a lot of their skincare line and have loved it. THIS is what I prefer for an allover body sun protection. It was recommended to me by a dermatologist and is great for kids too. Remember this…. a sunscreen with SPF 30 will protect you from around 96.7% of UVB rays, whereas an SPF of 50 means protection from about 98% of UVB rays. Anything beyond SPF 50 makes very little difference in terms of risk of sun damage, and no sunscreens offer 100% protection from UVB rays.

2 – HATS HATS AND MORE HATS
Taking along a hat will not only protect, but actually keep you cooler as well. And I personally LOVE to wear hats! My favorite style is the fedora. THIS ONE is fedora style but has a nice wide 4″ brim as well as UPF 50. It's super cute and you're not sacrificing any STYLE! I think THIS ONE with the fringed edge is darling too, and it has UPF 50 as well. THIS ONE comes in ten colors and is very glam!

3 – BEST BEACH COOLERS
It's so important to keep all of your treats safe and out of the sun and sand in a great cooler. Insulation is key and these are super user friendly! In my opinion the YETI is the very best. They are pricey, but you'll have it forever!!!!

4 – BEACH BAGS
Beach bags have come a long way! They are made to be so functional with thermal insulation, waterproofing, all kinds of pouches, etc. The insulated ones could act as cooler for your snacks if you were only packing a few and didn't want to take a cooler. Here are my favorites!

5 – BEACH TOWELLS
Beach towels can be so fun! I've linked a variety here. I especially love this BIG SQUARE SHAPE. Laying on a huge giant sized towel is nice to be able to have room for your loved ones, or big enough to hold all your "stuff" in one space! THESE are also great because they aren't quite as bulky and can be thrown over a lounge chair and very easily wrapped up in and tied like a sarong!

6 – BEACH CHAIRS
Having a comfy beach chair can make your experience at the beach so much better. Being comfortable is key! Here are some easy-to-pack chairs that would work great for your day at the beach.

7 – SUN UMBRELLA
Being able to make your own shade is a wonderful option to have at the beach. Here are a variety to shop at all price-points. Remember you usually get what you pay for!

8- SUNGLASSES
We all have our own opinion about sunglasses. I used to only buy super expensive designer glasses. They were fun, and I actually still have most of them. But once I started traveling and losing them….. that hurts. There are so many other less expensive pairs, and if they get ruined at the beach it's not a big deal. OAKLEYS however are my preferred brand when it comes to outdoor activities such as tennis, bike riding, or the beach! SHOP more budget-friendly pairs HERE.

9- BEACH SANDALS
Waterproof sandals are an absolute necessity. You don't want to worry about ruining your sandals that you paid a lot of money for. There's a good variety here and all cute!

~~~
Making your beach day as comfortable as possible will make it all that much better. Knowing what to take to for you and your family and friends, will definitely be worth it to ensure everyone has a the BEST time!
WATCH MY REEL HERE TO SEE MY FABULOUS HAT AT WORK!
Shauna XO
NOTE: My swimsuit is from LimeRicki and my hat you can shop HERE.